Thanh Hoa specialties, like Thanh Hoa landscapes, have long become familiar with most tourists. Let's take a look at the list below of most popular dishes when visiting this land in this Part 1 list.
1. The most famous dishes in Thanh Hoa
1.1. Thanh Hoa spring rolls (Nem chua Thanh Hoá)
"Nem chua" or Thanh Hoa spring rolls is a specialty of Thanh Hoa that perhaps no one does not know. Coming to Thanh Hoa, any visitor wants to enjoy this unique dish. Although spring rolls are available in many different localities, Thanh Hoa spring rolls have a very unique taste.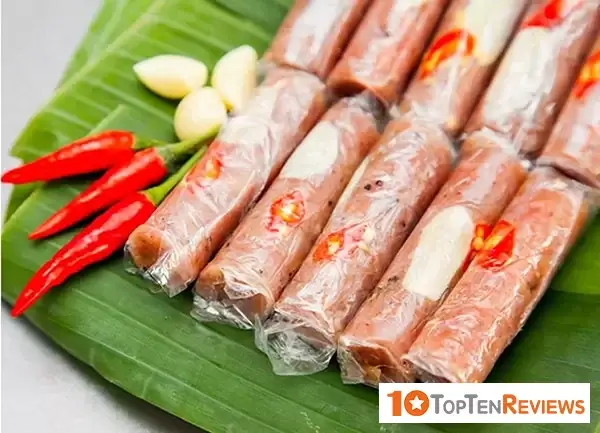 What specialty does Thanh Hoa have as a gift? Nem chua is a famous gift in this land 
(Source: Collected)
The inside part has a pinkish red color of meat, a little guava leaves, chopped chili, etc. When eaten, spring rolls have a sour, crispy, very attractive taste. Thanh Hoa spring rolls also have many types: long spring rolls, square spring rolls, fried spring rolls, fried spring rolls, etc.
1.2. Grilled shrimp rolls (Chả tôm Thanh Hoá)
Another specialty of Sam Son Thanh Hoa that you cannot ignore is shrimp paste. Referring to Thanh Hoa specialties, grilled shrimp rolls must be mentioned. After baking, the shrimp rolls are golden brown, slightly grilled, and covered with a layer of iridescent fat, which is very eye-catching.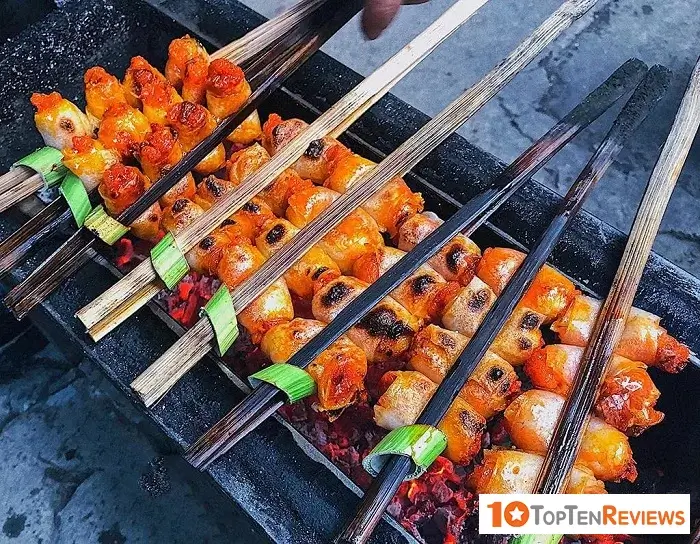 Grilled shrimp roll is a famous Thanh Hoa dish (Source: collected)
The roll is usually eaten when hot, with a sweet and sour dipping sauce and raw vegetables. When biting, the patty is crispy, the sweetness of shrimp and meat, the sourness of the dipping sauce mixed with the cool taste of vegetables that melt on the tip of the tongue, is truly a wonderful gift of Thanh Hoa.
1.3. Goi ca nhech (Gỏi cá nhệch)
"Goi ca nhech" is a raw fish salad made from "nhệch" fish. This is also a famous specialty from the Land of Thanh. Instead of eating "gỏi" with shrimp paste or fish sauce as usual, in Thanh Hoa, the raw fish salad is eaten with "chẻo". "Chẻo" is the special sauce – the mixture of fish bone pounded and then boiled with a batch of sour and spices. It has a dark brownish color, thick texture and a tasting smell. This perfection of this unique dish depending on the sauce. The better the sauce tastes, the more tasting "goi ca nhech" is.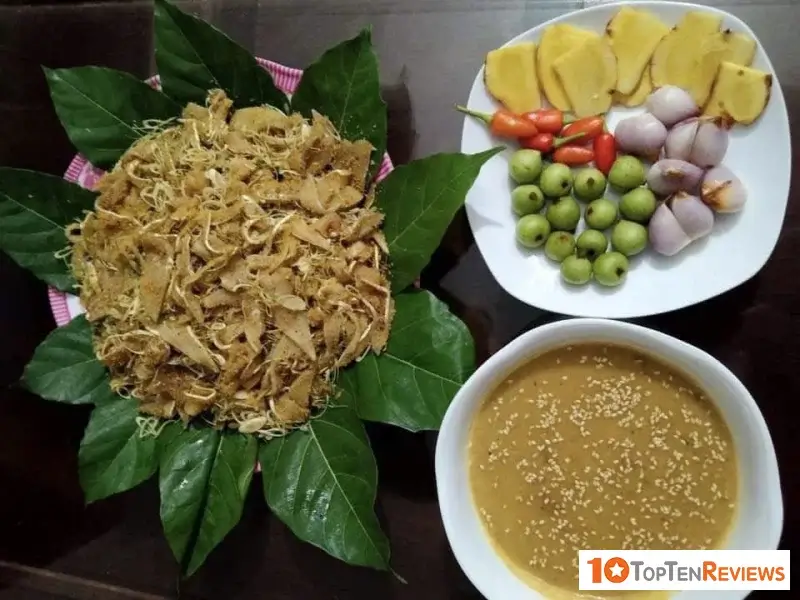 "Goi ca nhech" is a delicious dish of Thanh Hoa visitors should enjoy when traveling here 
(Source: 10toptenreviews)
1.4. Phu Quang nutty ginger sticky rice bars (Chè lam Phủ Quảng)
Another Thanh Hoa specialty from the land of Phu Quang is Thanh Hoa nutty ginger sticky rice bars. Phu Quang is the old name of Vinh Loc district, which is the land of famous "che lam". Different from "che lam" elsewhere, "che lam" of Phu Quang has a sweet, crunchy taste on the tip of the tongue.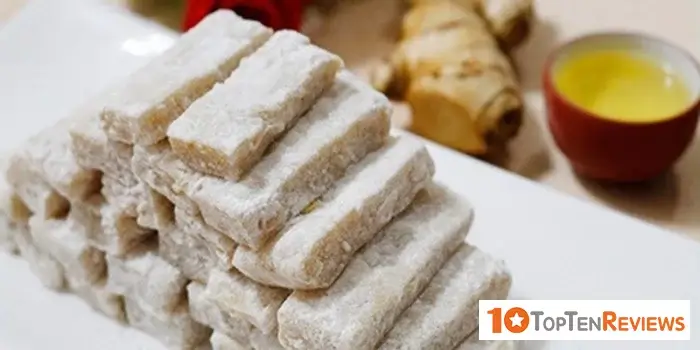 Thanh Hoa specialties as gifts, Phu Quang "che lam" (Source: Collected)

The "che lam" has a beautiful golden color. If you eat it while sipping a cup of green tea, the taste is truly delicious. The crispy piece of "che lam" mixed with the sweet taste of molasses and spicy ginger, with a little bit of green tea acrid, is a simple but meaningful gift from the countryside.
1.5. Shrimp sauce (Mắm tép)
Shrimp paste is a specialty of Thanh Hoa that most tourists love. Shrimp paste is made from fresh shrimp caught by fishermen far from the shore. After cleaning, the shrimp is pureed, fermented with "thính" ("thính" is made from "pork's skin).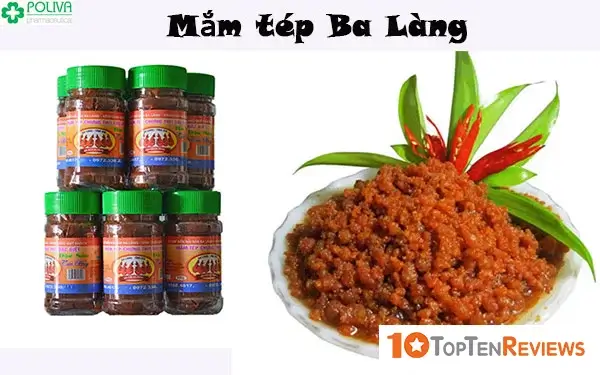 Ba Lang shrimp sauce you should buy as a gift (Source: collected)
Shrimp sauce is eaten properly when cooked with onion fat, mixed with thinly sliced pork belly, served with hot rice. In the past, shrimp paste was included in the list of dishes used to advance the king. Come to Thanh Hoa, do not miss this Thanh Hoa specialty.
1.6. Cay sauce (Mắm cáy) 
"Cáy" is an animal looking like a crab, having red legs. "Mắm cáy" is a popular dish in a rustic meal of the people of Thanh Hoa. Cay sauce is made from red fish, the taste is a bit strong and smelly, but if you try the first piece, you will be surprised by the delicious, sweet taste of cay sauce.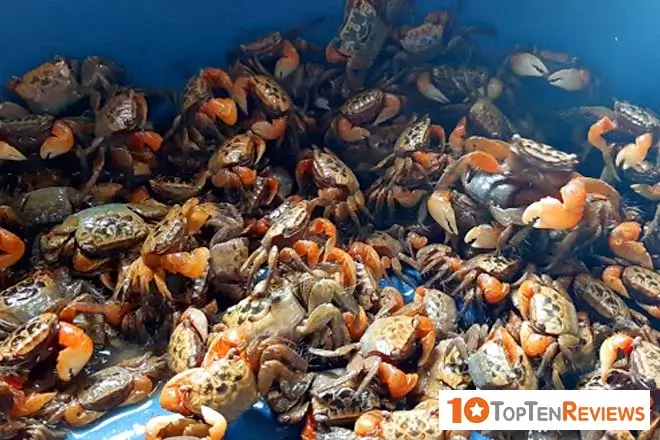 "Cáy", the ingredients of "Cay sauce" (source: collected)
This is also a dip dish that contains a lot of protein and nutrients needed for the body. Cay sauce is very delicious when dipped with boiled meat and vegetables. You can buy this type of sour sauce, Thanh Hoa specialty, as a gift for your friends.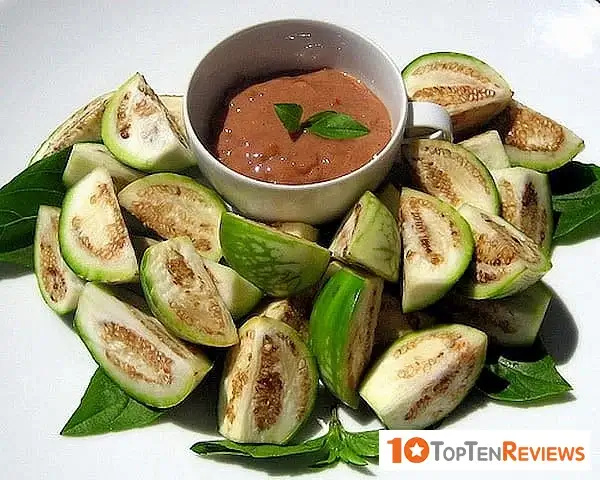 "Mam cay" (source: collected)
1.7. Tien Vua Grapefruit (Bưởi Tiến Vua)
Tien Vua Grapefruit is a typical cultivar of Tho Xuong, Thanh Hoa. Grapefruits when green are similar to other grapefruits, but when ripe, they will gradually turn red. Grapefruit is fragrant, succulent, sweet, very delicious to eat. In the past, this rare grapefruit variety was used to bring forward to the king because the red color was believed to bring luck and prosperity.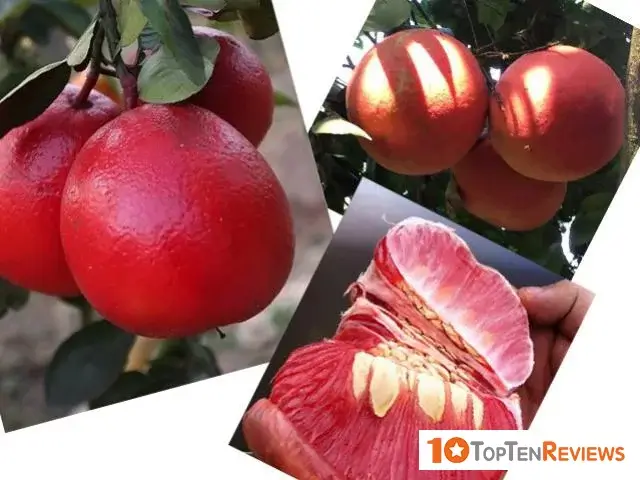 Tien Vua Grapefruit is a famous Thanh Hoa specialty (Source: collected)
Price: 100,000 - 200,000 VND/fruit
1.8. Thanh Hoa grilled spring rolls (Nem nướng Thanh Hoá)
Grilled spring rolls are extremely famous Thanh Hoa specialties and are quite close to the famous spring rolls. When it comes to grilled spring rolls, everyone immediately thinks of grilled spring rolls in the land of Tho Xuan.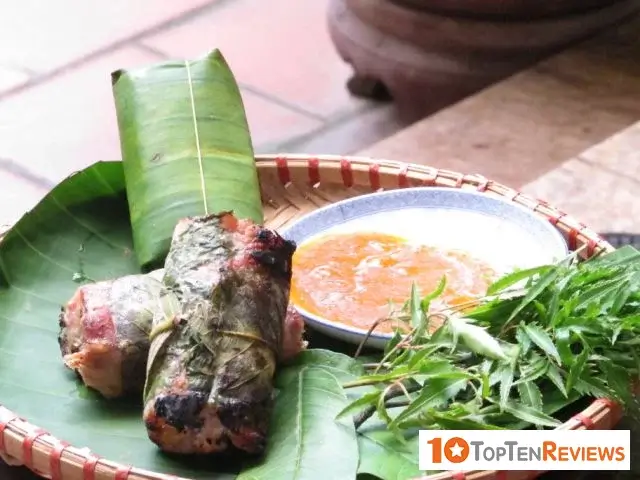 "Nem nuong Thanh Hoa" (source: collected)
The difference between spring rolls and grilled spring rolls is that grilled spring rolls are not pureed but cut into thin slices. The grilled roll has the smell of banana leaves, clove leaves mixed with fragrant pepper. When eaten, grilled spring rolls have the sweet and crispy taste of pork skin, the fatty taste of meat, a slight sour taste from the spring rolls and a little bit of spicy from the chili sauce.
Don't know where to go in Thanh Hoa? Find more here
In this list, we've introduced some very famous cuisines you should try whether you con to Thanh Hoa or buy them as gifts. In Part 2, there are plenty of delicious cakes and other specialities waiting for you to find out. Let's look forward to it!