In the previous article, you are informed with Hanoi famous local destinations. Besides the famous scenic spots in the city, when traveling to Hanoi, you should not miss the following interesting suburban places:
IV. Interesting tourist attractions near Hanoi
1. Bat Trang Pottery Village
Hanoi 1 day tour in Bat Trang pottery village (collection source)
Bat Trang pottery village is located along the Red River in Gia Lam district, on the outskirts of Hanoi. Bat Trang pottery village produces a variety of products in both types and designs, including fine art items such as statues and reliefs, high-tech, breeding animals, flower vases, wall plates, etc. The most interesting thing when visiting Bat Trang pottery village is to directly visit the artisans who make extremely delicate products, especially you can manually mold the products you love.
You can find one-day tour to Bat Trang pottery village here.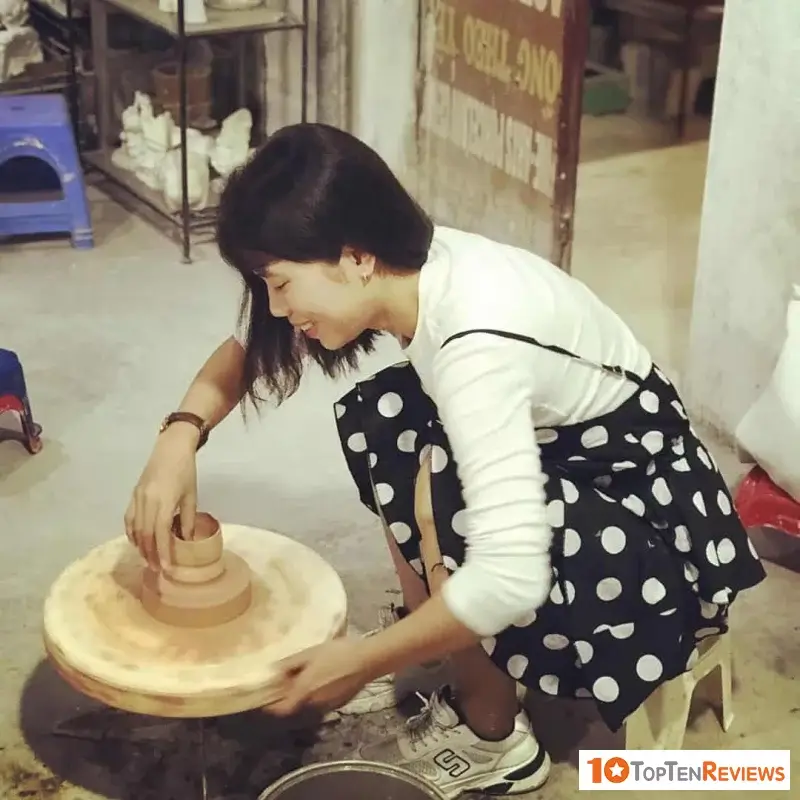 Hand-made beautiful small ceramics. Photo: @Canary3010
2. Duong Lam Ancient Village
Located more than 50km away from the capital, Duong Lam ancient village in Son Tay town is a famous tourist destination near Hanoi. This is the first ancient village in Vietnam to be awarded the National Historical and Cultural Relic by the State in 2006.
Until now, Duong Lam ancient village is the only village in the country that still retains the ancient architecture and living habits of an ancient Vietnamese village 300 years ago. In addition, Duong Lam also has many valuable historical sites such as Phung Hung communal house, Ngo Quyen temple, Giang Van Minh flower temple...
Visitors can take a bus from Hanoi city center to Son Tay, then continue to take a taxi to the village gate. Entrance ticket: 20,000 - 25,000 VND/person.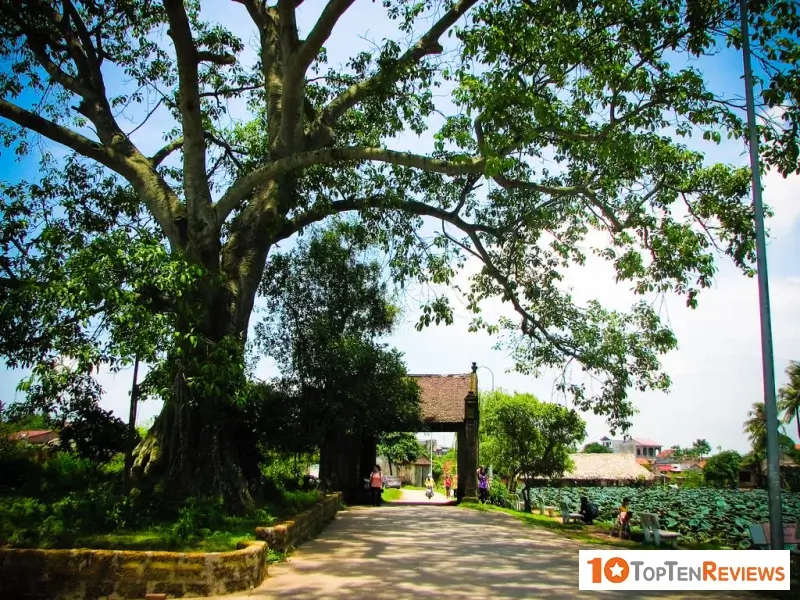 Duong Lam ancient village gate (collection source)
3. Ba Vi National Park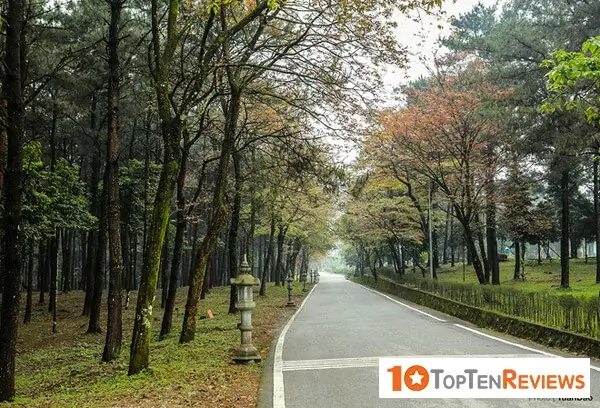 The road in Ba Vi National Park looks like in Korean movies's scenes (Source: TuanDao)
About 60km away from Hanoi, Ba Vi National Park belongs to Ba Vi District, Hanoi. This is a complex of entertainment, discovery and relaxation resorts. This is the right place for you or your family to come to have fun and relax after a tiring day of studying and working. Coming to Ba Vi National Park, you can visit the cactus greenhouse, visit the ancient works built by the French. There is also a temple for President Ho Chi Minh and a temple for Saint Tan Vien. You can also climb to the top of Vong Canh for a panoramic view of the surrounding mountains and forests.
Ba Vi is suitable for camping, sightseeings and those who want a quick escape from the city. Thus, you should book hotels in Ba Vi District because it's a bit far from the city.
4. Dong Mo Ethnic Culture Village of Vietnam
A place to recreate unique cultural values (collection sources)
Village of Culture - Tourism of Vietnamese Ethnicities in Dong Mo - Ngai Son (Son Tay town), is a place to recreate the unique cultural values of 54 ethnic groups in Vietnam. This is an ideal attraction for domestic people as well as international tourists and is a vivid symbol for countries around the world to understand Vietnam's ethnic policy.
5. Tram Mountain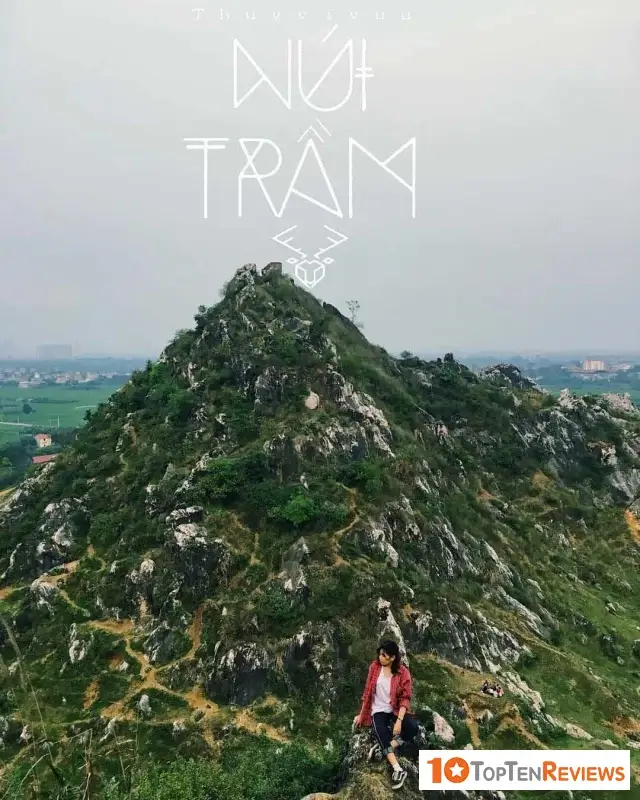 Tram mountain is not too high but extremely impressive. Photo: @thuyvivuu
Tram mountain belongs to Phung Chau commune, Chuong My District; It is about 30 km away from the center of Hanoi. To get here, you drive along Highway 6 in the direction of Hoa Binh, to Chuc Son town, Chuong My district, there will be a sign to turn right to Tram pagoda. This is a beautiful place and very suitable for picnics during the day or camping overnight. If you stay overnight on Tram mountain, you will be immersed in the magical beauty at sunset or watch the white fog at dawn.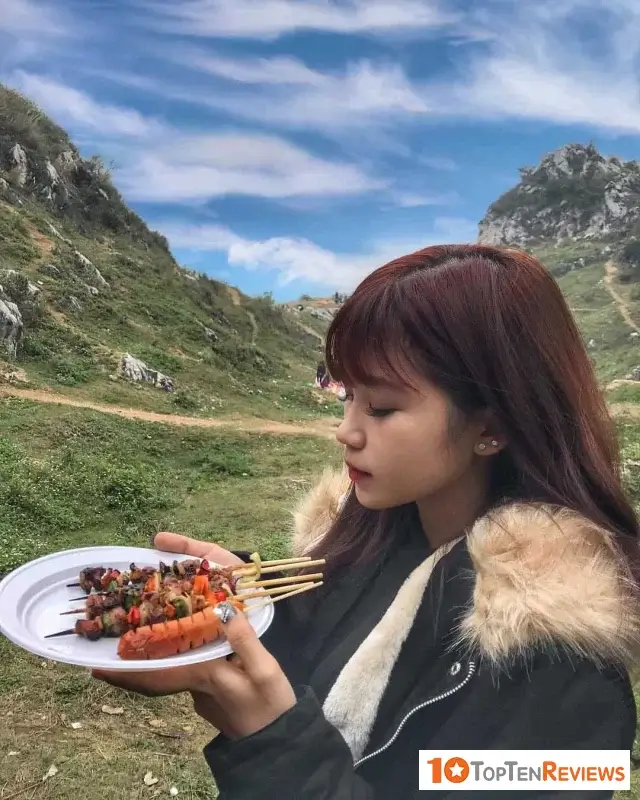 Tram Mountain is a suitable place for weekend camping. Photo: @chou.chouuuuu_
V. Delicious Hanoi specialties
There's a saying that: You won't get to know Hanoi if you haven't tried Hanoi's cuisines.
1. Hanoi Pho
Pho is the first dish that you should enjoy when coming to Hanoi. Some famous pho restaurants such as Pho burden in Hang Trong, the restaurant is a small street vendor, located on the sidewalk, with only a small chair, it is only open in the afternoon. This is a restaurant that has been around for a long time, although there are no comfortable seats to eat, but it is usually crowded, people coming here have to queue and wait for a long time.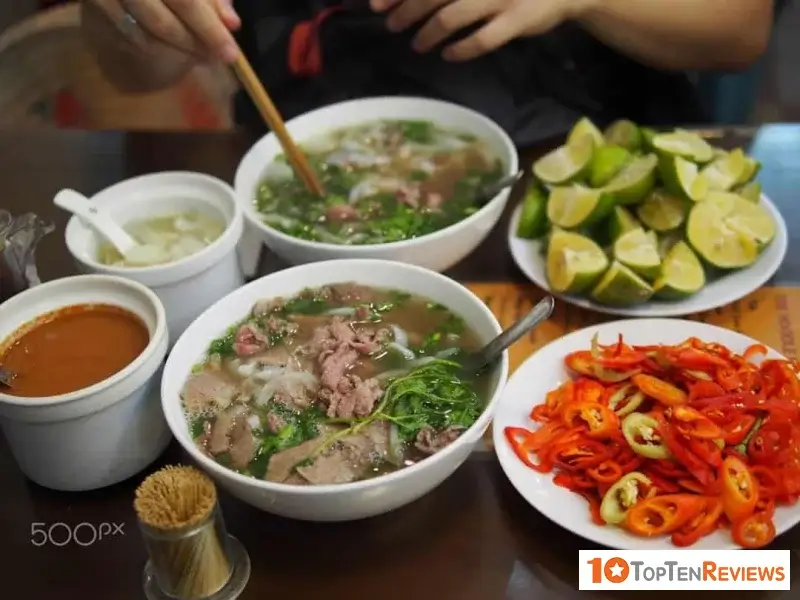 Coming to Hanoi without eating pho would be a pity. Photo: @halonngcruisecabin
Besides, there are also the best beef noodle soup restaurant, such as Pho Ly Quoc Su, the best chicken noodle soup located on Quan Thanh street, Hanh mixed sweet and sour pho on Lan Ong street, or Luong Van Can street, pan fried pho on Bat Dan street, etc.
Some delicious pho addresses in Hanoi:
• Pho Ly Quoc Su: No. 10 Ly Quoc Su, Hoan Kiem, Hanoi.
• Pho Bat Dan: No. 49 Bat Dan, Hoan Kiem, Hanoi.
• Pho Thin Lo Duc: No. 13 Lo Duc, Hai Ba Trung, Hanoi.
2. Bun Cha
The dish is made from minced lean meat and marinated with spices, then it is molded into round pieces and put on a charcoal grill until the pieces are golden and smell flavory. Hanoi bun cha dipping sauce is sweet and sour fish sauce with vinegar, garlic, chili, pepper mixed with sweet and sour sliced green papaya. This dish is served with vermicelli and raw vegetables with perilla leaves.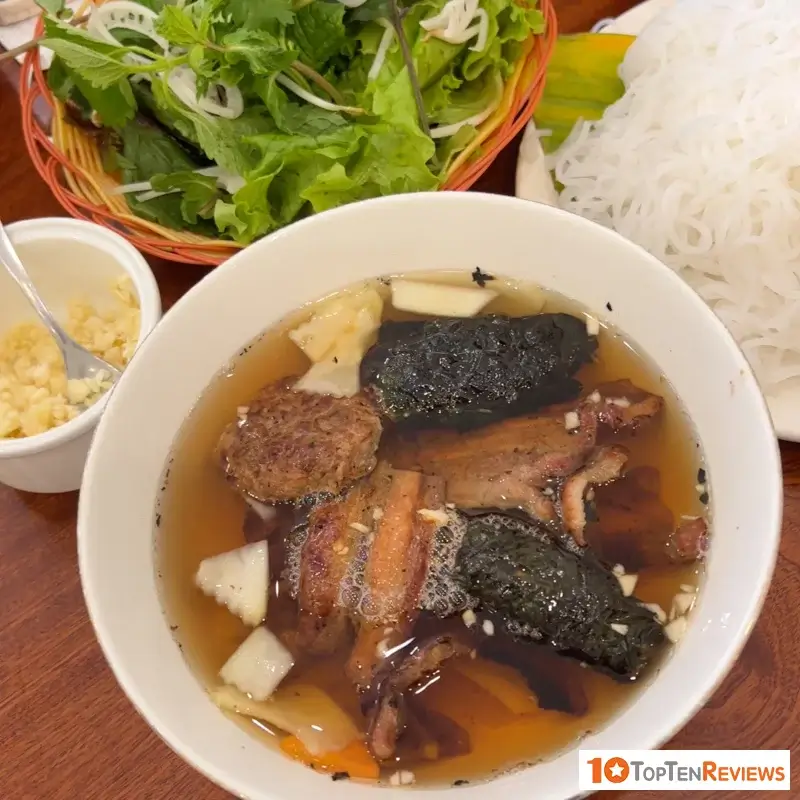 List of delicious places to eat Bun Cha that you can visit to enjoy:
• Bun Cha Huong Lien: 24 Le Van Huu, Hai Ba Trung, Hanoi.
• Dac Kim Bun Cha: No. 1 Hang Manh, Hoan Kiem, Hanoi.
• Bun cha with bamboo sticks: at the intersection of Nguyen Du - Ba Trieu intersection.
3. La Vong fried fish
La Vong fried fish is a famous specialty of Hanoi, present in almost everywhere from small eateries to high-class hotel restaurants. This dish is prepared as follows: Fish is fried in a small oil pan. Served with grilled rice paper, vermicelli, roasted peanuts, cilantro, mentha crispa, dill, chopped fresh onions dipped with shrimp paste.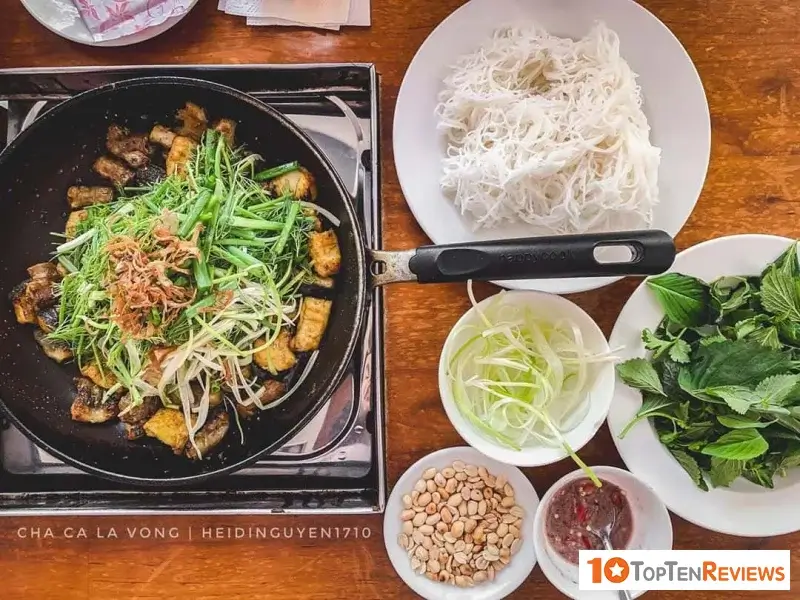 La Vong fried fish - a famous specialty of Hanoi. Photo: @hedinguyen1710
Fish sauce is prepared with lemon juice, sliced chili, ca cuong essential oil, a few drops of white wine, a spoon of fat and sugar, then stir until foamy. This dish is sweet, fleshy and fatty.
To enjoy La Vong grilled fish in the most "standard" way, you should go to 14 Cha Ca, Hoan Kiem.
4. Bun Thang
Bun thang is a dish containing many quintessential features of Hanoi cuisine. The ingredients for making bun thang include shredded chicken, fried eggs, and shredded pork rolls. Broth is cooked from bones, shrimp. The pot of good broth must be clear, with a slight aroma, and the smell of shrimp paste.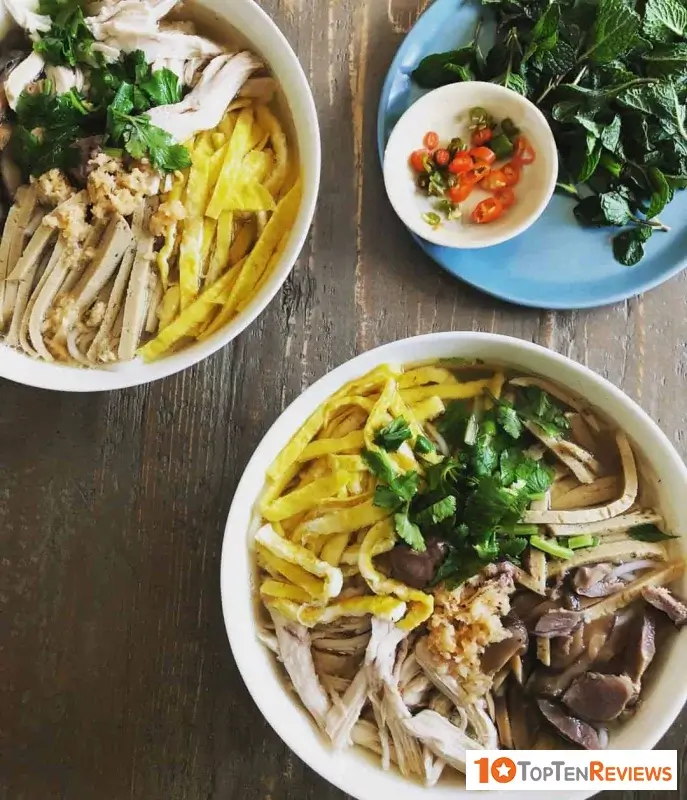 Bun Thang can only be found in Hanoi. Photo: @andreannguyen88
Vntrip.vn suggests you some delicious places to eat bun thang that are loved by many locals and tourists:
• Cau Go noodle soup: address 48 Cau Go, Hoan Kiem, Hanoi.
• Bun thang Hang Hom: No. 11 Hang Hom, Hoan Kiem, Hanoi.
5. Green rice flake cake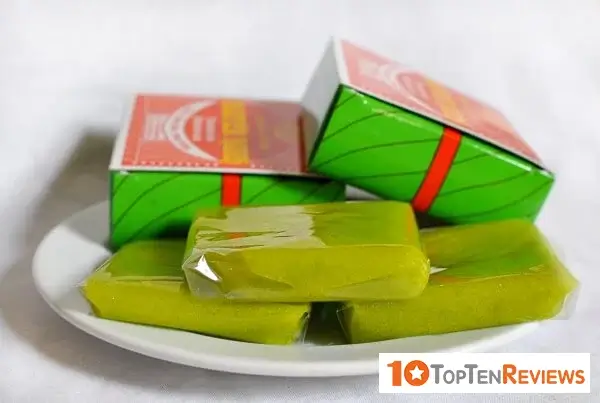 Hang Than green rice flake cake (collection source)
So far, only Nguyen Ninh shop at 11 Hang Than still retains the traditional handmade way of making green rice flake cake. The green rice flake cake inside is the innermost layer of yellow mung bean paste, the cake has the sweet smell of coconut and green beans. And when you come to Hanoi, remember to buy green rice flake cake as a gift.
6. Banh cuon - Steamed rice roll
Steamed rice roll is a rustic dish of the Ha Thanh people. The ingredients for making it are delicious rice that is ground into a powder, then mixed with water and then coated on the stove into thin, sticky cakes. The filling is made from pork, shiitake mushrooms, when the cake is rolled up, sprinkled with a shrimp paste. This dish is served with fish sauce, ca cuong and cinnamon rolls.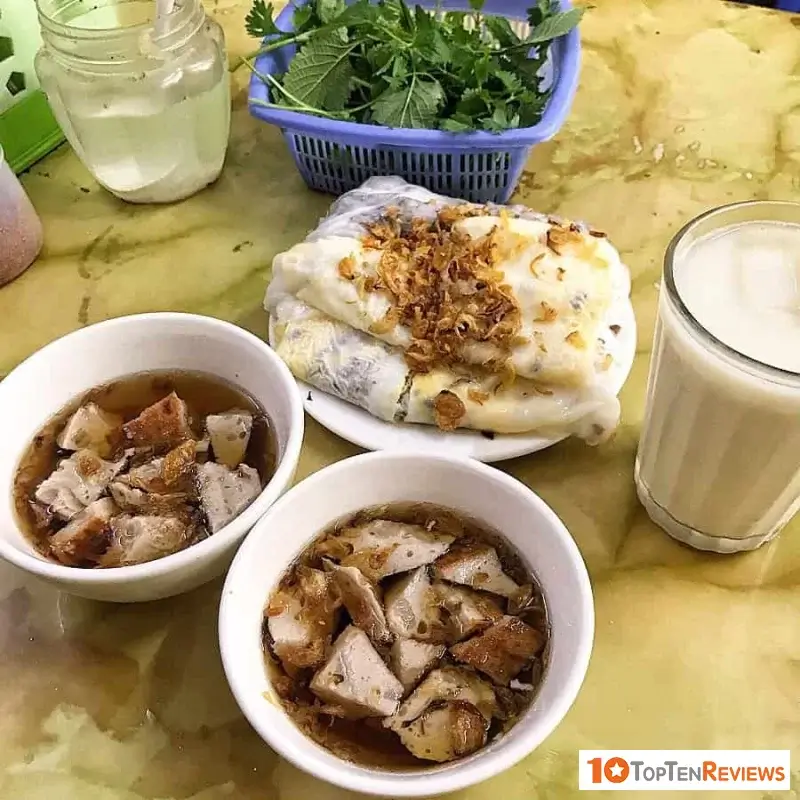 Banh cuon is an indispensable Hanoi breakfast dish. Photo: @foodlifewitt
The best places to eat banh cuon in Hanoi are passed on by tourists:
• Ba Hoanh roll cake: 66 To Hien Thanh.
• Thanh Van rolls: 81 Le Van Huu.
7. Bun dau mam tom (tofu, shrimp paste, and vermicelli)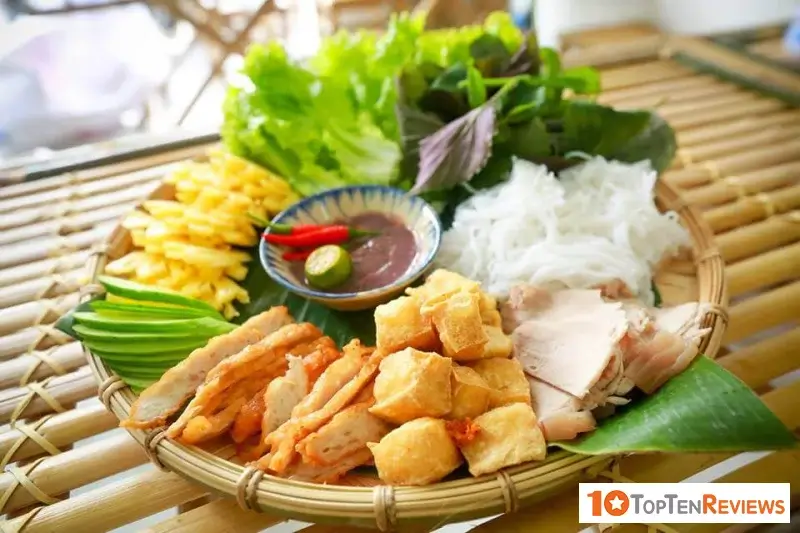 When you come to Hanoi, you must definitely try vermicelli with tofu dipped in shrimp paste.
It is a dish that everyone who comes to Hanoi wants to enjoy once. This tofu, shrimp paste and vermicelli dish is most delicious in the way of preparing shrimp paste, the chef must choose a delicious fish sauce, drizzle a little hot fat, add chili, squeeze kumquat and stir until the fish paste is up. A bowl of flavorful shrimp paste dipped with hot fried tofu, greasy fried young rice or hot pork belly will melt your taste buds.
The most famous places to eat vermicelli with shrimp paste:
• Hang Tray tofu, shrimp paste and vermicelli : No. 31 Hang Khay.
• Phan Huy Ich tofu, shrimp paste and vermicelli: 54 Phan Huy Ich.
9. Pho rolls
The cool pho rolls with the white noodle wrapped with beef, herbs inside, and dipped with fish sauce mixed with the right taste is a Hanoi snack that is hard to resist. To enjoy this delicious dish, you can go to noodle shops in Ngu Xa or on Quan Thanh street. In addition to pho rolls, these shops also sell fried pho, fried egg pho, and delicious goose spring rolls.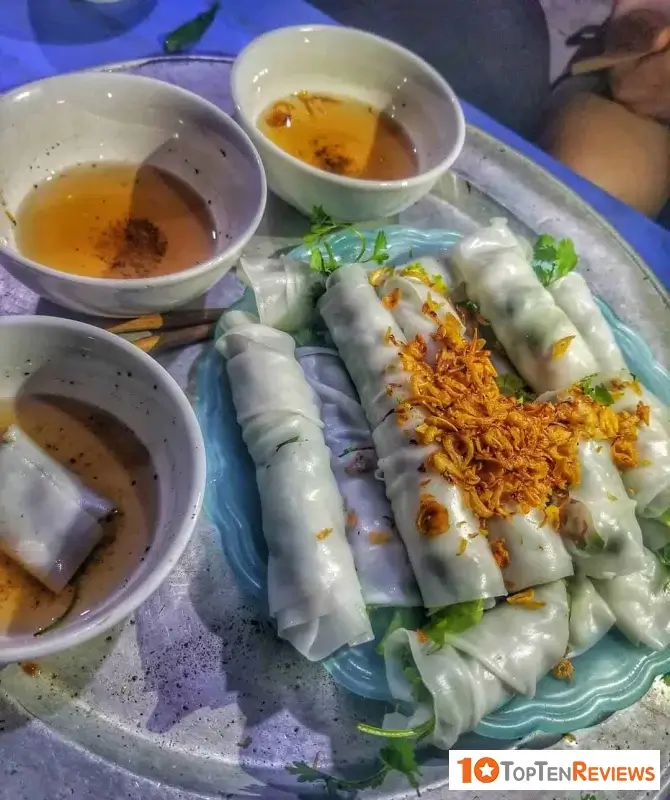 Hanoi Pho rolls. Photo: @simplycalledann
Above are the necessary information that you cannot ignore in your Hanoi travel guide. Hope this information will help you to have a very interesting trip to discover the beautiful capital.