What does Hanoi have that makes many people who once come here fall in love? Let's find out "all" self-sufficient travel experiences in Hanoi through the detailed guide below to find the answer for yourself!
I. When is the right time to visit Hanoi?
The ideal time to go to Hanoi is in the fall, around August, September, and October, among them, the best is September or October. Because at this time, the rainy season in Hanoi usually ended. The weather is clear, the sun is not too strong. The temperature is average, the air is cool. All the above weather factors create the best conditions for visitors to have a wonderful journey to discover Hanoi.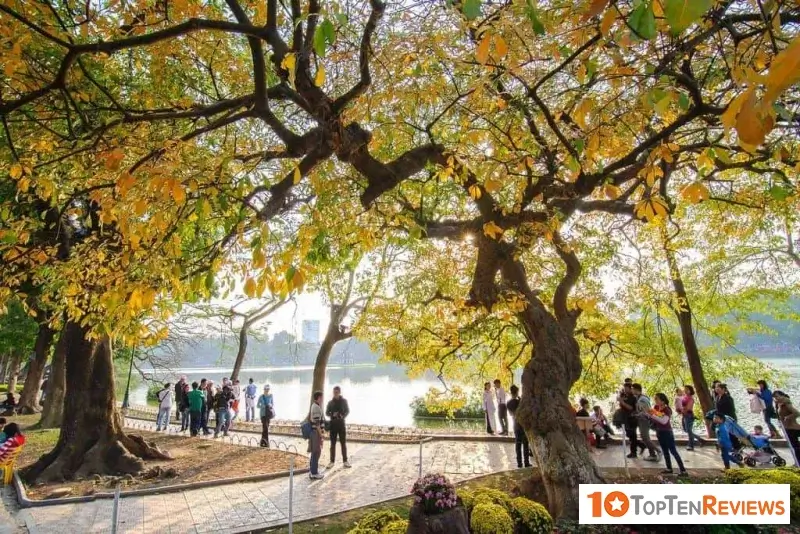 Ha Noi's fall, the yellow celtis, the red-leaf eagletree.
As for tourists who prefer cold, somewhat chilly air, the last months of the year like November and December will be a good suggestion. Coming to Hanoi around this time, besides visiting famous tourist sites, visitors can also enjoy many delicious winter special dishes in Hanoi.
II. Instructions for transportation when traveling to Hanoi
Transportation to Hanoi
+ If you live far away and have plenty of money, the plane is the most appropriate means of transportation to Hanoi. Or you can choose the train to save costs as well as conveniently visit other tourist attractions on the way. 
+ If you live in neighboring provinces, not too far from Hanoi, you can choose to go to the capital by bus or motorbike. In particular, motorbikes are the most popular means of transport because it is not only economical but also brings many interesting feelings.
Means of transports to visit sightseeings in Hanoi
Coming to Hanoi, you can look around by some popular means of transport:
• Motorbike: You can explore the city by yourself by renting a motorbike or calling grab. The price of motorbike rental here ranges from 50k - 200k/day depending on the type of motorbike or scooter.
• Taxi: If you go with a lot of people, you can choose a taxi. Although the price is quite high, this vehicle will help you get to any place you want safely and quickly.
• Cyclo ("Xích lô": a cycle driven by a cycler, often can carry 1-2 people per ride): You can travel by cyclo to visit the old town. Most tourists coming here choose cyclo to move to tourist attractions in Hanoi. You can directly call once since in the lakeside area, the number of cyclos is a lot.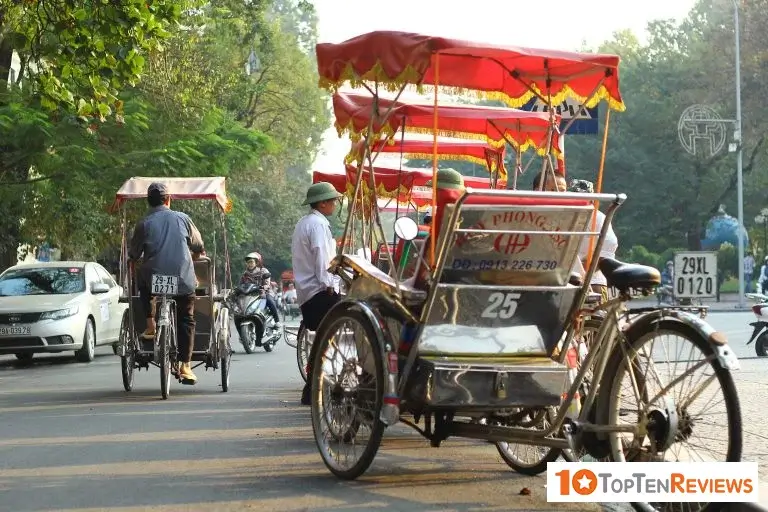 • Bus: This is a type of public transport that is extremely familiar to locals and tourists when coming to Hanoi. The ticket price for each trip is quite cheap, only 7,000 - 9,000 VND. 
• Tram: Is the new green tourist transportation of Hanoi. You can also choose a tram to move to attractions so you can fully explore a Hanoi that is both civilized, modern and ancient.
III. Famous tourist attractions in Hanoi
If anyone asks what is beautiful in Hanoi, it is easy to answer: Hanoi is beautiful because of the ancient Turtle tower, the mossy roofs of the old town, the majestic Uncle Ho's mausoleum, and the magnificent West Lake wind... Now let's review right away with Vntrip.vn the beautiful places that cannot be missed when traveling to Hanoi capital:
1. Hoan Kiem Lake
Hoan Kiem Lake is a famous landscape in Hanoi, located at the connection between the Old Quarter including Hang Ngang, Hang Dao, Cau Go, Luong Van Can, Lo Su... with the Western Quarter planned by the French which more than a century ago are Bao Khanh, Church, Trang Thi, Hang Bai, Dinh Tien Hoang, Trang Tien, Hang Khay, Ba Trieu. Hoan Kiem Lake is the central area of Hanoi capital, so you can come here easily by private or public transport.
Dubbed the heart of Hanoi capital, under Le King, Hoan Kiem lake was named Thuy Quan lake. According to legend, at Thuy Quan lake, Le King returned the golden sword to the Turtle God, so Hoan Kiem lake got its name from there.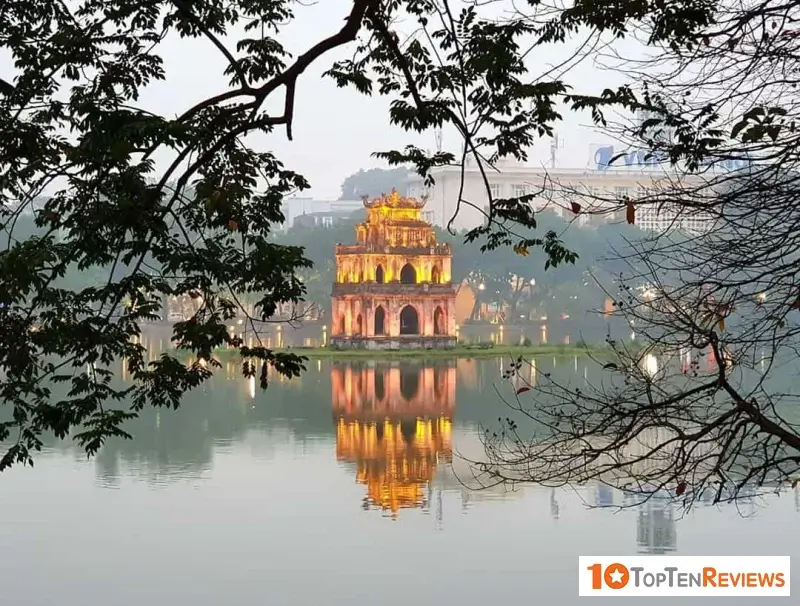 Hoan Kiem Lake is home to many long historical stories of the country. 
Photo: @meimeiontour
In the middle of the lake is the ancient Turtle Tower, surrounded by heritages of long cultural-historical significance such as Pen Tower, Ngoc Son Temple, The Huc Bridge leading to Dac Nguyet Floor, Dai Nghien, etc. creating the beauty of thousand years of civilization capital. With a clear, fresh space, this place is a popular spot for young people, chosen by couples as a place to take wedding photos. Not only that, Hoan Kiem Lake is one of the attractions for domestic and foreign tourists.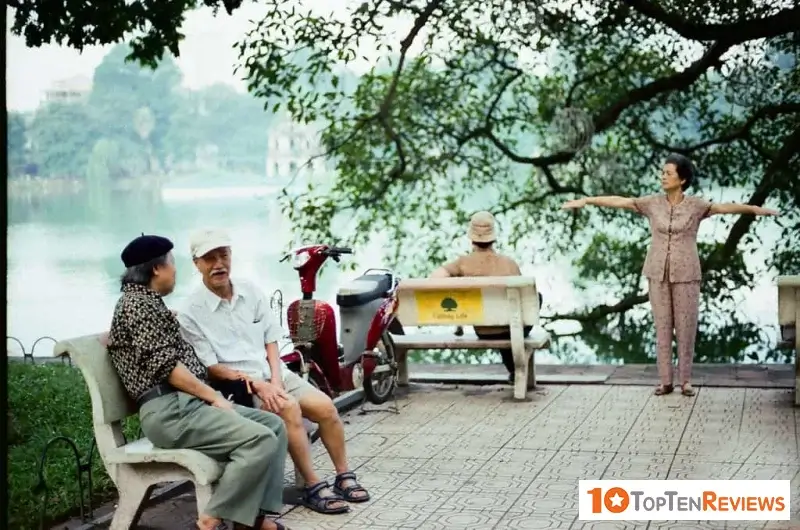 In the morning, Hoan Kiem Lake is often crowded with people exercising, chatting, reading newspapers as a unique culture of the capital. 
Photo: Tuan Dinh Van
You can choose a convenience hotel in Hoan Kiem District for sightseeing and hanging out near the lake.
2. Uncle Ho's Mausoleum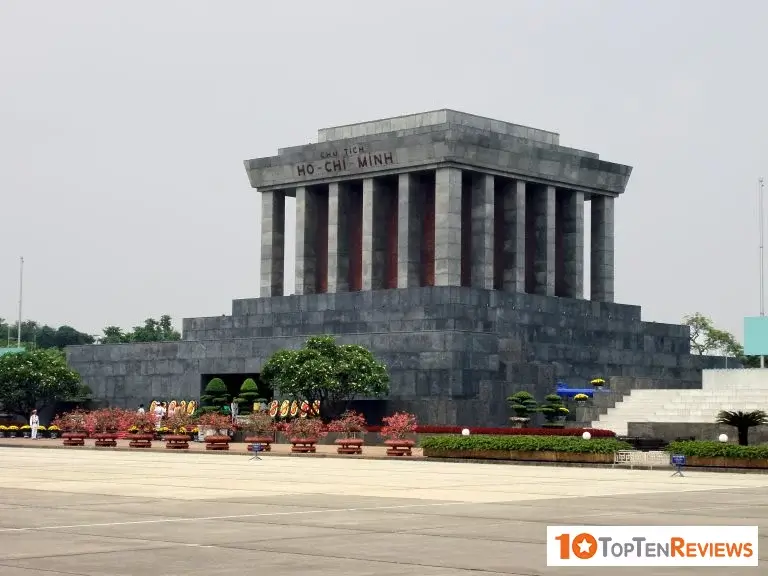 The image of Uncle Ho's mausoleum outside (collection source)
Where to go when travel to Hanoi? Uncle Ho's Mausoleum will definitely be a destination that you cannot ignore. Located on Hung Vuong - Dien Bien street, this is the place to keep the body of President Ho Chi Minh. Coming to Hanoi, everyone wants to visit Uncle Ho's mausoleum once. In addition, there is Ba Dinh Square where Uncle Ho read the Declaration of Independence giving birth to the Socialist Republic of Vietnam.
Here you can also visit the Ho Chi Minh Museum which keeps a lot of memorabilia about Uncle Ho. 
3. Tran Quoc Pagoda
Tran Quoc Pagoda is located on a small peninsula east of West Lake. The 1,500-year-old pagoda, considered the oldest in Hanoi, has recently entered the list of 16 most beautiful temples in the world voted by the Daily Mail (UK). The temple is a place to store religious and historical values that attract many Buddhists and tourists to visit.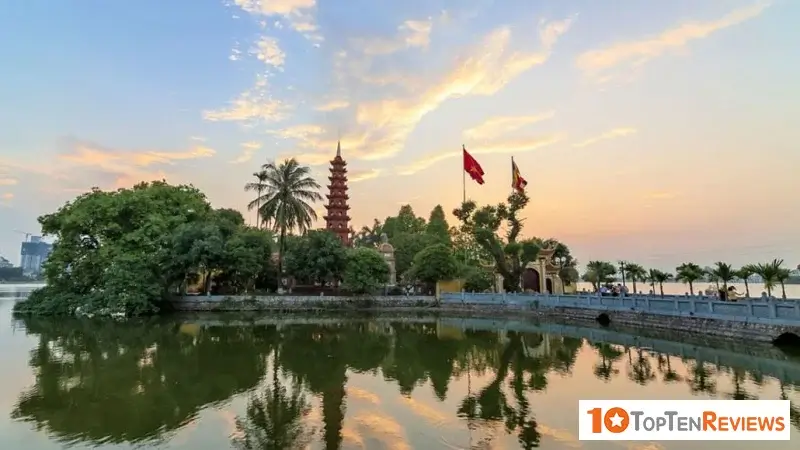 Tran Quoc Pagoda - the most beautiful ancient temple in Vietnam
4. Hanoi Cathedral
The Cathedral is located at 40 Nha Chung Street, Hang Trong, Hoan Kiem, Hanoi. In general, the building has European Gothic architectural style, but it still has a combination with indigenous architecture shown in the terracotta tile roof system, the interior decoration is bold in Vietnamese tradition. Therefore, it is the product of a very unique East-West cultural exchange.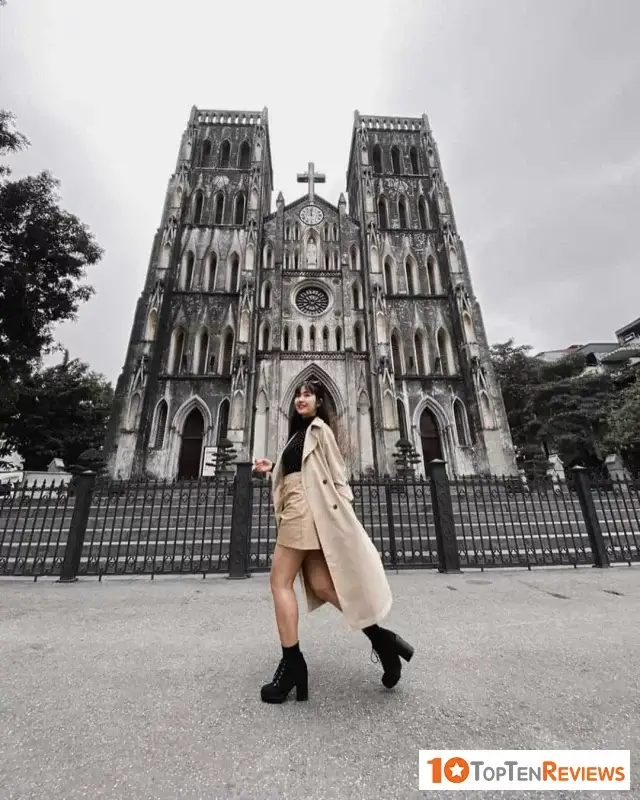 Hanoi Cathedral - majestic and ancient. Photo: @ Tinhvo97
Hanoi Cathedral is considered as a typical church architecture and is one of the most beautiful Catholic churches in the capital and the whole country. Traveling to Hanoi, visitors will certainly not be able to ignore this attractive place.
5. Temple of Literature Quoc Tu Giam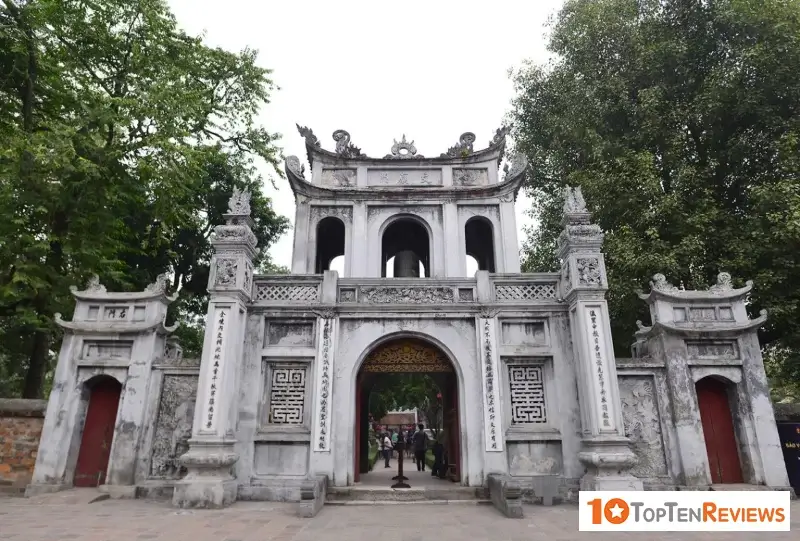 Temple of Literature from the outside. Photo: collection source.
Dubbed the first university of Vietnam, the Temple of Literature is not only a famous historical relic of Hanoi but also a place containing the quintessence of the previous feudal history and preserving the traditional values of Vietnamese land.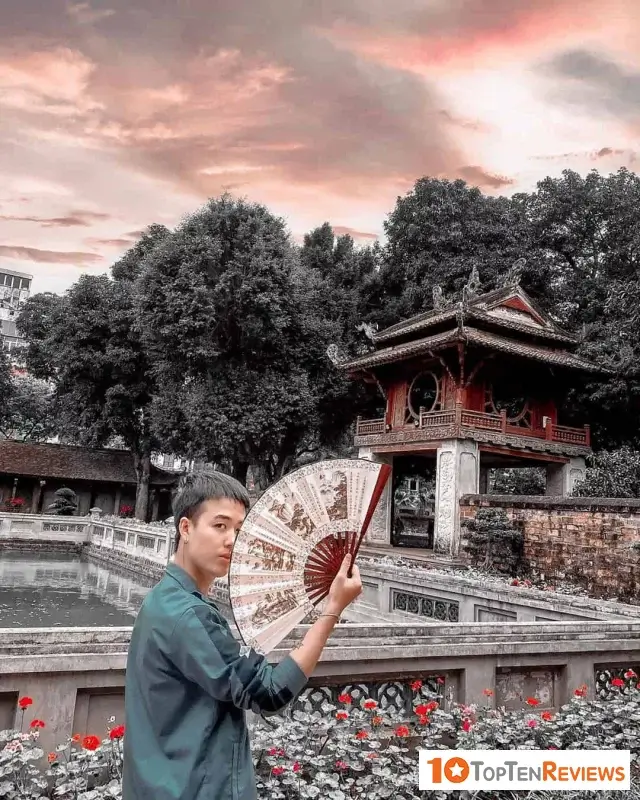 A corner of the Temple of Literature. Photo: @_hoangnhatanh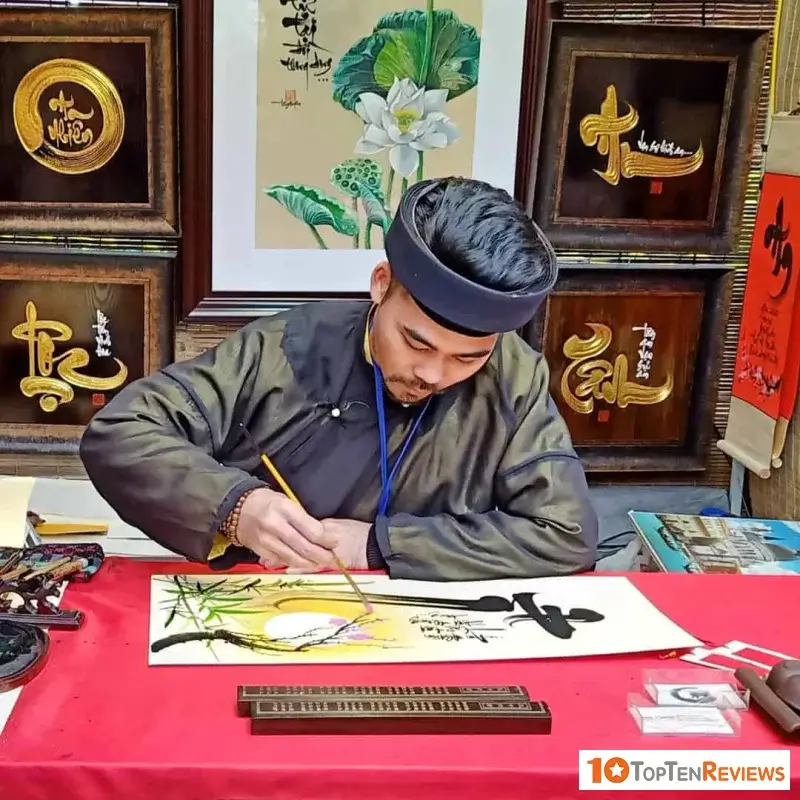 On the Lunar New Year or important exams, many people come here to ask for good luck.
Photo: @maianhdinh
Today, the Temple of Literature - Quoc Tu Giam is also a place to organize poetry festivals, a place to commend excellent and outstanding students, and a famous tourist attraction attracting a large number of domestic and international tourists. At the same time, this is also a meeting place for "ask for words" of the people of Hanoi during the traditional New Year holidays with the hope of a peaceful new year or in important exam seasons of the country with the belief of passing the "soldiers". Book s hotel in Dong Da District for convenience to visit this famous place.
6. Opera House
The address of the Opera House is at 1 Trang Tien, Chuong Duong, Hoan Kiem District.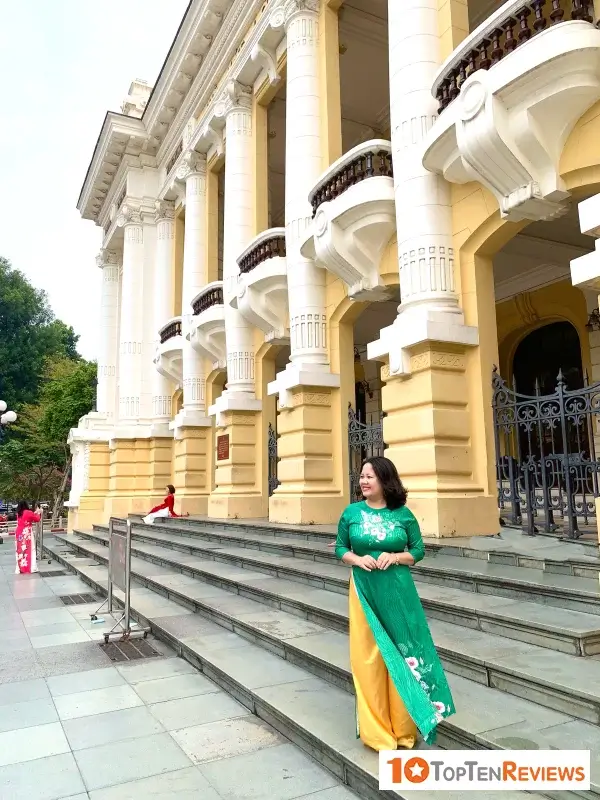 Opera House - cultural symbol of the Capital
This historic theater in the heart of Hanoi is the venue for major art shows by many of Vietnam's top famous singers and artists. Visitors can admire the magnificent architecture of the Hanoi Opera House or purchase tickets to one of the regularly held shows to see firsthand the magnificent interior of the theater.
7. West Lake
West Lake is located in the northwest of Hanoi inner city with an area of about 500ha, the road around the lake is nearly 20km long. This place is the most romantic corner in the colorful painting of Hanoi, the world of clear, liberal and poetic breezes. West Lake is not only an entertainment destination in Hanoi that attracts tourists but it also contains national cultural values.
Around the lake, there are more than 20 communal houses, temples, pagodas that have been ranked with many famous relics with many valuable cultural heritage such as more than 100 stone steles, 165 parallel sentences, 140 horizontal lacquered boards, nearly 20 ancient bells, 60 deified, over 300 bronze, wooden and stone statues.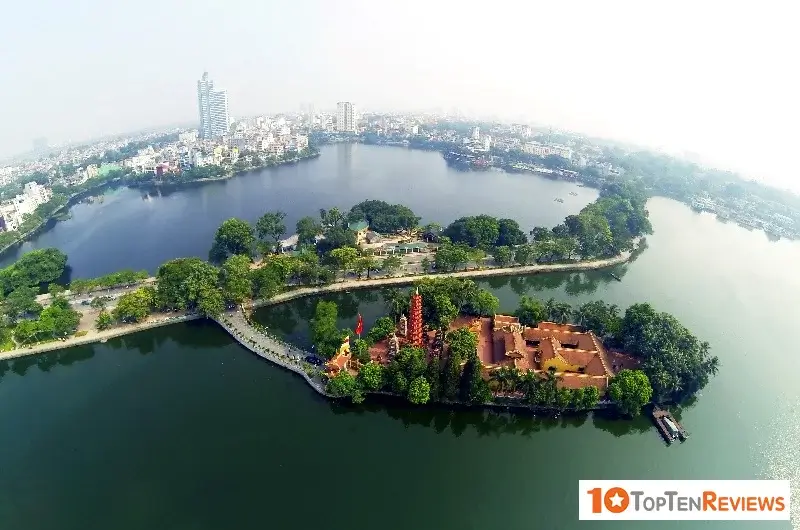 West Lake seen from above (collection source)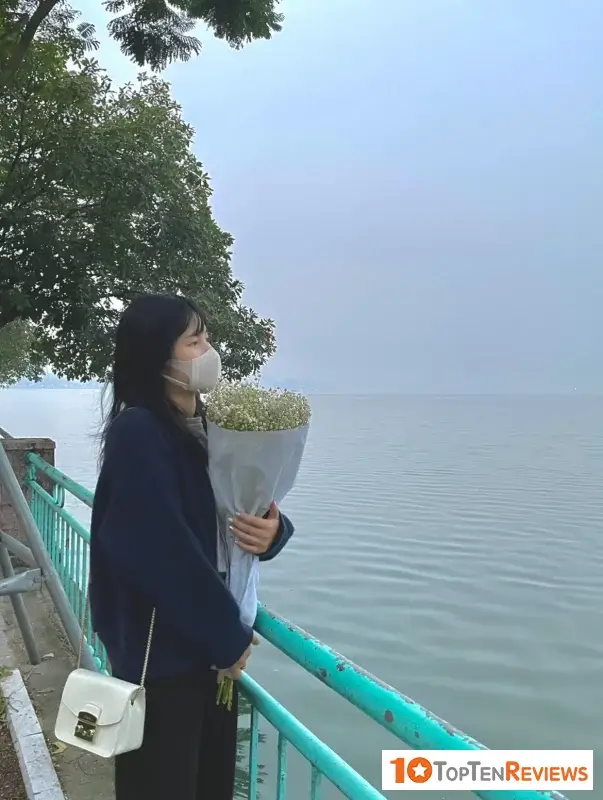 You can have a nice picture from any corner of the West Lake.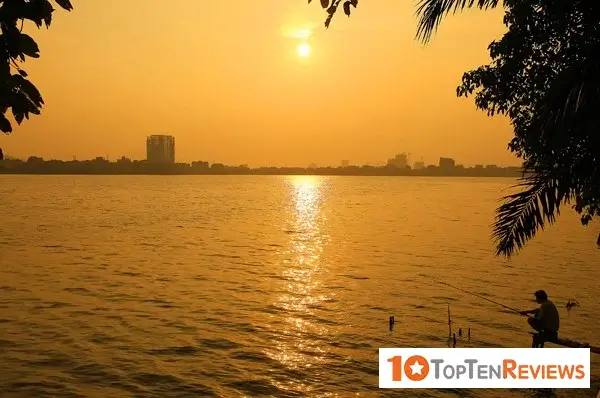 West Lake sunset (collection source)
Therefore, choosing a hotel with a view of West Lake to fully enjoy the lake scenery is something that visitors cannot miss when arriving in the capital.
8. Hanoi Old Quarter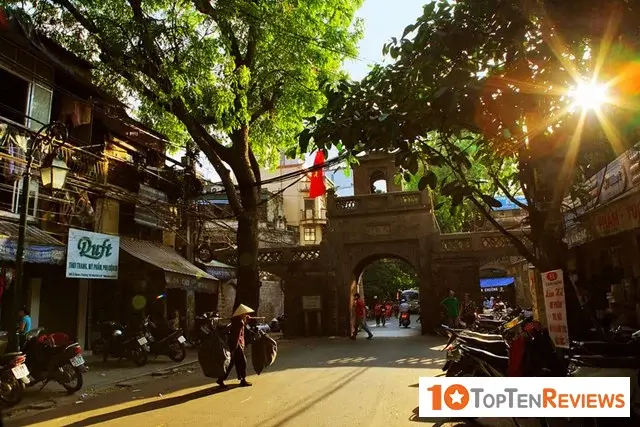 O Quan Chuong - Hang Chieu (collection source)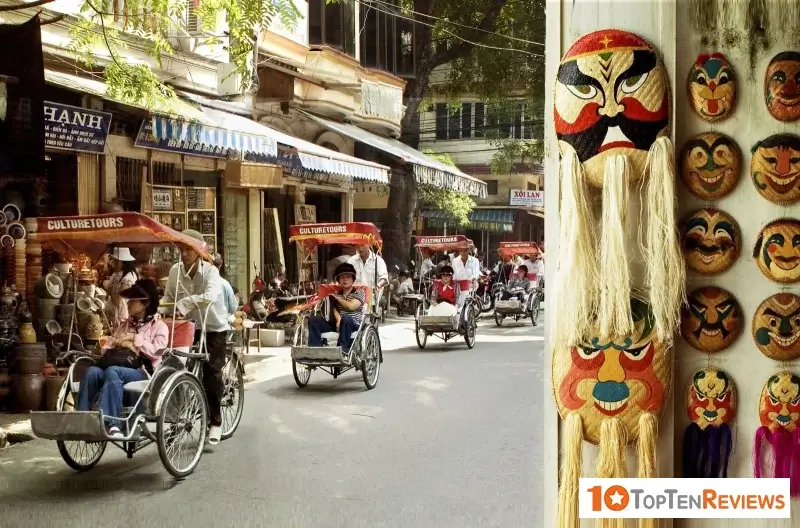 Tourists visit the old town by cyclos (collection source)
The old town is the streets, houses, and street corners with bold architectural style of the French in the 19th century. Experiencing many ups and downs of history and changes of time, this place still retains the original architecture intact. It can be said that the old town is the soul and unique feature of Hanoi.
Especially in Hanoi Old Quarter, you can go for a walk day and night to experience all of the human culture here, with delicious dishes typical of Hanoi's old town flavor. To have more time to travel, you should book hotels in the Old Quarter area.