Quy Nhon is a popular tourist destination in the South Central Coast of Vietnam. There are only two seasons: The rainy season and the dry season. Despite the rain, visitors can travel there at any time of the year to enjoy the beautiful weather.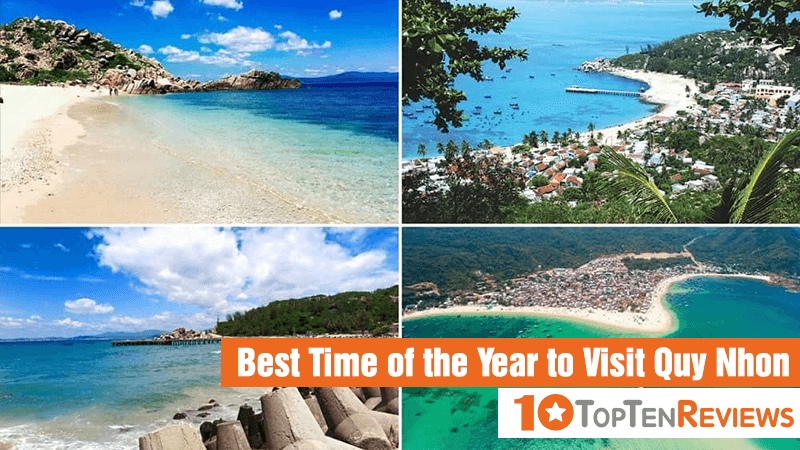 Weather In Quy Nhon – Binh Dinh
The climate in Quy Nhon – Binh Dinh, Vietnam's South Central Coast, is only two seasons all year: wet and dry. Binh Dinh experiences its dry season from March to the end of September, followed by the rainy season from October to February the following year. Despite the rain, Quy Nhon is not in the storm path so that visitors can visit at any time of year.
When Is The Best Time To Visit Quy Nhon?
Summer (June to August)
Average high: 93°F (34°C), Rainfall: 2.8" (70mm) each month, Humidity: 60%
Between June and August, the humidity remains low, and rainfall becomes even more of a rarity. As the dry season gets into a full swing, the temperature will peak in June and plateau until August, with an average high of 93°F (34°C). It is worth noting that this is only a difference of 13°F (8°C) compared to the average high across Quy Nhon's coldest months.
July and August will also be the peak travel time for Northern Hemisphere travelers making the most of their summer break. While Quy Nhon is still largely untouched by international tourism (compared with its neighboring coastal cities), this will be its busiest period regardless, which means you may encounter slightly higher prices for accommodation and activities.
Quy Nhon is still relatively untouched by international tourism, making now the perfect time to visit.
Fall / Autumn (September to November)
Average high: 90°-83°F (32°-28°C), Rainfall: 15" (400mm) each month, Humidity: 70-80%
As the monsoon season begins, expect to see a dramatic increase in rainfall. Total rainfall for the month can reach up to 20" (500mm). The temperature will cool off somewhat with highs of around 90°-83°F (32°-28°C). However, this cooler weather will also be met with an increase in humidity, so the change from the dry season is not so noticeable.
Due to the higher likelihood of activities being foiled by adverse weather, tourist numbers will drop off considerably, making this the quietest time of the year and therefore the cheapest.
With the increased rainfall over these months, there is naturally an increased risk of flooding. However, most of this will occur in the plains around Binh Dinh Province and is less common around Quy Nhon.
December 2nd is Vietnam's National Day, commemorating the declaration of independence from France in 1945 following World War II. This is an important holiday in Vietnam, and you can expect to see displays of patriotism through the streets. Businesses may be closed during this celebration, and where the holiday falls on a Sunday, it will be observed on a Monday.
Winter (December to February)
Average high: 80°F (27°C), Rainfall: 5" (120mm), Humidity: 70%
Towards the end of the monsoon season, the rains will drop off suddenly, with significant rains only occurring around 8 days a month. The average rainfall will decrease from 20" (500mm) in November down to 5" (120mm) in December.
Tourist numbers are typically lower than other months, and less rain and comfortable temperatures make this a great time to travel to Quy Nhon.
Between December to February, rainfall will decrease significantly, making it a great time to travel and see the outskirts of Quy Nhon.
However, it is also imperative to note that the Tet holiday also falls across these months. This is normally in late January or early February. We recommend that you check the exact dates as the holiday will vary from year to year. Known as Tet Nguyen Dan, but more commonly just Tet, it is a celebration of the arrival of spring and the new year (following the Chinese Lunar calendar). Officially, celebrations last for three days; however, the holiday usually extends to a couple of weeks as people will return home to celebrate and spend time with their families.
Taking part in any Tet festivities can be an incredible experience and a great way to learn more about Vietnamese culture. However, it can also be a very challenging time for tourists as many restaurants and businesses will close over the holiday. Hotels will generally stay open, though they may have reduced staff.
When planning your trip to Quy Nhon or Vietnam, it's worth noting down public holidays and important occasions throughout the year as this may affect any activities or plans you have. Below are the national holidays for 2019. In addition, we recommend checking www.publicholidays.vn to see which dates and holidays will be observed for future years.
New Years Day (Gregorian calendar):

January 1st

Tet Nguyen Dan:

4th-8th February

Hung Kings Commemoration Day:

April 14th

Hung Kings Commemoration Holiday:

April 15th

Reunification Day:

April 30th

Labor Day: 

May 1st

National Day:

 September 2nd
This is the peak tourist season not only in Quy Nhon. But also in most other cities, so remember to book in advance to avoid the situation of not finding a room or the price is too high. If you Do not know where to find reservation information, you can refer to VN.10toptenreviews.com.
Hopefully, after reading this article, you know which Quy Nhon tourism season is the most beautiful. Wish you have an enjoyable and exciting trip.