Ha Long weather is the essential news that you are very interested in traveling here. Knowing about the weather characteristics of Ha Long in advance helps us choose the most suitable time to go out to enjoy sunny days, blue sea. Weather reports 14 days, seven days, or within three days before the trip starts are also very helpful for proper preparation. In this article, Top Ten Reviews will share information about Ha Long weather that includes:
Where do you see Ha Long weather forecast information, the most reliable source, the easiest to get information

Synthetic information about seasonal Ha Long weather characteristics, the most appropriate time to travel to Ha Long
Where to see Ha Long weather forecast? 
Sources of information from foreign websites 
When going to Google to search, you will easily find foreign websites that provide Ha Long weather forecast information. Here are the popular sites: 
- Accuweather:https://www.accuweather.com/vi/vn/ha-long/355736/daily-weather-forecast/355736
- Weather: https://weather.com/vi-VN/ 
These websites now have Vietnamese language support, so they are easy to use, with all forecast information аbout: minimum temperature, maximum temperature, average temperature, humidity, precipitation. Forecast information is demonstrated by the hour, daily, forecast for the next three days, the next ten days that are relatively detailed.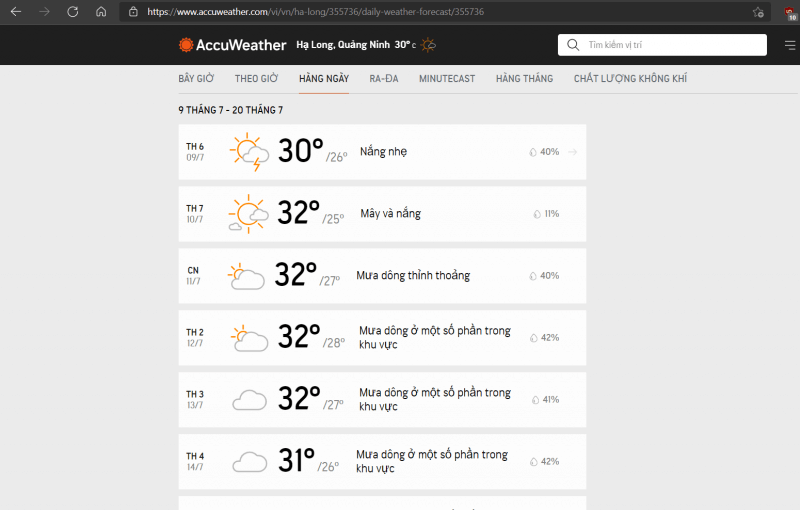 Sources of information from domestic websites 
National Center for Hydrometeorological Forecasting: 
Information on domestic websites, especially the Quang Ninh Province news, is quite close to the current weather situation, can be trusted to refer to planning a trip right before departure.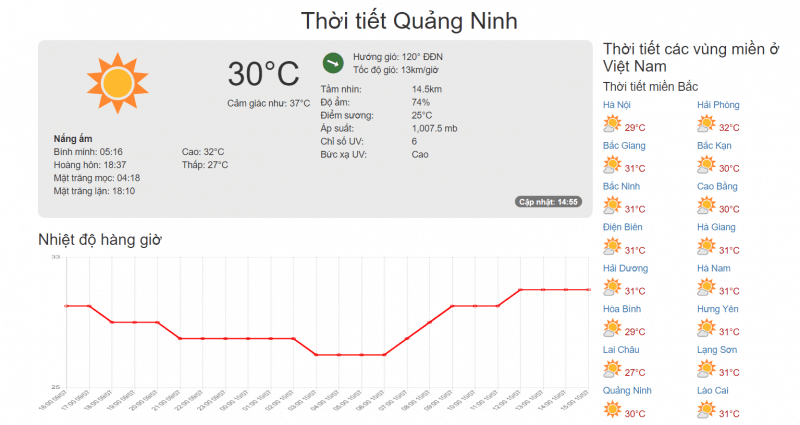 From Ha Long travel groups with local people 
If you want to know the weather situation in Ha Long right now, the easiest way is to post a question on Ha Long travel groups. In these groups, there are many people of Ha Long who can answer immediately. You even have photos or videos that illustrate the current weather situation in detail. 
- Group Review Ha Long 
- Group News Quang Ninh 
Ha Long weather by season 
Spring (February, March & Early April) 
Spring weather in Ha Long usually lasts from late January to February, March, and possibly mid-April. Depending on each year, spring may be explicit or alternate with the remaining cold spells from winter. The temperature in spring ranges from 19oC - 30oC, there will still be light rains and deep cold days, but in general, the weather is relatively pleasant, not too win-try to have a vacation trip on the bay. 
However, with outdoor activities, swimming in the bay is quite limited in this season because the seawater is cold and not as cool as summer, so you should consider this activity. Other fun activities are kayaking, visiting fishing villages, visiting caves, playing games in the Sunworld area. Visiting tourist attractions on the shore are still taking place particularly. 
On Ha Long Bay, spring is the season of green trees, blooming flowers, and birds on the bay. It is a great time to take a day cruise on the bay or take an overnight cruise. Some days can be foggy, but they make the scene even more blurred and majestic.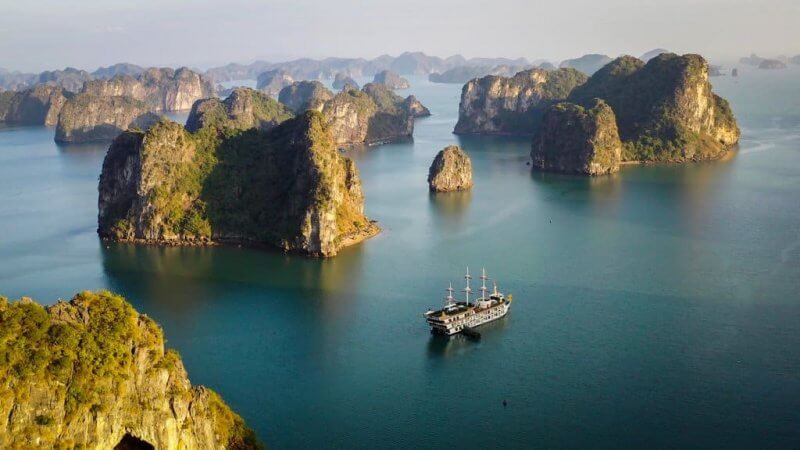 Summer (May – September) 
Summer in Ha Long lasts from May to September, with the hot summer characteristics, high temperature, and heavy rainy days & storms. From mid-May, the sky turns clear blue, the average temperature rises during the day about 34oC - 35oC, very suitable for outdoor activities: swimming, resting on the beach, kayaking. The summer days when the sun rises early, the day is long, is the time when you can admire the most beautiful moments of sunrise and sunset on Ha Long Bay, the unique scenery. 
Summer is also the season with heavy rains or storms that can affect the trip, especially the cruise tours on the bay. If there is a storm, there will be early warning bulletins. Thus, it is easy for you to know before starting your tour by watching the weather reports. 
Note in the summer when going to Ha Long: you need to bring sunscreen, light-colored clothes, a wide-brimmed hat, and dark glasses to avoid the intense noonday sun that affects your health. Some mosquito repellent cream is also essential when you go to the island or relax on the beach with many trees.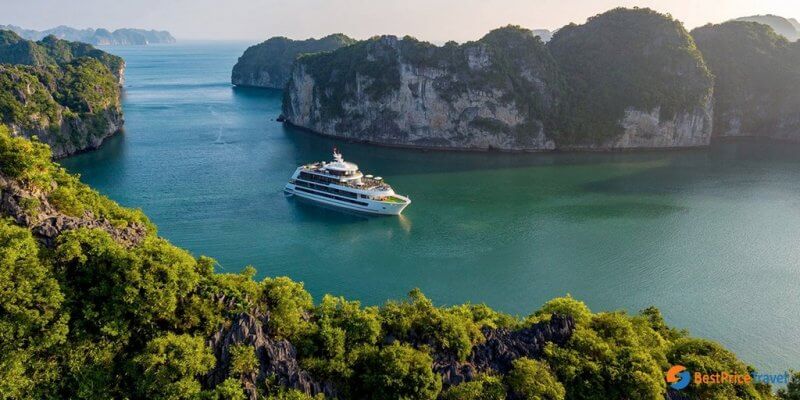 Autumn (October, November) 
Autumn falls in October and November, which doesn't last long but is a beautiful time in Ha Long. The average temperature in this season is about 27oC. The air is cool, pleasant, light-sunny, very suitable for the best photos. In the fall, there are likely late storms. But they are not as frequent and heavy as summer storms. It is the right time for couples or families to visit Ha Long Bay on private yachts.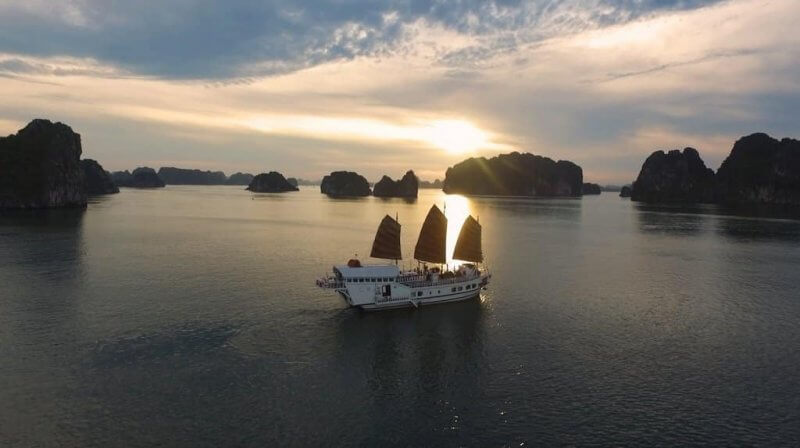 Winter (December – late February) 
Winter weather is characterized by cold and windy. The temperature is from 8oC to 20oC. There are crisp days in Ha Long due to the northeast monsoon. In winter, the days are shorter than the nights. In addition, it is rarely sunny, with many days of fog over the bay. Only outdoor activities such as swimming, water park games are not possible in winter. Other activities can take place as usual. 
If you join cruise tours in Ha Long, winter outdoor activities will not be as attractive as summer. In return, you can enjoy the rest time, enjoy the games inside the warm room. Enjoying a cup of coffee, reading a book, or listening to music amidst the romantic scenery of Ha Long Bay in winter is a good choice.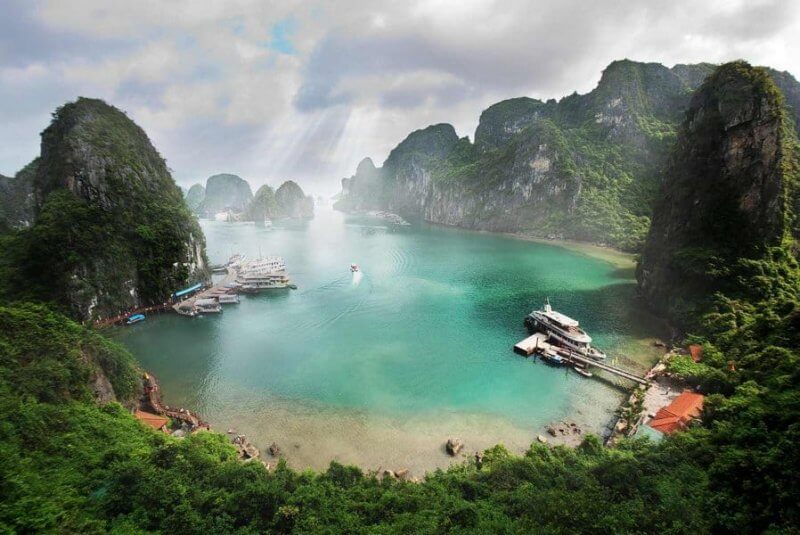 The best time to go to Ha Long 
Ha Long weather is typical weather of the North of Vietnam, with all four seasons per year. However, the weather diverges into two distinct seasons: hot, rainy summer, and frigid, dry winter. The best time to travel to Ha Long is in late spring, summer months, late autumn. Storms are possible but will be forecasted long in advance. Going to the beach still needs to be sunny, windy, blue, and sunny. For me, maybe May and September are the best time to visit Ha Long Bay.
In early May, the sun is shining and not too harsh. Moreover, the sky is clear. You will enjoy a realistic summer vacation with full vitamin-sea 
In September - the weather is so cool, very suitable for relaxing trips, enjoying the natural beauty. Outdoor activities: swimming, kayaking are still quite comfortable.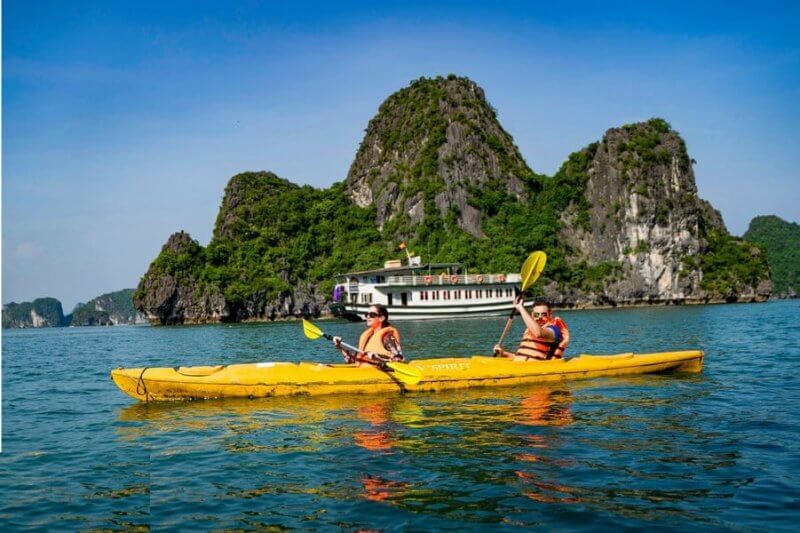 Hopefully, through this article, you have understood more about Ha Long weather according to the seasons and found suitable information sources to check the weather before going on a Ha Long tour. Wish you have a great trip to Ha Long!