According to reports from iPrice Group and SimilarWeb, in 2020, up to 5 Vietnamese businesses will rank the top 10 e-commerce sites with the most significant traffic in Southeast Asia.
However, there is still a considerable gap between Vietnamese businesses and the top in terms of traffic. According to a report from iPrice Group, Shopee is leading Southeast Asia with 281 million visits in the past year.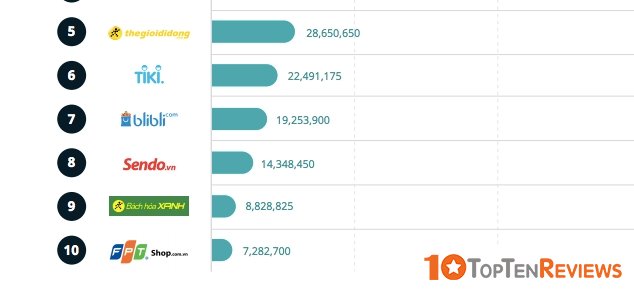 Vietnam's e-commerce sites are The Gioi Di Dong, Tiki, Sendo, Bach Hoa Xanh, and FPT Shop, respectively. Besides, the two "big guys," Shopee, Lazada, and 3 unicorn startups, Tokopedia, Bukalapak, and Blibli from Indonesia, are the faces in the top 10 rankings.
Next is Lazada with 137 million visits, Tokopedia with approximately 89 million trips, and Bukalapak with 35.7 million trips in 2020.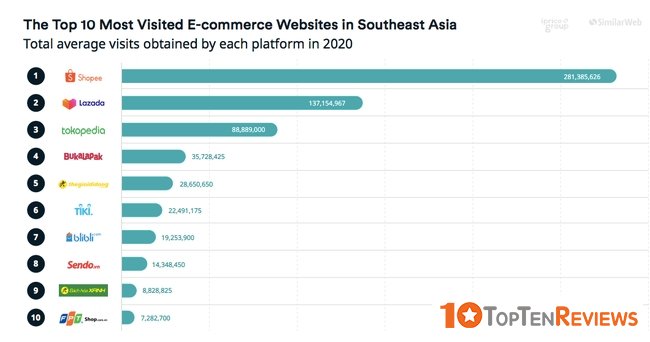 Mobile World occupies the 5th position among Southeast Asian e-commerce websites with an average annual visit of 28.6 million, just 7 million from Bukalapak.
In the domestic market alone, The Gioi Di Dong is the domestic enterprise in the second position throughout 2020, according to the fourth quarter 2020 e-commerce map report.
Located in 6th place, the multi-industry e-commerce platform Tiki surpassed Blibli to become the bright spot of Vietnamese businesses with 22.5 million visits in the ranking of average visits in the region. Followed by Sendo with 14.3 million trips and ranked 8th.
In the report of the second quarter of 2019, all Vietnamese enterprises were at the top bottom of Southeast Asian e-commerce websites, but this balance has changed more clearly in the 2020 report.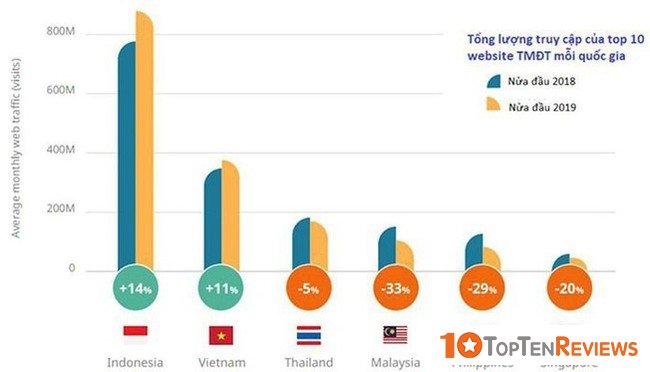 At the same time, the e-commerce map of Southeast Asia also shows that Vietnam is the second-largest market in the region after Indonesia. Accordingly, the average total website visits in 2020 of Vietnam is 4 times higher than Malaysia, 3 times that of the Philippines, and 2 times of Thailand.
This strongly affirms the development potential of domestic enterprises in the region and the size of the country's e-commerce market. According to Google's prediction, Vietnam's e-commerce by 2025 will achieve the highest growth rate of 34% in the region.