The Farm is one of the ideal stops for any visitor when coming to Da Lat. Here, let's explore with us five very famous and loved Dalat farms!
Dalat Milk Farm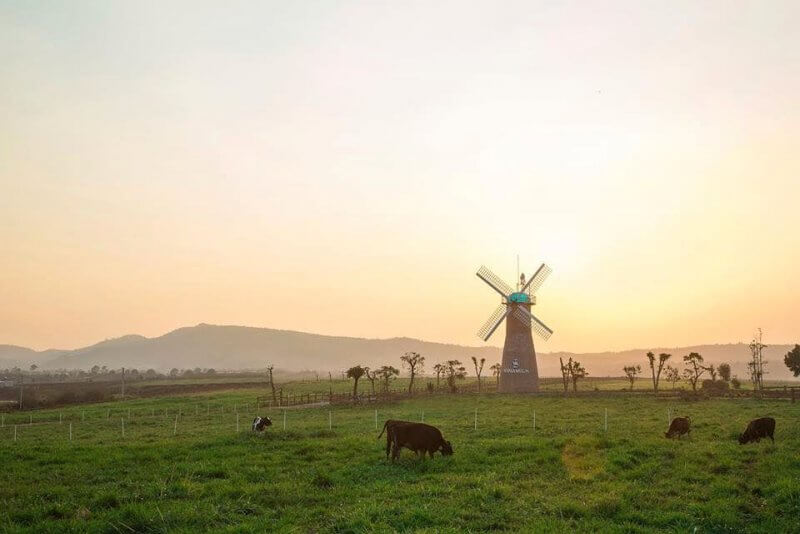 Dalat Milk Farm is one of the farms that many young people love. This Farm attracts visitors with its vast flower fields, charming blue lake, and lovely dairy cows. Coming to Dalat Milk Farm, you will admire the beautiful tiny houses with unique classical architecture in the Dutch farm style in the middle of the vast and vast fields.
On those large fields were filled with ecstatically beautiful buckwheat flowers. In the distance are cows engrossed in grazing. Or there are very loving and poetic windmills. Visitors can go through the small paths between the fields and take pictures with a beautiful flower forest.
Here, you can also relax in the green nature or learn about the European technology of cow's milk production. Dalat Farm Milk is one of the ideal Dalat farms for visitors to visit when coming to the dreamy Dalat.
Address: Tu Tra commune, Don Duong district, Lam Dong province
Phone number: 0263 3641 641
Ticket price: Free admission
Opening hours: 7:30 am - 5:00 pm
Requested: ID card or driver's license
How to get there: From the center of Da Lat city, you move southwest on National Highway 20. Then you continue to run along this highway. When you reach Bong Lai junction, turn left onto Bong Lai street and keep going, you will see the signboards of Vinamil and Dalatmilk farms.
Sunny Farm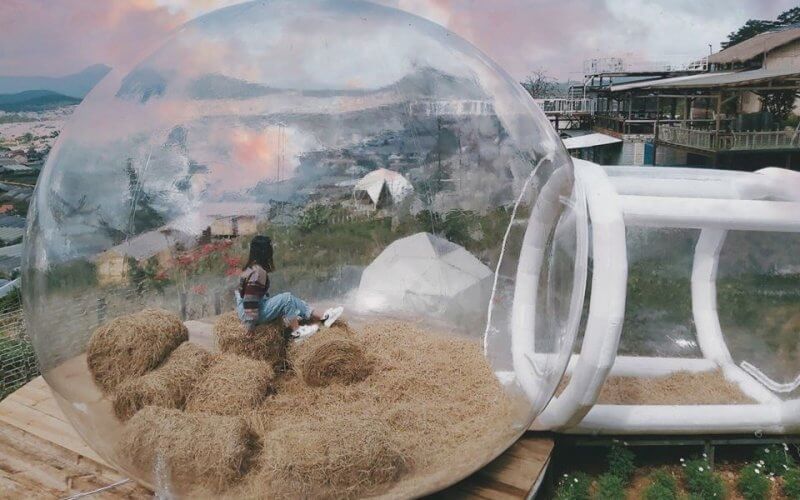 Sunny Farm is a mixed farm between a cafe and a homestay. Homestay combines transparent glasshouses and colorful wooden houses, giving visitors the most comfortable resort space.
This fun farm also has a small nursery where you can grow your favorite plants. Sunny Farm's cafe is made up of transparent glass so you can sit and sip a hot cup of coffee while watching the vast land of Da Lat.
Address: Slope No 7, Tu Phuoc Street, Trai Mat, Ward 11, City. Da Lat
Phone: 070 730 2602
Opening hours: 07:30 am – 10 pm
Facebook: nongtraivuive.dl
Ticket price: Free admission
How to get there: From the center of Da Lat city, you go to Hung Vuong Street, then go in the direction of Trai Mat and then go to slope number 7 to come to Sunny Farm.
Cau Dat Farm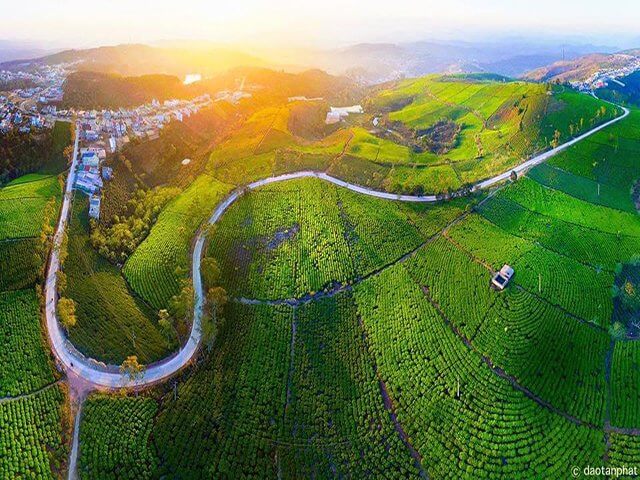 Coming to Da Lat without visiting Cau Dat Farm, you still cannot enjoy the beauty of Da Lat. With a fresh and pleasant atmosphere and 220 hectares of land covered with tea trees, this place brings a feeling of freshness and vitality to tourists from afar. This place is also a very terrific background to live virtual!
No matter from any angle, the green tea hill with the clear sky of Da Lat will bring you "millions of likes" photos in an instant.
Below the tea hill, there is also a shop with both ground floor and upstairs design so you can sip a cup of hot tea simultaneously; admire the vast landscape of Da Lat. Here, visitors can also buy products from tea to give as gifts for their Dalat trip.
Address: Cau Dat Hamlet, Xuan Truong Commune, Ward 12, Da Lat
Opening hours: 07:30 am – 5:30 pm
Ticket price: Free admission
How to get there: Starting from the Da Lat market, you go towards Ong Dao Bridge. Then turn right to Tran Quoc Toan street. Driving about 300m to the roundabout, you turn to Ho Tung Mau - Hung Vuong - Trai Mat - Tu Phuoc street. At the end of Tu Phuoc Street, you turn to QL20 and go straight until you see the signboard of Cau Dat Farm to arrive.
Trai Mat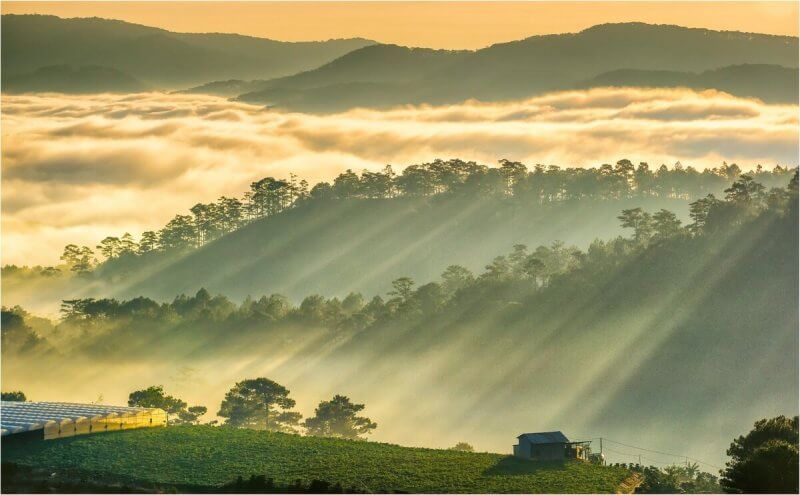 Trai Mat is one of the most famous farms in Dalat. People often combine a visit to the old train station, then take the old train to Trai Mat.
Trai Mat is a place to focus on cultivating agricultural products with large reserves and a place to supply vegetables to provinces and cities in the country and have many items of high export value.
At the same time, this is also the place with the most clouds. Visitors love to come here to experience hunting rattan. To track rattan, visitors have to get up at 5 am to move to Trai Mat. Around 5:30 or 5:45 is a beautiful time to admire the clouds at Trai Mat.
Address: Trai Mat, Ward 11, Da Lat City, Lam Dong
Ticket price: Free admission
How to get there: You start from Da Lat market, go in the direction of Tran Hung Dao - Hung Vuong - then run straight to Trai Mat.
Mr. Hung's Strawberry Farm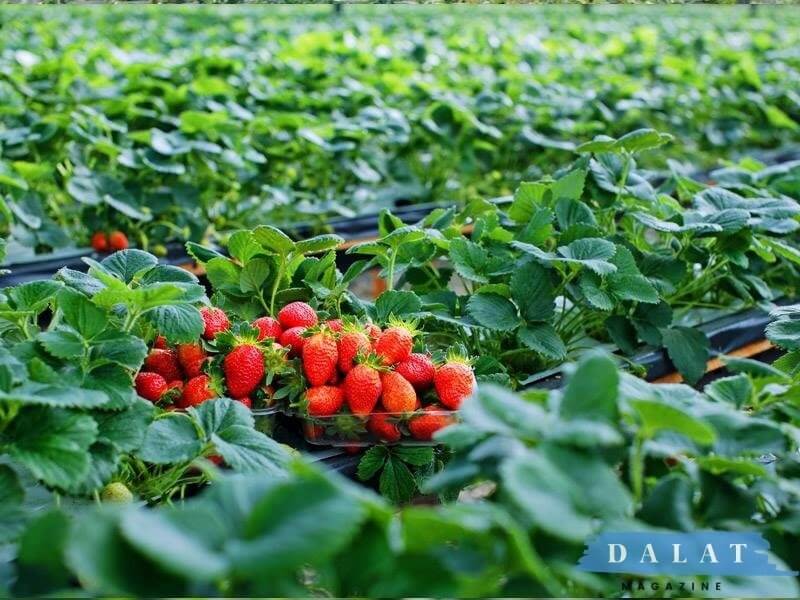 This Farm is a highly prestigious strawberry farm in Dalat. Coming here, visitors can visit for free and can also pick sweet strawberries to take home. Uncle Hung's strawberry farm is also an ideal check-in place for many friends. 
The strawberries of Uncle Hung's garden are succulent and juicy. At the same time, there is no medicine here, so the berries are very clean, so it is more popular with tourists. Because of the delicious quality, despite the high price, Uncle Hung's strawberry garden is still visited by many people. Some people say that strawberries in the market are cheap but sour, suitable for making smoothies than eating fresh. As for strawberries in Uncle Hung's garden, they are still delicious even though they are fresh.
If you are a lover of beautiful strawberries and like the peaceful and pleasant space on the Farm, you must come to Uncle Hung's strawberry farm to experience it!
Address: 143 Thanh Mau, Ward 7, Da Lat City.
Ticket price: Free admission
Strawberry price: 160,000 VND/kg (6.96 USD)
Phone:

 

0165.574.9866 – 063.357.0396
How to get there: From Da Lat market, you go towards Nguyen Thi Minh Khai - Ba Huyen Thanh Quan - Nguyen Thai Hoc - Tran Quoc Toan - Phu Dong Thien Vuong - Thanh Mau.

Email: info@10toptenreviews.com
10 Top Ten Reviews is part of VSG Solution JSC, an international media group and leading digital publisher.
© 2021 - 10TopTenReiews All Rights Reserved.