Phu Quoc is a well-known island in Vietnam. The most typical type of tourism is the sea tourist attractions. Still, you can also visit the tourist spots of mountains, rivers, streams, waterfalls, historical sites, and other constructions of spiritual culture. These places are located all over the island, and here is a list of 5 famous ones you should not miss.
Bai Truong Beach
Bai Truong is the largest tourist complex in the area, located in Duong Dong town with a coastline stretching from Dinh Cau Port down to the south of Phu Quoc island. Coming here, you will see the charming beauty of its smooth golden sand, clear blue sea, and the light waves that make the water turns blue and sometimes emerald green. Alongside the beach are immense green coconut trees and many small beaches connecting each other through the rapids. 
The most beautiful time is still at sunset moments. The golden rays of sunlight reflected on the undulating seawater, and the sound of waves crashing will bring you exciting experiences. On sightseeing, right on Tran Hung Dao street along the beach, there are many restaurants with fresh seafood to satisfy any food-lovers.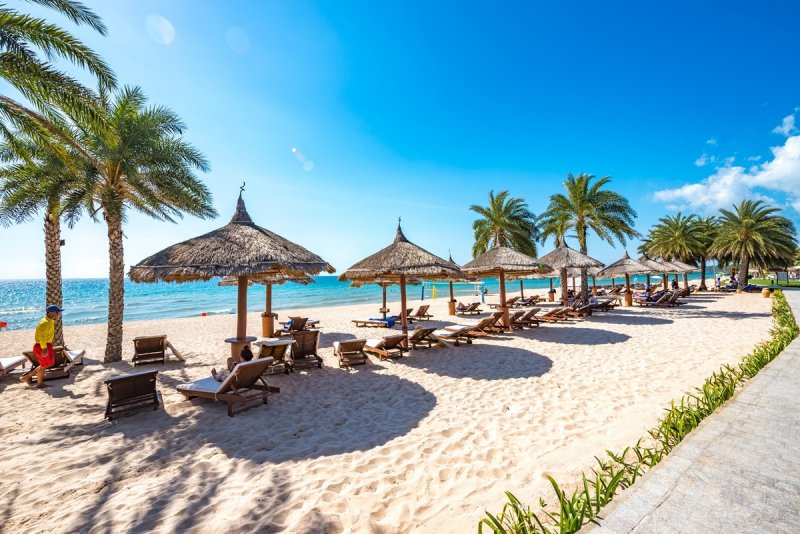 Address: Duong To Commune, Phu Quoc Island
Where to stay: 
Park Hyatt Phu Quoc
Regent Residences Phu Quoc
Intercontinental Long Beach Resort