In recent years, more and more people choose Phu Quoc Island for their vacations to immerse themselves in natural scenes. If you also plan to find a resort in Phu Quoc to rest on your upcoming trip, you should not ignore this article. Below is a summary of the top 10 luxurious Phu Quoc resorts that customers highly appreciate on this Pearl Island.
Vinpearl Phu Quoc
Vinpearl Phu Quoc is the largest resort area on the island. It has ​​up to 300 hectares, including resorts and entertainment parks such as VinWonders, Vinpearl Safari. And this is also the area. The resort owns the most beautiful location in Bai Dai beach, so it is not surprising that Vinpearl Phu Quoc is always on the list of must-go destinations when you come to Pearl Island.
You will have six different choices to enjoy every moment here:
Vinpearl Discovery Wonderworld, Vinpearl Discovery Coastalland, Vinpearl Discovery Greenhill 

are a range of villas with beach views.

Vinpearl Resort & Spa 

is a luxury resort with a system of hotel rooms and villas. Significantly, there is a standard 27-hole golf course and a long beach that can hold events with a capacity of up to 3000 people. They have saved a lot of celebrities' wedding events.

VinOasis

: Despite being the youngest project on Phu Quoc Island, VinOasis is more prominent thanks to its modern design. Especially the Water Park is right on the premises, convenient for customers who want to experience the VinWonders amusement park.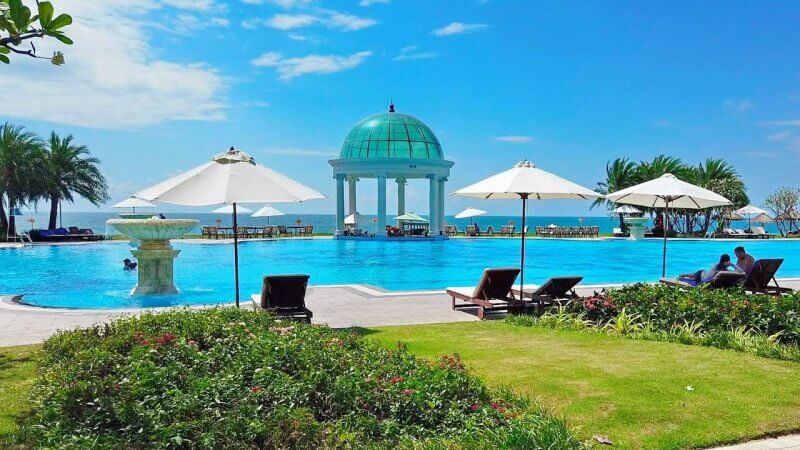 In terms of rooms, Vinpearl Resort also offers customers many options, from hotel rooms with an average area of ​​46,2 square meters with sea view, pool view, garden view to villas with a larger capacity of up to 8 adults. They are all privately arranged with a private swimming pool and sea view, promising to bring you the most comfortable moments.
Address: Ganh Dau Commune, Phu Quoc Island
Hotline 1: 0825437888
Hotline 2: 0825437999
Website: https://vinpearl.com/en