If you'd like to travel to Da Lat but haven't decided where to stay, let's check out our beautiful and romantic homestay. It has a reasonable price and owning a fantastic view, especially with outstanding flower gardens to check-in. I guarantee that these homestays will be great suggestions for you!
Hobbit Villa Dalat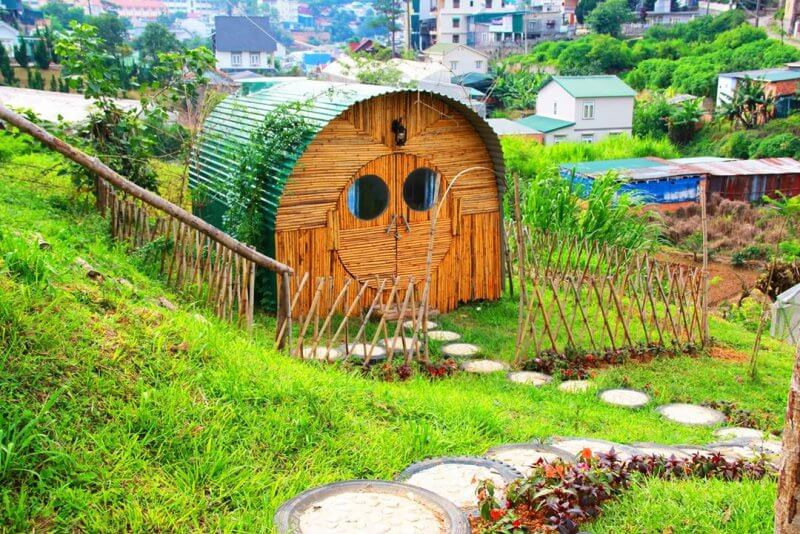 Talking about Hobbit Villa, we couldn't forget to mention the classic smiling face house lying on the edge of the valley. We can't resist falling in love with the green lawns and beautiful flowers here. Not only beautiful, but the Hobbit Villa is also one of a kind. It's worth making a trip and spends your time right there.  
It includes the main villa with four bedrooms and two separated bungalows within a 1200 square meters garden. One of the reasons that made the Hobbit became a preferable homestay is each bedroom has its restroom. Moreover, owning the stunning flower garden surrounding and appealing valley view, the Hobbit Villa is undoubtedly taking the best homestay in Da Lat. 
However, every room will have a fridge and a kitchen. The price for the whole villa with four bedrooms will be 2.500.000 VND a day (regular day). 
La Nha Homestay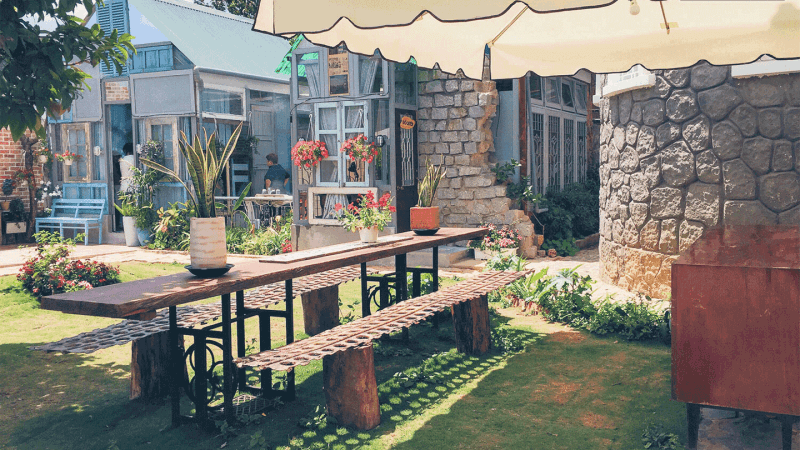 Located 2km from the city center, La Nha is outstanding for the classic vintage colors combined delicately in the homestay. 
La Nha urges us to explore and makes us have a desire to take a nice deep sleep. You will have many choices with different service prices in La Nha. And if you love nature, grass smell, and like to feel the fresh air, La Nha can provide a tent for just 150.000 VN per one. 
The white villa is standouts with a large and airy garden. The delicately decorated space mixing with warm and cold tones will make you feel very comfortable entering the house. And maybe the feeling of being both strange and familiar, like going away and come back home, will be exciting for you. 
Detail info:
Address: 102/6 Van Hanh St, Ward 8, Da Lat City 

Hotline: 090 365 03 77 

Reference price: 170,000 - 650,000 VND (7.39-28.26 USD)
Lu Tan Inn Homestay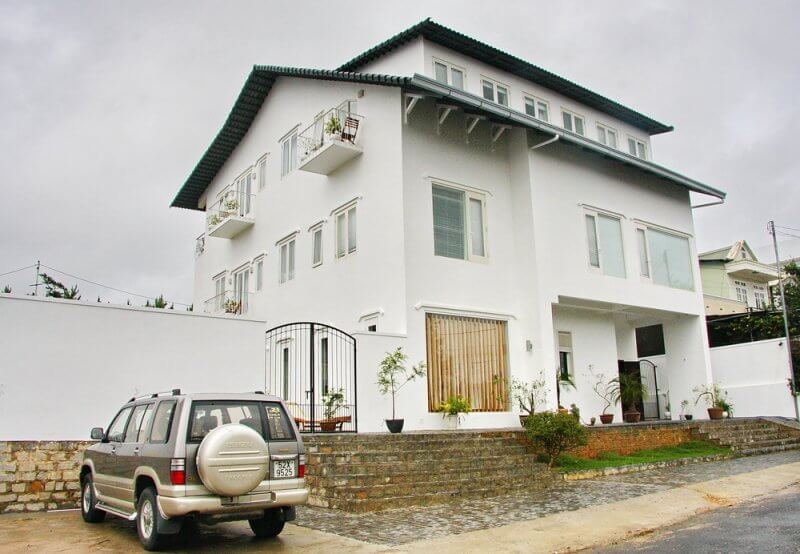 Lu Tan Inn is a newly built house to stay and share with you as an inn / small hotel. The hotel is in the center of Dalat city.
Although in an ideal location within walking distance to Xuan Huong Lake and Da Lat Market, Lu Tan is still calm and quiet because it is in an alley separate from Tran Hung Dao main street, near Palace Hotel. Lu Tan Inn sincerely welcomes you thanks to its beautiful rooms and the whole house and typical lifestyle in a space that has spacious, considerate, and delicate, between grass and flowers, books, and music.
And the space of Lu Tan homestay is also designed and decorated delicately and romantically. Lu Tan has a total of 9 rooms, each with its style and decorated with separate themes. But in general, the kind of rooms here is gentle. This place creates a bright, elegant feeling thanks to the harmonious combination of blue, green, light yellow, and floating colors with white curtains. But what makes Lu Tan the most beautiful is the light.
Lu Tan Inn hopes that after each visit, the memories of staying with you will be beautiful and unforgettable.
Home of Dreamers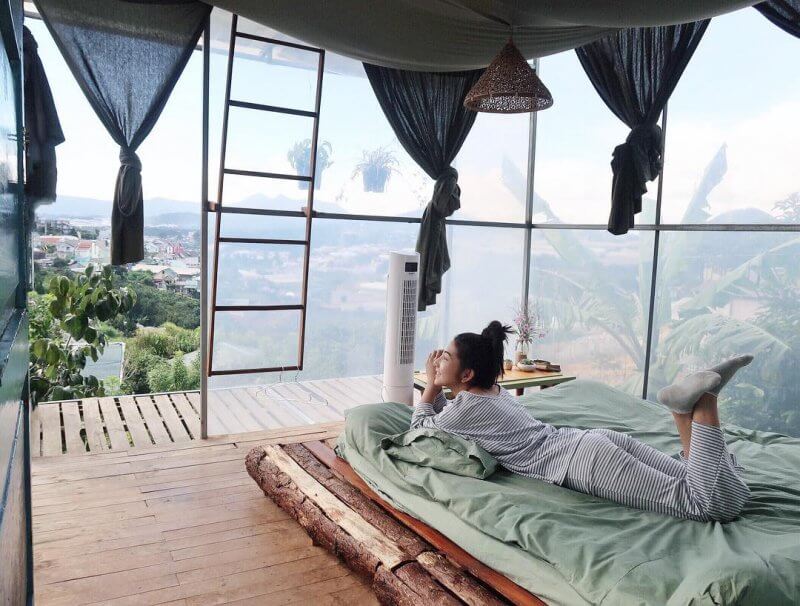 Home of Dreamers _ A house of dreamers who want to find and bring their friends a quiet, gentle Dalat space.
"Home" will bring people back to the spiritual atmosphere of Da Lat, inheriting the wishes and aspirations of a generation of people who have written a poetic Da Lat besides the nostalgia. , clean clothes. A small space will take you away from the hustle and bustle of the world to listen quietly and feel the ideals of the cultural quintessence of a time, the times of Trinh Cong Son, Nhat Linh, Nguyen Tuong Tam, Pham Cong Thien, Pham Duy, Le Uyen - Phuong, Dinh Cuong, Hoang Nguyen, Khanh Ly.
A space that is not fussy about decor that all will come as a necessity of life. The small green corners, romantic and gentle love songs of Le Uyen Phuong, Pham Duy, will be the themes throughout Dreamer's Home. And large notebooks are always available for you to write about Da Lat, about the people in Da Lat. You know, about the morning coffee on the hillside overlooking the valley of Dreamer's Home.
Those will be beautiful memories that you will bring with you as luggage for the next journey of your life.
Da Lat Lacasa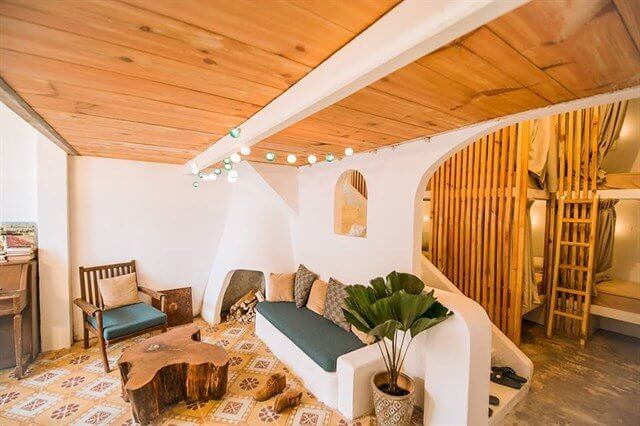 Locating in Dalat city, nearly one kilometer from the Lam Vien square, Dalat Lacasa has a room with an air conditioner and garden. There are many beautiful kinds of flowers. The services here include a restaurant, 24/7 receptionist, room service, and free Wifi. Each room in here will have a desk, a flat-screen television, a private bathroom, and a yard which city view. Besides, it also has a kettle and wardrobe. Our guests can have a buffet breakfast or an Asian breakfast.
Famous place near our place is Xuan Huong lake, Yersin park, and Hang Nga Villa (the crazy house). The nearest airport is Lien Khuong Airport, 29 km from Dalat Lacasa. This place also provides an airport shuttle service with extra charge. Many couples get the high point for this place- 8.3/10 for couple trips.