The crust is golden, both crunchy and ductile. The filling inside is split, soft, naturally meaty from meat, dried mushroom. Dip the balls into sweet and sour dipping sauce will quickly dispel the cold. 
Ingredients
150 gram of Glutinous rice flour
50 gram of rice flour
20 grams of sugar
3 grams of salt
1 potato or sweet potato (about 50 grams)
100 gram of ground shoulder blade pork
1 carrot
¼ onion
1 Chinese dried mushroom
1 handful of glass noddle
Spring onion, coriander
1 small kohlrabi
Seasonings: fish sauce, sugar, vinegar
Potatoes are peeled, thinly sliced, steamed, and finely ground. Put glutinous rice flour, rice flour, and mashed potatoes in a large bowl, slowly add warm water (40-45 degrees). While pouring a small amount of warm water, mix lightly with your hands. Then stop until a smooth and fluffy mass has been achieved. Use the food wrapper to cover the dough and let it rest for 1 hour.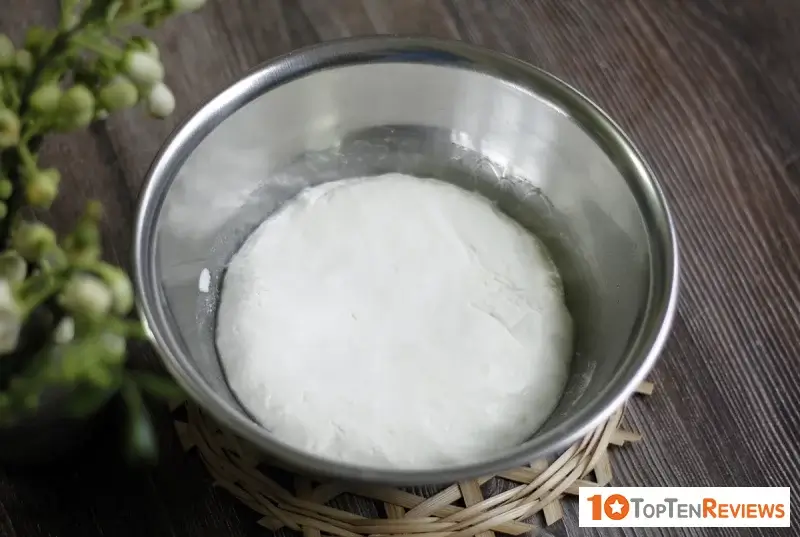 Soak the mushrooms and glass noddle in cold water, then drain and dice them. Spring onions, corianders after being rinsed, drained, and finely chopped. Finely chop carrot and onions. Mix the ground meat together with the above ingredients, season with 1/2 teaspoon of salt, 1/2 teaspoon of seasoning, 1/2 teaspoon of pepper. Mix well and divide into 8 - 10 portions and form into round pellets.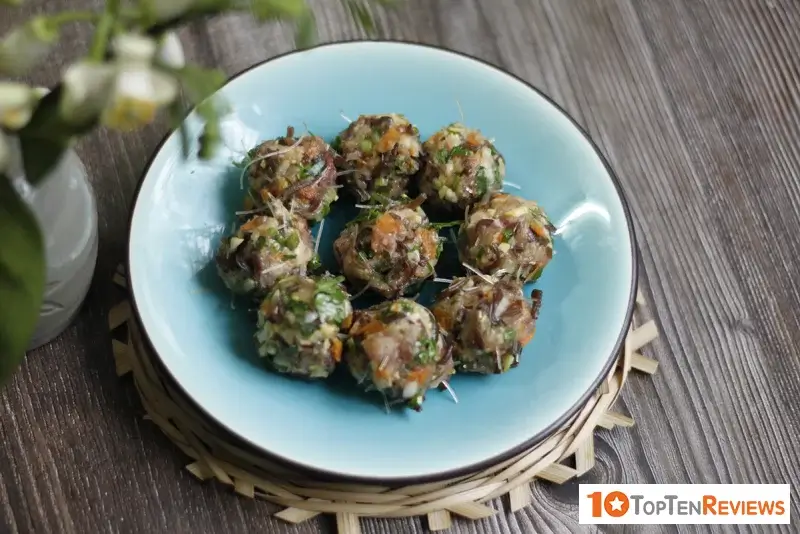 The dough after resting is divided into 8 - 10 parts corresponding to the rounded fillings. Press the pieces of dough into flat circles and place a little filling in the center of each. Draw up the edges of the dough, working it around the filling to seal it in and make neat balls. Do it one by one then wrap all of them in a food wrapper and rest for another 1 hour.
While waiting for the dough to rest, making sweet and sour dipping sauce as well as pickled cucumbers.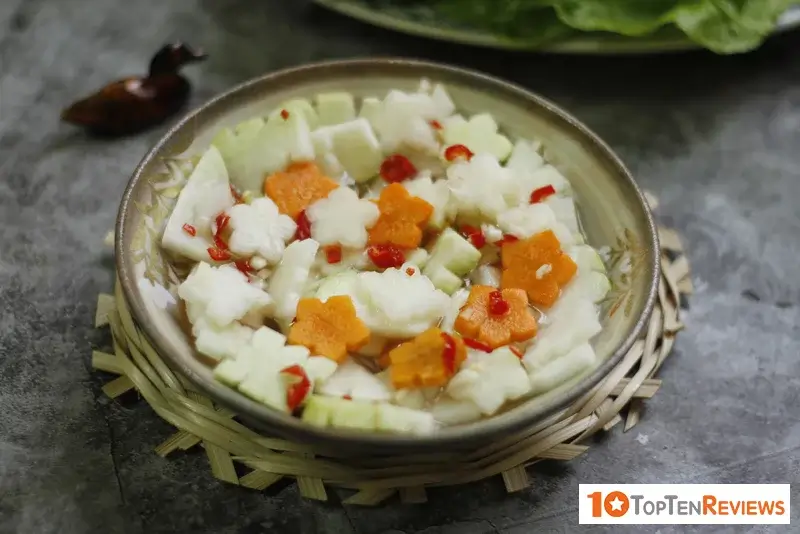 You should double deep- frying to make the balls more crispy. The first time trying to fry over a small-medium heat so that they can be cooked from inside out. Carefully turn the balls so that they do not stick together and make sure there is always hot oil around them. When they turn slightly golden, then take them out to cool down.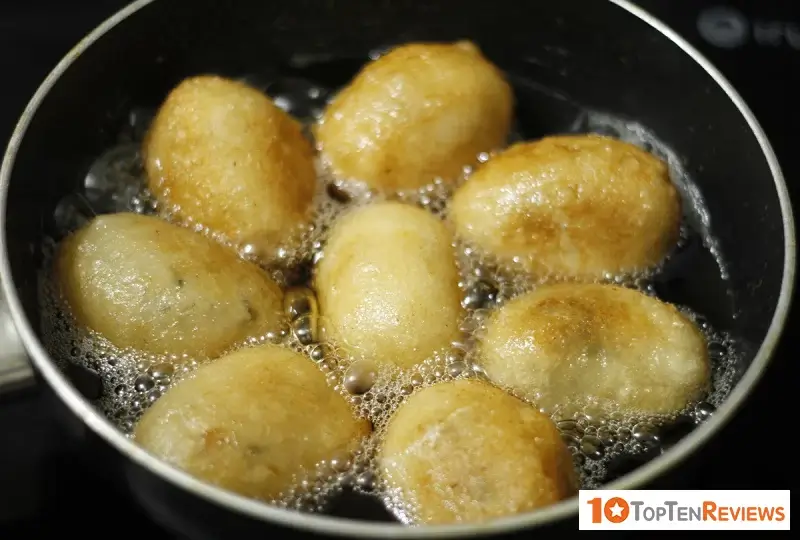 For the second time, it is necessary to increase the temperature higher and ensure the oil is submerged, turning over until the balls have a golden crust. Increase the temperature also helps them to drain the oil and dry.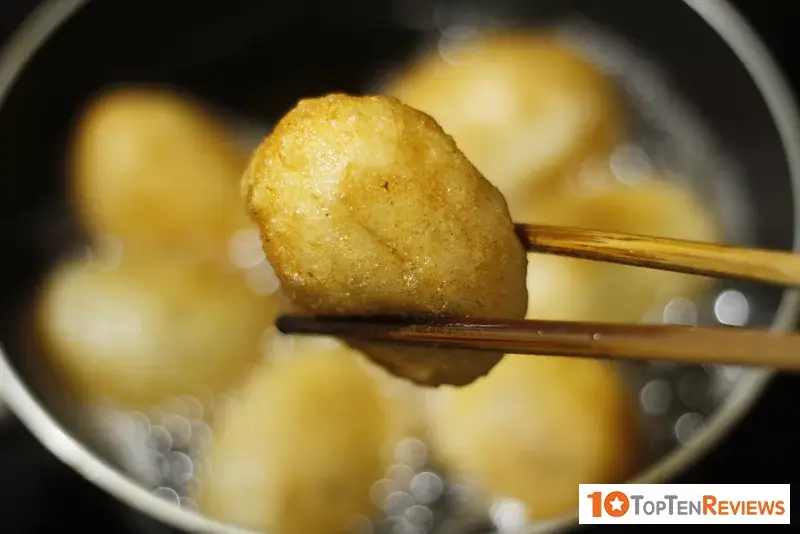 Requirement for the dish: golden crust balls, both crispy and supple; the filling inside is crusted, soft, delicious and appealing.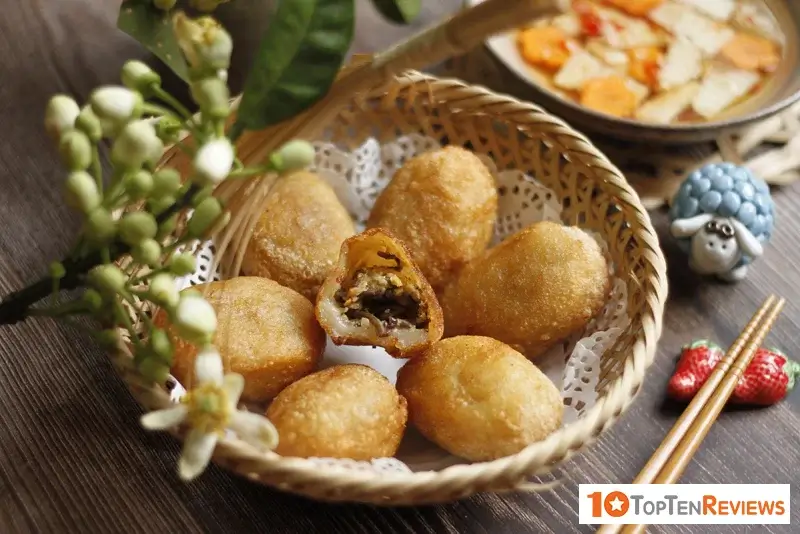 Notes:
The dough that needs to be smooth enough (not too dry or too pasty). If the dough is too dry, it can also cause cracking when frying.
The filling also needs to be dry because if it is wet, it will break the crust when frying.
It is recommended to fry the balls in a deep pan to save oil and cook the evenly golden, crispy balls.
You should deep fry the balls 2 times (the first time they are cooked, the second time helps the balls crunch and get a golden crust).