Each lemongrass pork skewers wrapped in lemongrass, soft and sweet, rolled with raw vegetables, green bananas then dipped in sweet and sour fish sauce, create an attractive symphony.
Ingredients
500g pork paste
250g lean ground beef (both lean and fat)
150g fresh shrimp
20-30 lemongrass plants to wrap spring rolls
2 tablespoons tapioca starch
Seasoning: Oyster oil, fish sauce, seasoning, pepper, sugar, honey, pepper, onion powder, garlic powder (or use onion, garlic), cashew oil, chili powder
Served with: Vermicelli, raw vegetables (lettuce, coriander, pineapple, green banana, star fruit), rice paper
Sweet and sour fish sauce
Method
Choose the lean shoulder meat with fat (in order not to dry out during cooking) and grind it. Peel fresh shrimp, mince it, shrimp makes the spring rolls more flavored.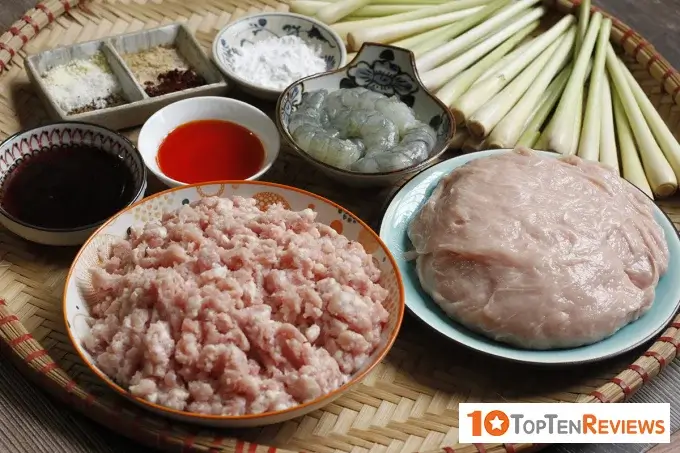 Wash the lemongrass, remove the old outer shell, cut in short, lightly pound the top of it to release the oil so that when baking it penetrates into the pork skewers which make the skewers become more delicious.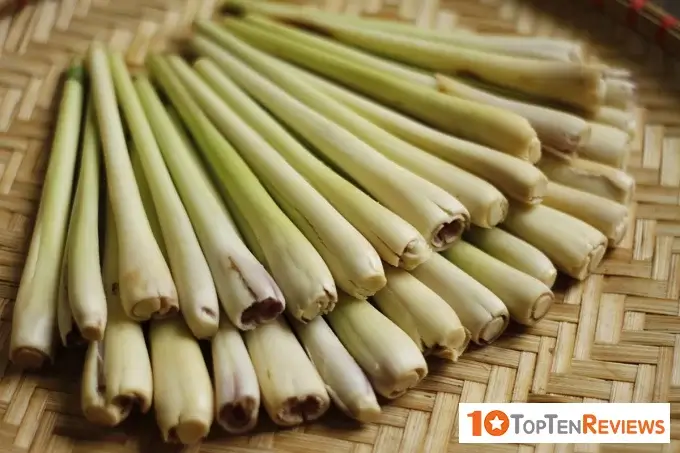 Put pork paste, minced meat, minced shrimp In a large bowl, add onion powder, garlic powder (or grind onion and garlic bulb, then squeeze the juice), 2 tablespoons of oyster sauce, 2 tablespoons of sugar, 2 tablespoons of oil cashew color, 2 tablespoons of tapioca starch, 2 teaspoons of Korean chili powder (optional), 2 teaspoons of seasoning, 1 teaspoon of fish sauce, 1 teaspoon of pepper. Mix and spread until the mixture become smooth, cover it with cling film and refrigerate it for 2-3 hours to infuse the spices and become more elastic.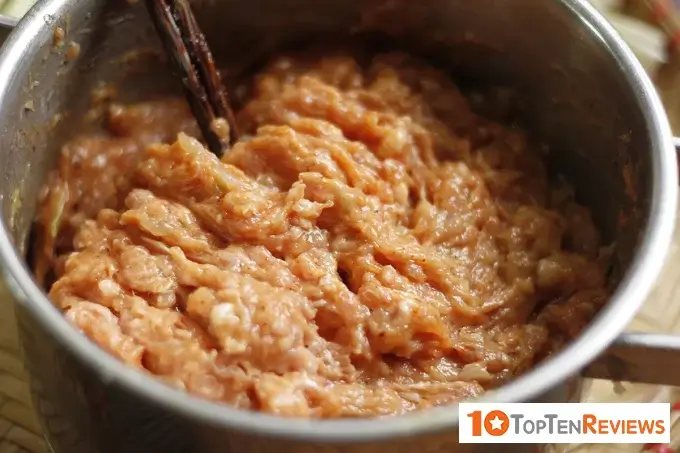 After marinating, apply a little cooking oil to the gloves, scoop a moderate amount of meat mixture and wrap it around the top base of the lemongrass. Repeat until the end.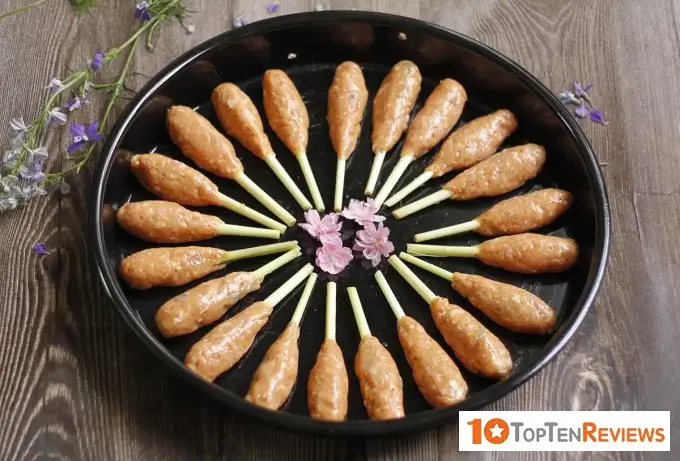 Grilled lemongrass pork skewers with charcoal is the most delicious. If you bake in the oven, put it on the griddle (below put a tray of water so that when baking the pork skewers' fat doesn't burn). Bake at 180 degrees for 15 minutes, take out and spread the mixture (including 1 tablespoon of honey, 1 tablespoon of oyster sauce, 1 tablespoon of cashew oil) to make it beautiful and delicious, not dry. Continue baking for another 15-20 minutes until completely cooked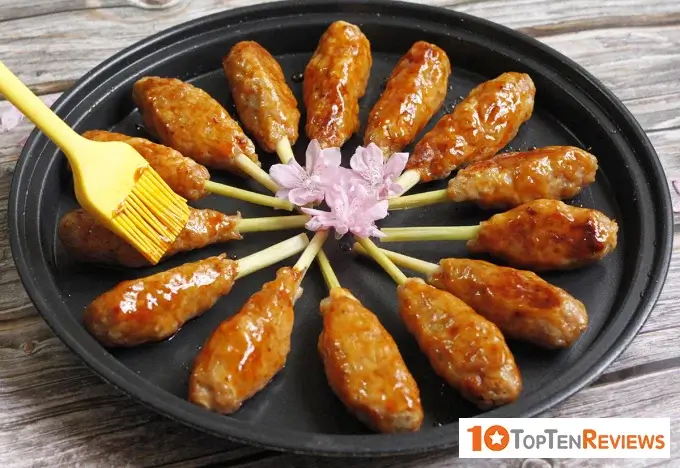 Serve the skewers with raw vegetables, sour star fruit, green bananas, cucumbers, pineapples... When eating, put rice paper on a flat surface then add raw vegetables, pork skewers, vegetables, tangy vermicelli and roll it up, dip it in sweet and sour garlic chili fish sauce will make the rolls become very tasty.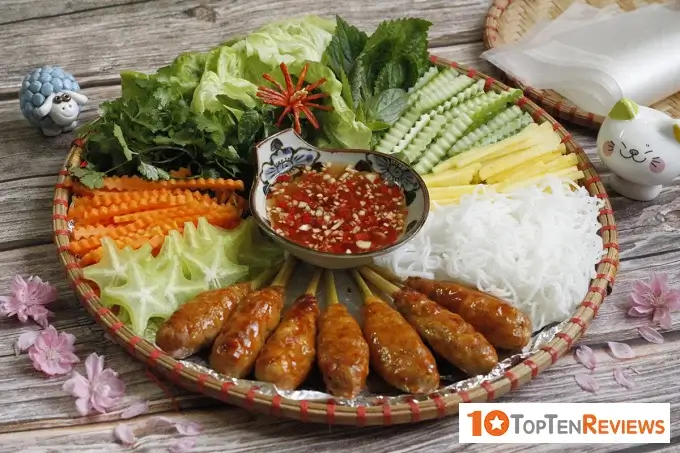 Note:
Because pork paste are inherently briny, you only need to season with a small amount of fish sauce to avoid being salty, and when eating you should dip the skewers in sweet and sour fish sauce.
Should add fat, cooking oil (or cashew oil) so that the grilled lemongrass pork skewers do not dry out.
Using crushed base lemongrass to wrap the pork is the best because the lemongrass essential oil makes it more delicious. If you don't have one, use sugar cane or skewers.
If you have time, you can make broth from liver in order to make the dish more Hue-style. Method: Use 100 grams of ground pork; 100 grams of pork or chicken liver, wash, cut into pieces, soak in fresh milk for 30 minutes to remove fishiness, poach in boiling water and minced or finely chopped. Saute onion and garlic, add liver and ground meat, stir-fry, season to taste. Add 1 bowl of water and cook on low heat until the meat is tender, mix a little tapioca starch with water and stir to combine. Turn off the heat, add peanuts and roasted sesame, chili powder (depending on taste) and stir well.