For over a millennium, Hà Nội has been the capital representing the history of many valuable relics. Now let's have a look at the list 14 most interesting and ideal places to have fun in Hanoi. Also, try to schedule a discovery with your family and friends right away!
1. Hanoi Old Quarter and Night Market
Besides being an attractive tourist destination in Hanoi, the Old Quarter is also a place that preserves the ancient culture of those inhabiting the capital. With the typical architecture from the late 19th century, the Old Quarter consists of closely spaced houses and alleys, creating a sense of attraction and curiosity for tourists. In addition, the highlight when coming to this place is in the streets themselves. Each street is named after a typical occupation from the past.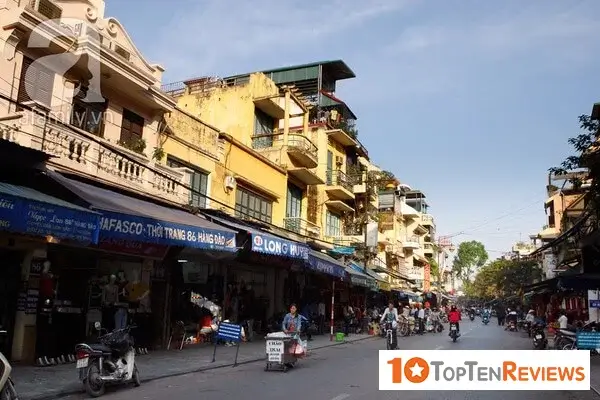 Pictures of Hanoi's Old Quarter (photo collection)
The old town night market usually takes place every Friday, Saturday and Sunday night, from the streets of Hang Dao, Hang Ngang, Hang Duong, Hang Khoai to Hang Giay. The old town night market is always bustling, with many idyllic, rustic and ancient Vietnamese items.
You can book a hotel in Hanoi's Old Quarter for the sake of convenience when it comes to sightseeing and travelling. This is also the place that will allow visitors to see the beauty which lies within the soul of the Hanoians.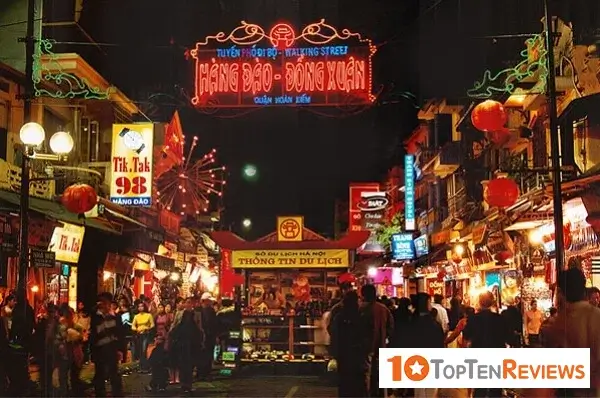 Bustling old town night market (collected photos)
Another interesting place in the Old Quarter that you should not miss is Ta Hien "beer street", a favorite destination in the evening not only for Hanoians but also for foreign tourists. This neighborhood, in addition to being famous for speciality beer, also attracts people with delicious dishes such as grilled quail, pancakes or mixed vermicelli... Sipping a beer on such a cool evening would bring unforgettable experiences.
2. Hoan Kiem Lake, also known as Sword Lake, or the Lake Shore
There are few places in the world where nature can be as well-preserved as this place. A special feature of Hanoi's geography is that there are many lakes in the city, surrounded by large rivers. Also, the lake associated with the greatest number of historical sites is Hoan Kiem Lake, located in the center of the capital with the ancient Turtle tower located on a small peninsula in the middle.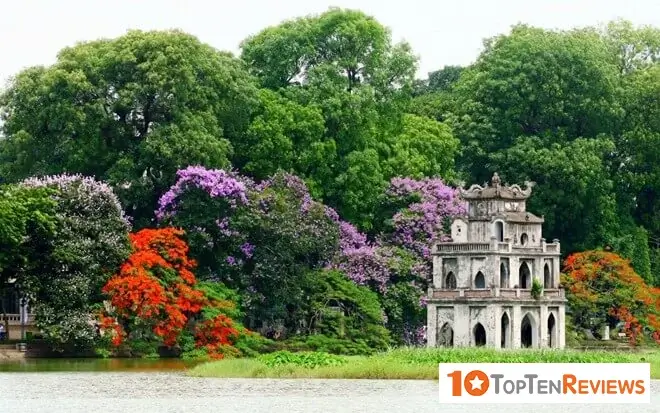 Turtle Tower in Hoan Kiem Lake (photo collection)
The beauty of Sword Lake can be observed during the day while night skies only make it more splendid. It is an extremely interesting and romantic place to visit and have fun in the evening for young people as well as tourists.
In addition, a space for culture is expanded for visitors as well as creating a place for people to play on weekends. Walking street is a combination of many art and entertainment activities that receive the enthusiastic participation of young people as well as foreign guests. It would be highly appropriate if you choose to book a hotel near Hoan Kiem Lake to go out and enjoy Hanoi cuisine without getting bored.
Next to Hoan Kiem Lake are impressive architectural works that attract tourists travelling to Hanoi and are precious heritages of the city: Pen tower, Nghien radio, The Huc Bridge leading to Dac Nguyet floor or Tran Ba communal house …on the entrance to Ngoc Son Temple.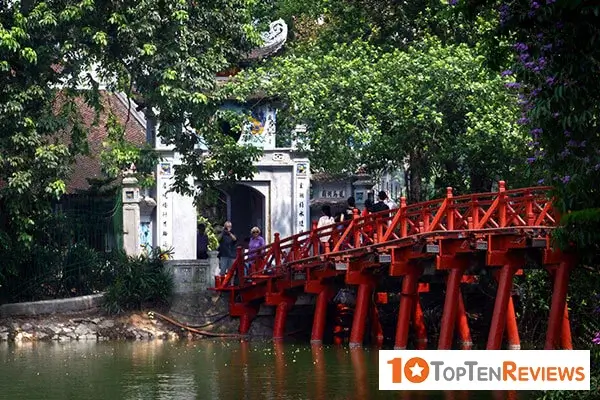 The Huc Bridge and Ngoc Son Temple (collected photos)
3. Hanoi Cathedral
During the French colonial period in the late 19th century, many churches were built. But among them, the largest and most typical construction is the Hanoi Cathedral. The airy and pleasant scenery makes it one of the fun places in Hanoi, attracting young people as well as tourists. In the morning, people sit and sip a cup of coffee on the sidewalk, and in the evening, gather with friends to chat with a cup of lemon tea.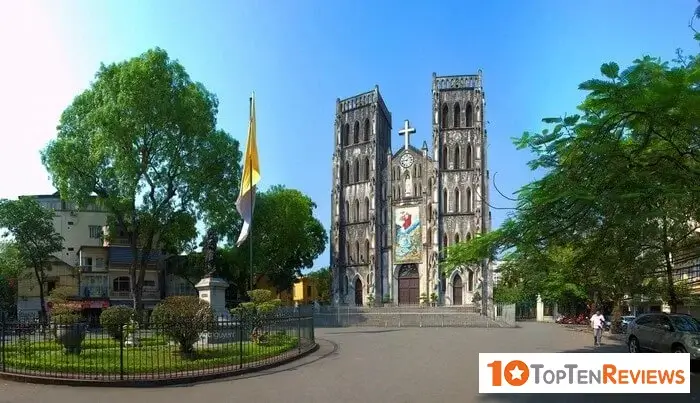 Hanoi Cathedral (collected photos)
4. Long Bien Bridge - a place to hang out in Hanoi that attracts young people
Not only is it the evidence of the heroic years of history, but Long Bien Bridge is now also the destination for many young people who love to take pictures because of its ancient yet romantic beauty. Besides, around Long Bien bridge, there are also many other attractive places for entertainment that you can explore such as Red River rock beach, Nhat Tan peach garden... Hotels near Long Bien Station are an appropriate choice. So you can visit Long Bien Bridge as well as many other places in Hanoi.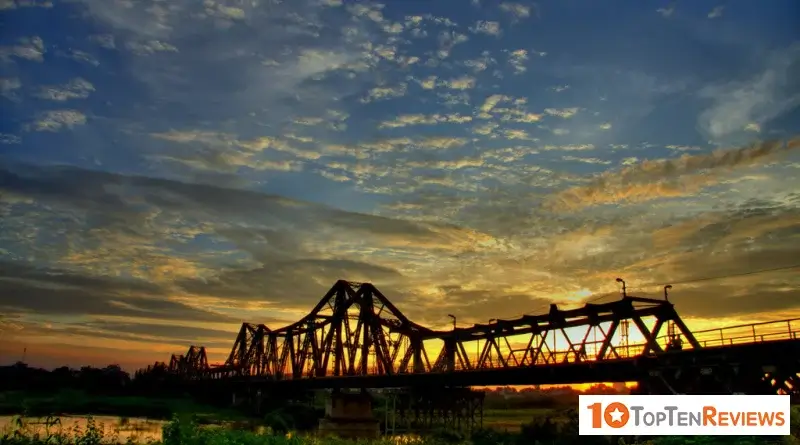 Long Bien Bridge (photo collection)
5. Thu Le Park
Opening time: From 8 am to 6 pm daily
Thu Le Park has a total area of about 29 hectares with quite a narrow terrain including a tear-shaped lake and a strip of land running around the lake. Unlike other parks in Hanoi, Thu Le Park is considered a National Zoo with many wild animals living here. In addition, inside the park, there are many interesting games such as duck riding, water polo, a haunted house, a ferris wheel, a train ... and a cool green space for visitors to have fun and enjoy the scenery.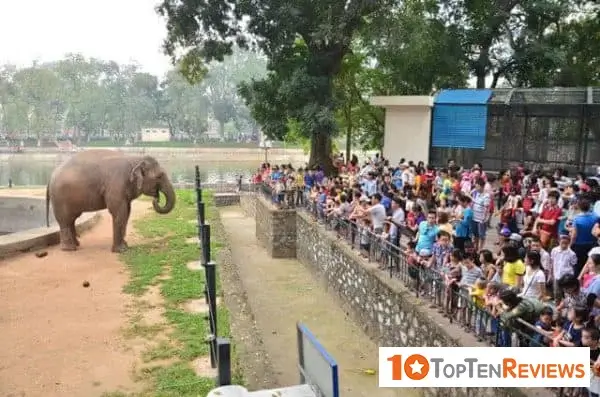 6. West Lake – an interesting place to have fun in the evening
West Lake is an attractive destination in Hanoi with diverse services from entertainment, shopping, and dining to attractive games. With a large area, airy space, ideal, this is also a place to provide tourist services such as duck riding, canoeing, floating restaurants.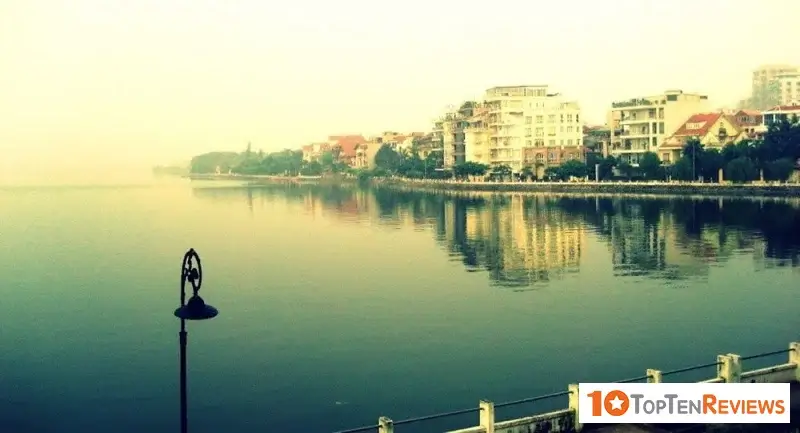 West Lake in the autumn afternoon (collected photos)
On cool evenings, West Lake often gathers a lot of people. Coming to West Lake in the evening, you can freely choose a corner around the lake and enjoy a portion of delicious street food, such as grilled rice paper, grilled meat or fried fish balls.
Besides, West Lake also has an attractive place for young people, which is the Korean wharf with romantic and lyrical scenery. As a beautiful road, coming here you can not only admire the scenery but also fly kites, have fun and talk. To move to the Korean wharf, you take a shortcut from Dong Nhat Tan village to Nam Nhat Tan village. In the summer, it is very cool here, especially the most attractive is the fragrance of lotus flowers.
Do not forget to choose a hotel in West Lake to enjoy the interesting things around the lake.
7. Landmark Sky Observation Deck 72
Address: Floor 72 KeangNam Landmark, E6 Pham Hung, Cau Giay District, Hanoi
Located on the roof of KeangNam building, Landmark Sky 72 Observation Deck is an interesting weekend destination in Hanoi. This is an entertainment center with many unique attractive services that attract a lot of young people in the capital. With the same amount of money as a movie ticket, you will enjoy games such as 3D photography, visit the living art museum, experience 5d movies or enjoy the panoramic view of Hanoi with the Landmark observatory. Sky from a height of 372m.

Landmark Sky 72 Observation Deck (collected photos)
8. Royal City – An attractive entertainment place in Hanoi
Address: 72A Nguyen Trai, Thanh Xuan, Hanoi
Royal City is a commercial center, a large underground entertainment area in the center of Hanoi. With unique European-style architecture, especially the welcome gate of Royal City, it creates an overwhelming and extremely interesting scene. As a commercial center complex, in addition to shopping at Royal City, you can participate in games such as ice skating to culinary villages with a variety of dishes... for your free evening or weekend.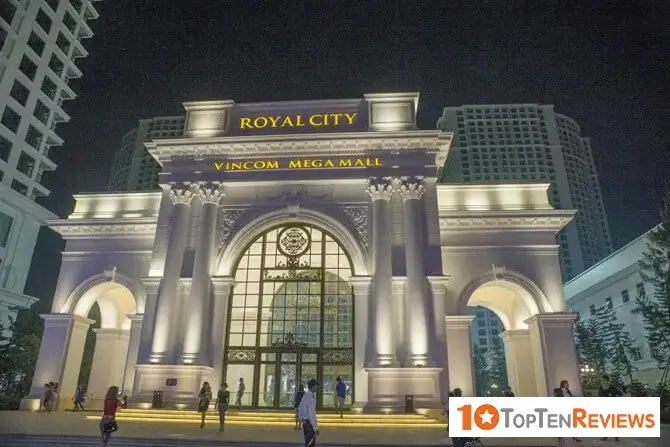 Royal City (photo collection)
In addition, there are many interesting and exciting activities held in Royal City. Here you will be delighted to admire the unique services without having to lose an entry ticket. Moreover, the snacks here are also quite cheap. It is for these reasons that Royal City is chosen by many parents to bring their children here to relax and entertain on weekends.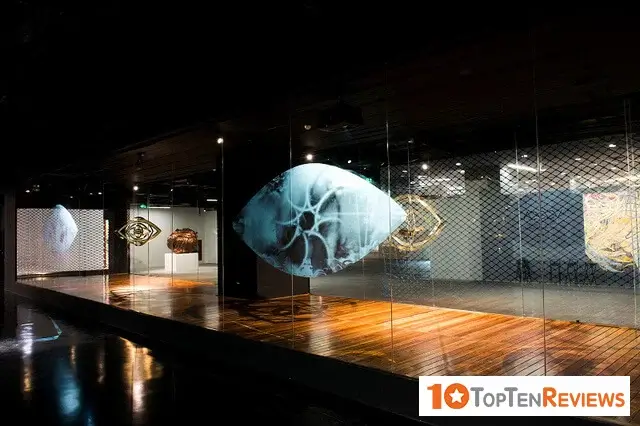 VinCom Center for Contemporary Art – VCCA (collected photos)
Besides, Vincom Center for Contemporary Art VCCA has just opened here, promising to be a new breeze for young people in Ha Thanh. Not only is it a place for art lovers to come to admire and learn, but VCCA is also a new and unique check-in destination that makes young people addicted.
9. Vinpearl Aquarium – Vinpearl Aquarium Times City
Address: 458 Minh Khai, Hai Ba Trung District, Hanoi
Besides entertainment and shopping areas, Vinpearl Times City Aquarium attracts visitors with its beautiful setting with the largest and most modern aquarium in Vietnam. The aquarium at Times City has an area of nearly 4,000 m2, with thousands of species of creatures, and more than 30,000 species of fish and is the first aquarium with tunnels in Hanoi. Coming to Vinpearl Aquarium Times City, you can not only discover the mysteries in the ocean but also enjoy the exciting moments of the splendid "Mermaid" of the fairy world and witness the birds with your own eyes: Penguin.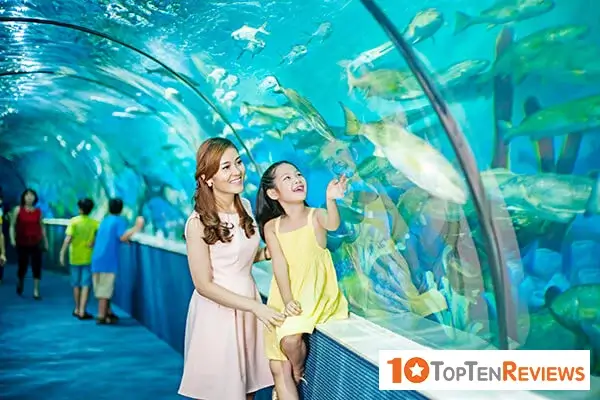 Aquarium in time city (photo collection)
10. AEON MALL Long Bien
Address: No. 27 Co Linh, Long Bien District, Hanoi
Located right at the foot of Vinh Tuy Bridge, Aeon Mall Long Bien is a familiar place for those who love to eat and shop in a spacious and airy space. In addition to the largest CGV cinema complex in Vietnam, Aeon Mall Long Bien also owns many attractive amusement parks such as a haunted house, mirror maze, and bowling alley... attracting a lot of young people to participate.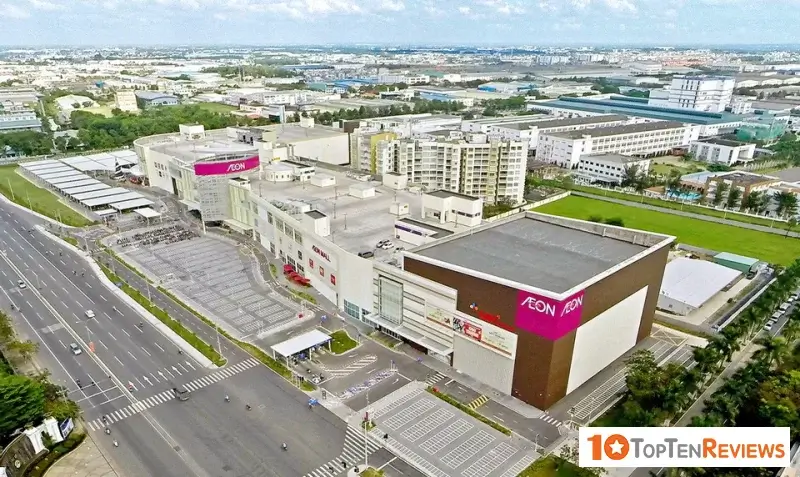 Aeon Mall Long Bien (photo collection)
11. The Garden Shopping Center
Address: The Manor Urban Area, Me Tri, My Dinh District, Hanoi
Located in the urban complex of The Manor, The Garden Shopping Center is one of the largest shopping centers in Hanoi with a total area of up to 27,000m2. Coming here, you will enjoy an exciting world of shopping and entertainment in a spacious, luxurious and modern European-style space.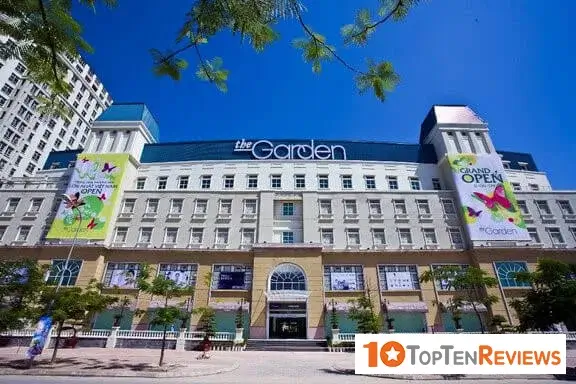 The Garden Shopping Center (photo collection)
12. Hanoi Creative City – entertainment area in Hanoi
Address: No. 1 Luong Yen, Bach Dang, Hai Ba Trung District, Hanoi
Hanoi Creative City is a complex of creative and artistic complexes with 20 floors, gathering the most typical organizations, individuals, businesses, products, services and activities of the creative industry. In Hanoi Creative City, there are not only restaurants or cafes but also art galleries, beautiful creative offices or Collective stilts specializing in organizing exhibitions and art aimed at young audiences. With a spacious space and many interesting activities taking place regularly, this is an amusement park in Hanoi suitable for all ages.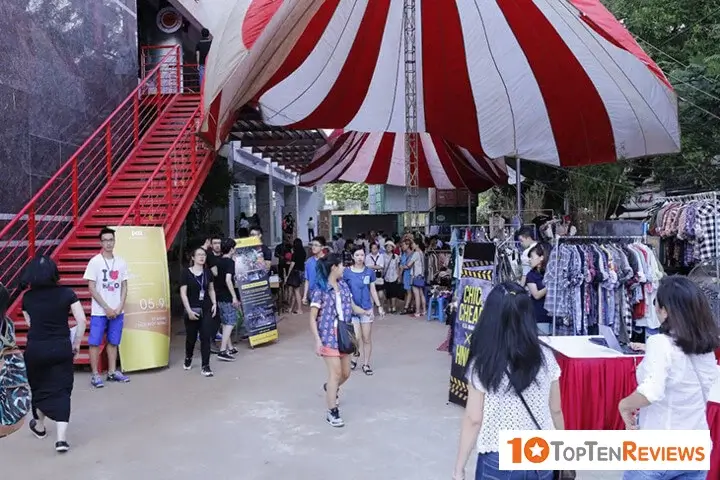 Hanoi Creative City attracts many young people (photo collection)
13. Bao Son Paradise
Bao Son Paradise is a fun place in Hanoi that not only attracts children but also many young people. People coming here will be able to participate in exciting games such as high-speed skating, immerse themselves in the fairy world or admire interesting circus performances. In addition, Bao Son Paradise also owns one of the largest aquariums in the North. Here you will be able to visit the world under the ocean with many interesting and lovely creatures. After having fun, you can stop at Cung Dinh restaurant to enjoy delicious dishes or participate in a unique country market.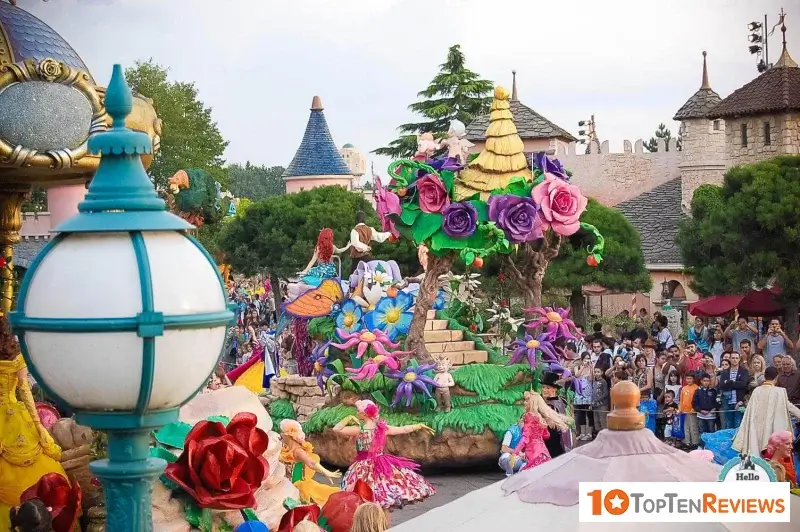 14. My Dinh Stadium
Different from modern amusement parks, the space in front of My Dinh stadium is a favorite place for people to relax in the evenings and weekends after a tiring day of work and study. The kites with many funny shapes flying high in the air create a peaceful and interesting scene here. You will be filled with the childhood atmosphere with kites and feel the comfortable atmosphere amid a bustling and noisy Hanoi.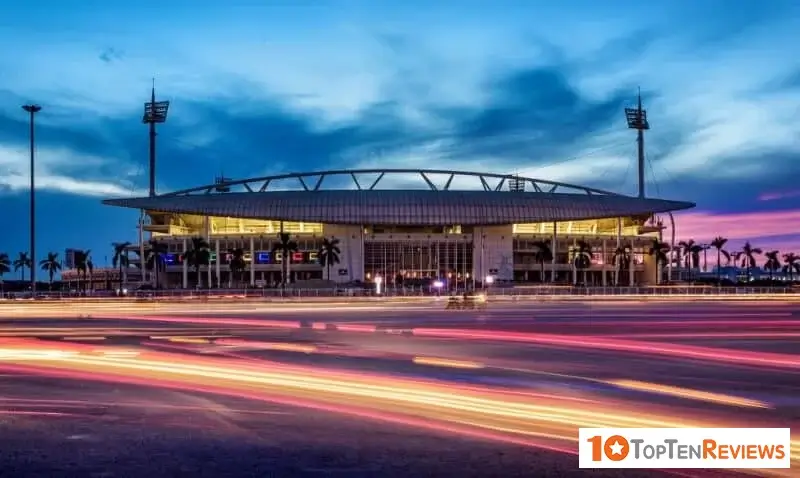 If to list all the places of entertainment in Hanoi, the list of 14 places above is not enough because each visitor has their preferences and personality. Hopefully, this article will partly help you choose the most suitable place to have fun in Hanoi at the weekend.