On big holidays or weekends, many families or young people often choose camping spots around Hanoi to relieve stress and tension. This is also an opportunity for campers to have interesting experiences and immerse themselves in the beautiful nature, temporarily away from the crowded and noisy urban places out there. In particular, the children will have many chances to explore the world around and cultivate knowledge about environmental protection from an early age.
Ecopark urban area
• Address: Van Giang, Hung Yen province
• Entrance fee: Free. If you want to enter the spring park, the ticket price is 50,000 VND/person
Ecopark is the most beautiful eco-tourism area in Southeast Asia, only 13km southeast from Hanoi center. This is one of the camping areas around Hanoi that many tourists choose during short-term vacations or weekends.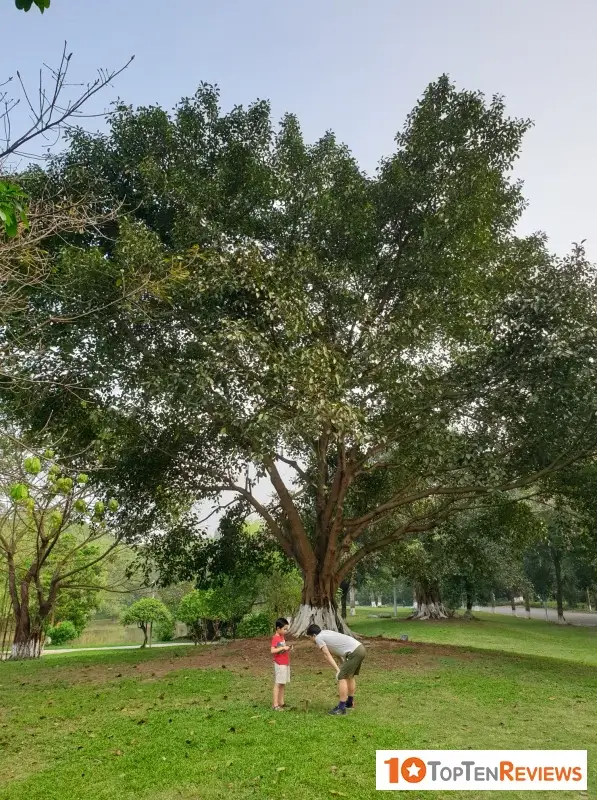 Ecopark's beautiful nature
Moreover, Ecopark tourist area is also an ideal place for tourists to participate in camping. The campsite here is very beautiful and poetic when it comes to green lawns, clean services, and fresh air. Therefore, many families or young people often invite others to Ecopark to participate in summer camping combined with outdoor entertainment activities on weekends.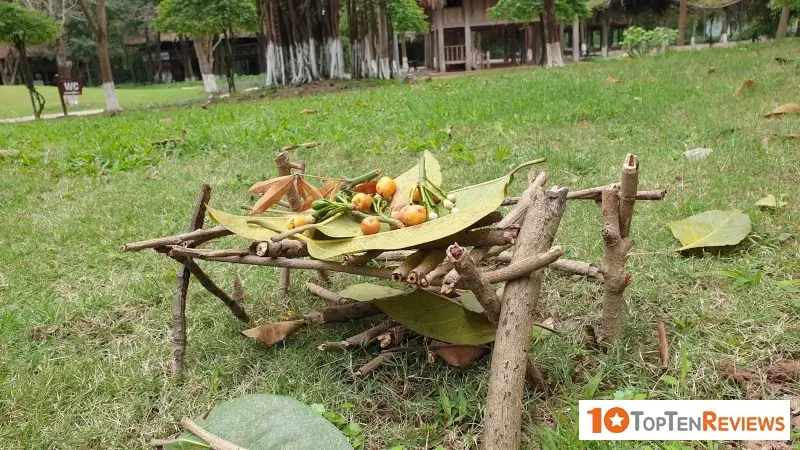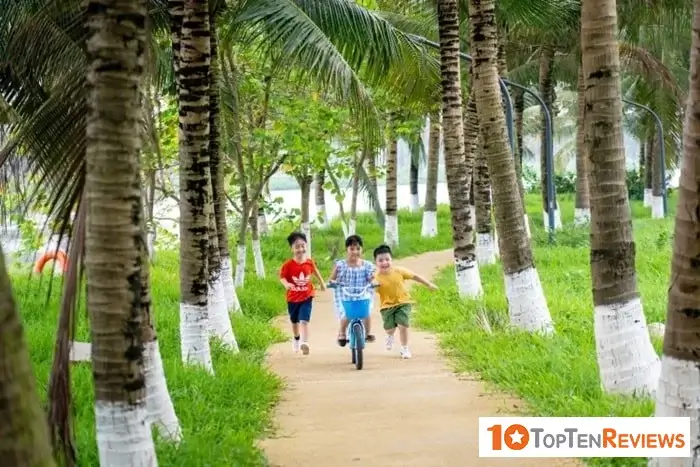 Cycling outdoors
"Đồng Mô" tourist area
• Address: Son Tay town, Ba Vi, Hanoi (located about 40km west from Hanoi capital)
• Ticket price: 80,000 VND/person/day
Dong Mo tourist area owns small peninsulas around the lake with large grasslands and immense green forests. There is a lake up to 200 hectares wide. It seems that all of these things have painted the whole picture of the beautiful nature in Dong Mo.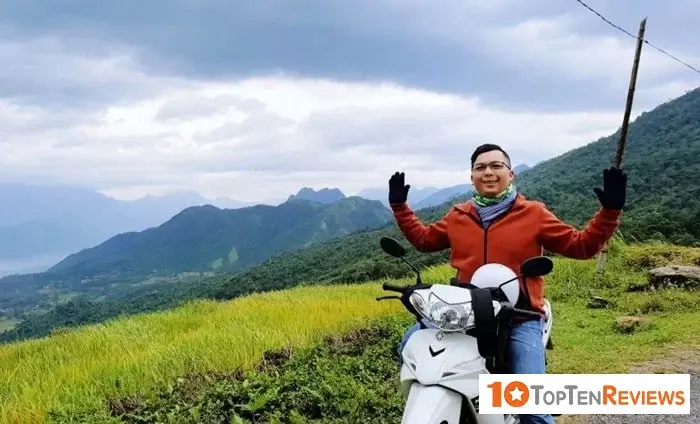 Going to Dong Mo by motorbike
During hot summer days, Dong Mo is a tourist area around Hanoi that many young people choose to come here to participate in camping and play outdoor games such as bamboo shoots, fishing, catching chickens, etc. Boating, cycling into the forest... Having fun like that, no matter how hot the summer is, it will melt the heat in a moment when you come back to Dong Mo.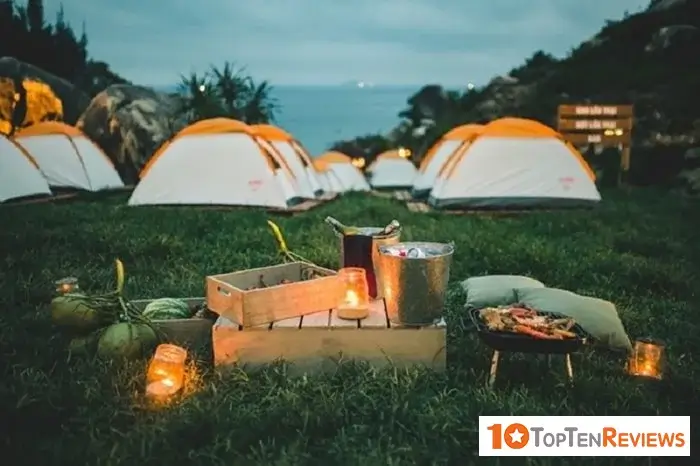 Outdoor camping picnic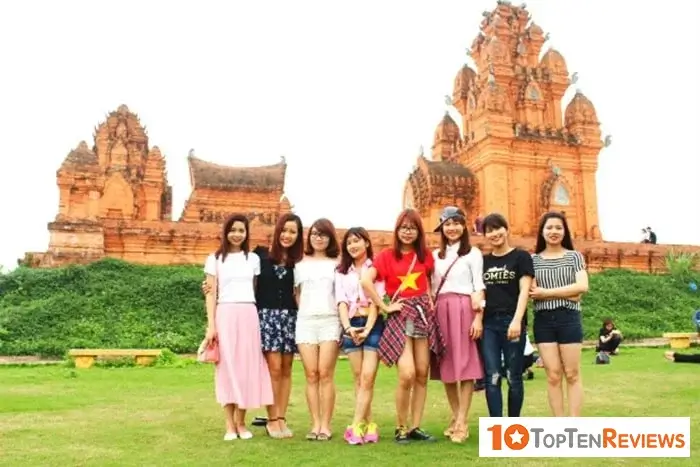 Beautiful check-in pictures with friends
Ham Lon - Soc Son
• Address: Soc Son - Hanoi
• Entrance fee: Free
Are you an adventure lover and love to explore the unspoiled natural beauty of the mountains? Then Ham Lon - Soc Son tourist area is the ideal destination for you. Moreover, Ham Lon also conquers many young people to visit because this is a very famous camping resort near Hanoi.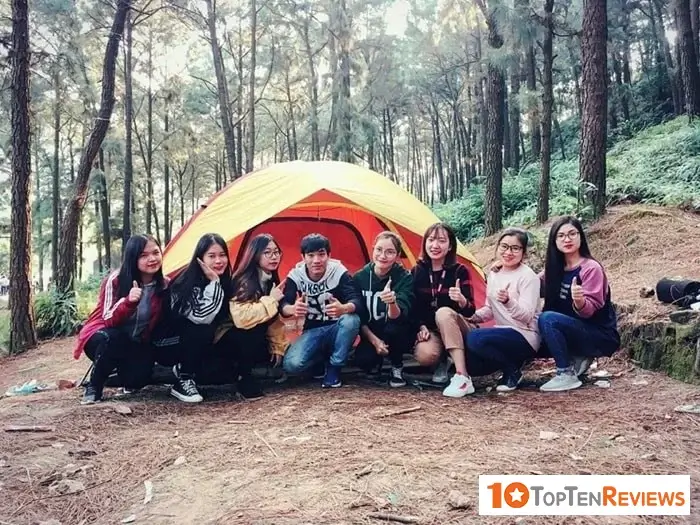 Ham Lon camping site
At the foot of Ham Lon mountain, there will be a large lake called Nui Bau with cool, clear blue water. The unspoiled and airy natural space is very suitable for you to "escape from the heat" and have an interesting camping picnic with family and friends.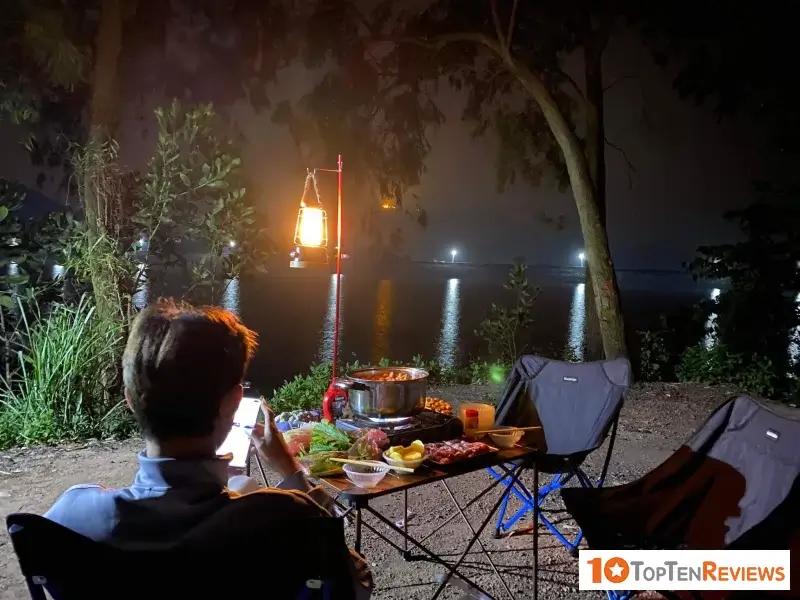 Grilled food and hot-pot at nights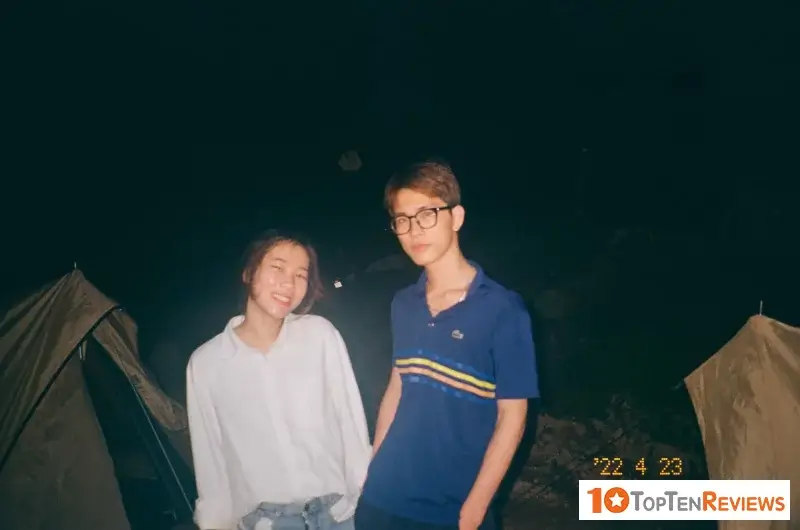 Beautiful photos of the couples
Cool check-in pictures with a group of friends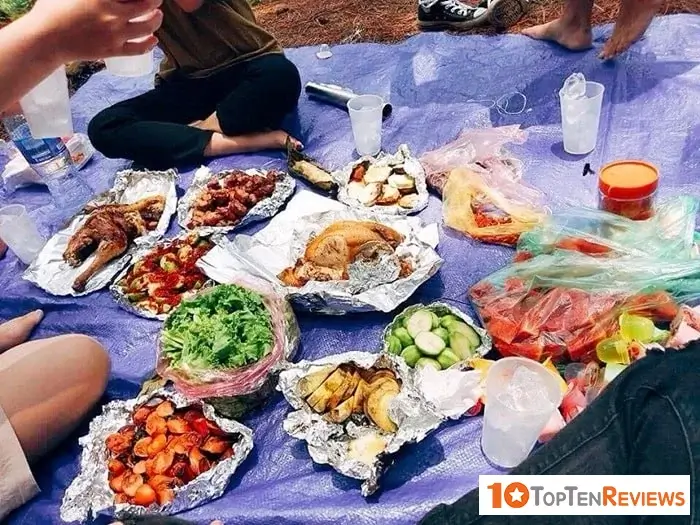 Picnic food
"Bản Xôi" - Ba Vi
• Address: Yen Bai, Ba Vi, about 50km from the center of Hanoi to the West
• Ticket price: 30,000 VND/person
Ban Xoi Valley has long been known as an ideal picnic and camping area for many young people. Especially in the summer when the sun reaches 40 degrees Celsius, many people choose camping areas around Hanoi to make a "heat avoidance" vacation for their family.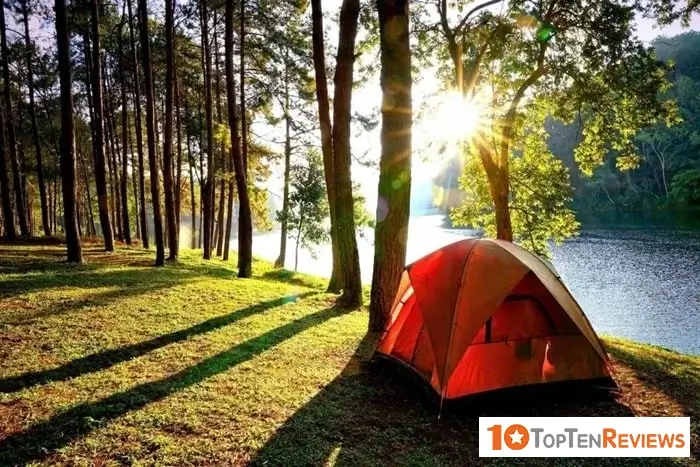 Ban Xoi - Ba Vi camping site
And Ban Xoi valley is the ideal destination to participate in camping and outdoor activities. The space in Ban Xoi is very large and airy with cool green water. Although Ban Xoi has been exploited recently, it still retains its original wild characteristics. Possessing charming "feng shui" and the beautiful nature, Ban Xoi is the most ideal camping site for many young people.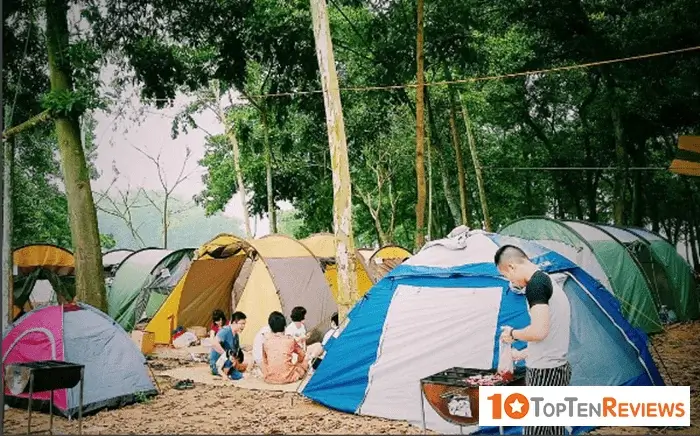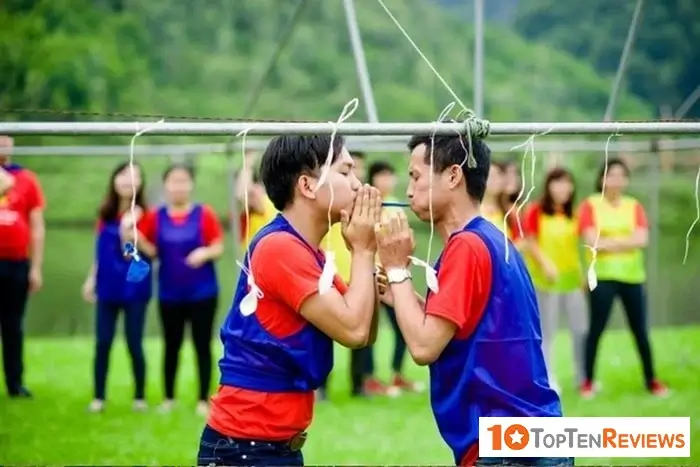 Picnic games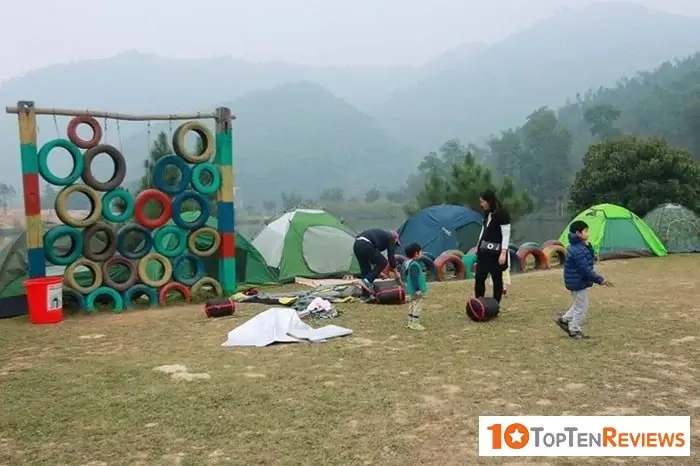 Family camping
Dream Garden tourist area
• Address: Dong Cao village, Tien Xuan commune, Thach That district, Hanoi
• Ticket price: 20,000 VND/person
Dream&Do Garden is a famous tourist area around Hanoi. This is a lovely little farm located on a hill. The climate here is very cool and pleasant, so many families choose this place to escape the heat on hot summer days.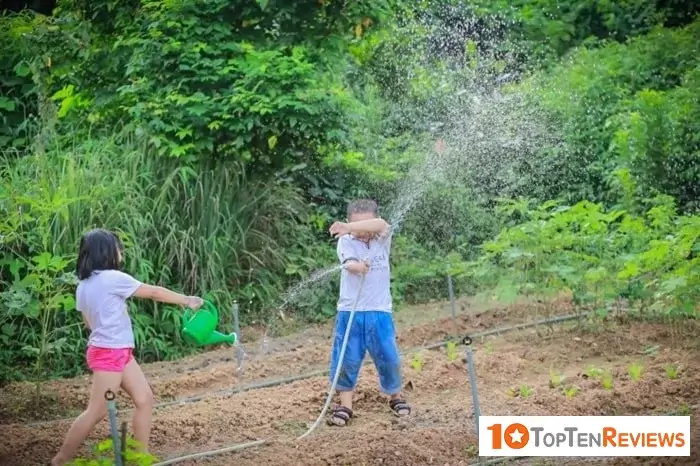 Participate in growing vegetables, watering plants activity
Visiting the Dream Garden tourist area, parents and children can have fun by the small stream. In particular, the children will have practical experience with digging worms in the garden to fish, or wading streams, gardening like a real farmer. Therefore, if any family is looking for an eco-tourism area around Hanoi for their children to experience and explore farming, then Dream Garden is a great suggestion.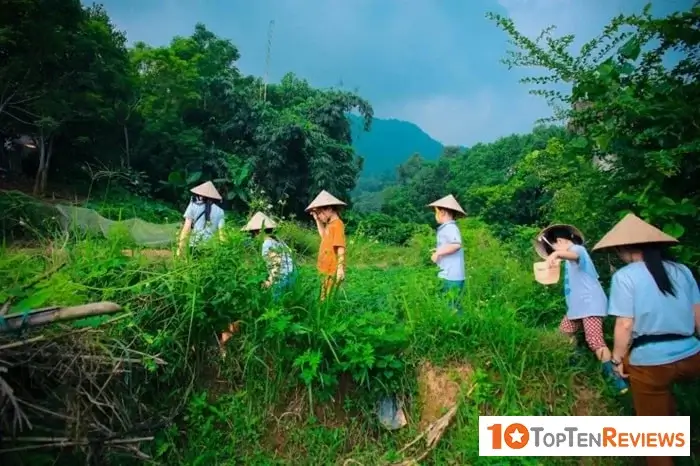 Explore farming
White Goat Farm
• Address: Ke Moi Village, Tan Linh Commune, Ba Vi, Hanoi (about 50km from Hanoi center)
• Cost: Entrance ticket: 120,000 VND/person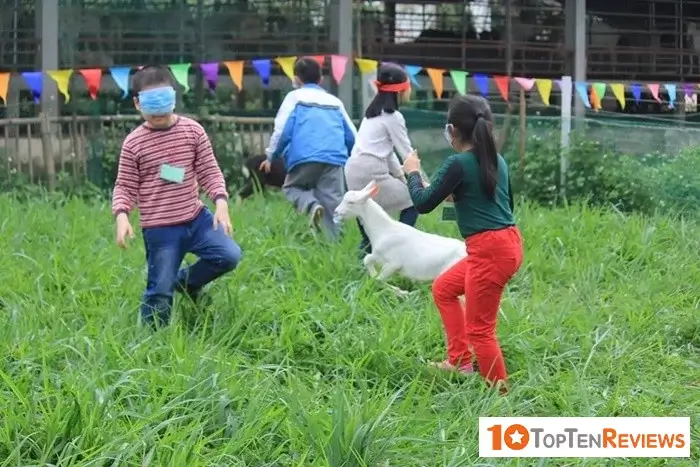 White Goat Farm
White Goat Farm is one of the tourist areas around Hanoi for everyone, especially children. With an area of up to 12 hectares, located at the foot of the verdant Ba Vi mountain range. White Goat Farm has attracted visitors by many rare animals such as ostriches, horses, ginseng, guinea pigs, etc. and participated in many interesting experiences: horseback riding, goat milking, etc. Besides, visitors will be able to participate in folk games such as tug of war, swing, etc.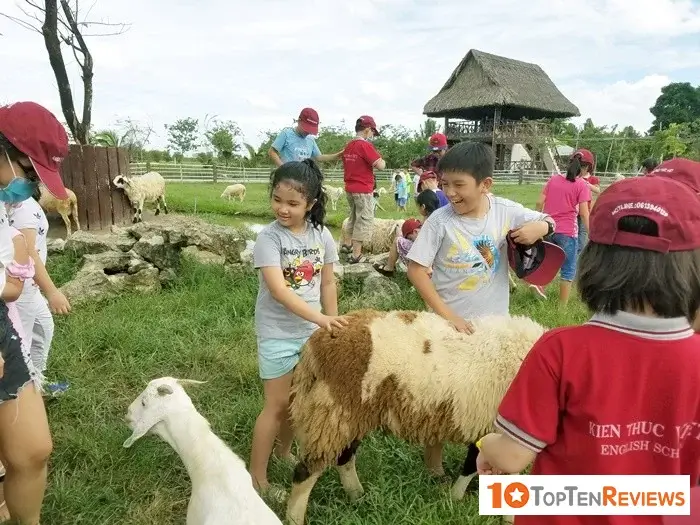 Goat milking
"Flamingo Đại Lải" tourist area
• Address: Ngoc Quang, Ngoc Thanh Commune, Phuc Yen, Phuc Yen, Vinh Phuc
• Entrance fee: 330,000 VND/adult, 230,000 VND/child from 5-12 years old with height 1m4 or less
One of the tourist areas around Hanoi that attracts many families to relax during the weekend is Flamingo Dai Lai Resort. Nestled under a fresh natural space, airy and fresh air, Dai Lai Resort has appeared with many sports and exercise games such as volleyball, football, billiards, cycling, etc.
Flamingo Dai Lai tourist area
Owning a large natural lawn at Flamingo, visitors will be immersed in the green nature, and find youthful and healthy when immersed in sports activities here. If you are looking for a resort and avoid the summer heat in the dusty capital, Flamingo Dai Lai resort is the perfect eco-tourism area.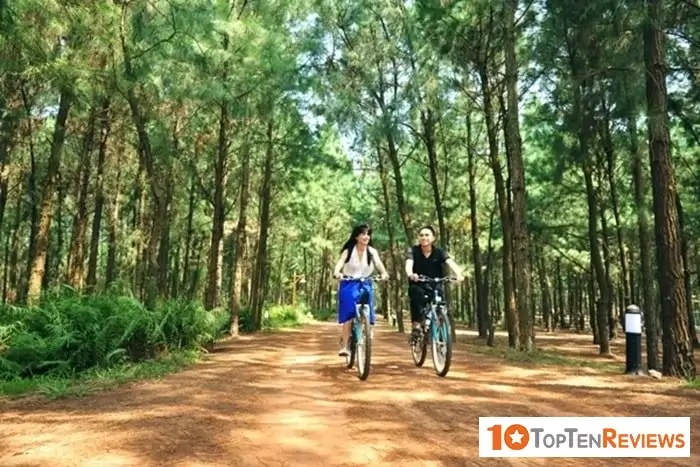 Cycling in the pine forest
"Rõm" village tourist area
• Address: Quang Tien, Soc Son, Hanoi
• Entrance ticket price: 50,000VND/person
About 30km from the center of Hanoi, Ban Rom eco-tourism area owns fresh and cool air all year round. Therefore, this is an extremely interesting destination for tourists to participate in fun activities and picnics for students and young people.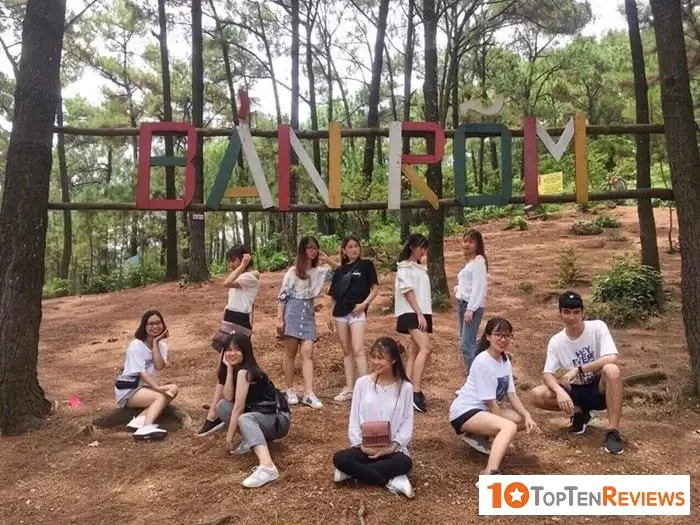 Rom village tourist area
Coming to Ban Rom tourist area, tourists or young people can not only learn but also participate in practical jobs close to life such as: harvesting fruits, feeding animals and growing vegetables. In addition, you will be able to participate in unique folk games such as bamboo bridge, campfire, jumping rope, cooking competition, etc.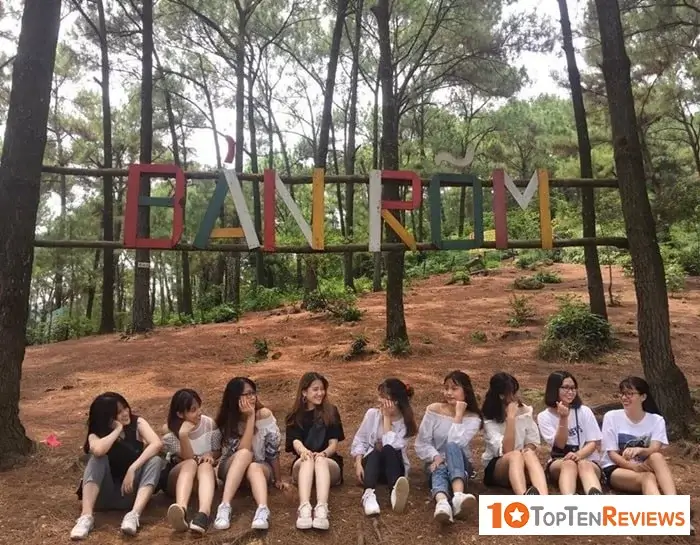 Check-in at Ban Rom
In particular, visitors will be able to ride bicycles, camp and enjoy many delicious specialties such as grilled catfish, grilled pork, roasted birds, hill chicken.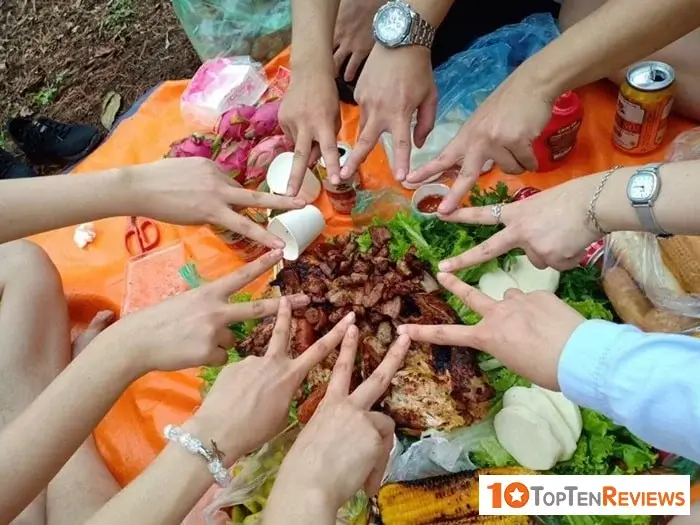 Ban Rom cuisine
Immediately pin the list of 7 campsites around Hanoi that we has just listed above to join your family and friends for a fun picnic this summer!