Hanoi's 36 streets and neighborhoods have a unique and attractive culinary culture that draws in many domestic and international tourists. Let's take a look at the top 5 most delicious dishes in Hanoi that you will remember for a lifetime below!
Pho - Hanoi's Signature Traditional Dish
When visiting Hanoi, many tourists will certainly not forget enjoying pho - the iconic long-standing dish carrying the flavors of the North.
Perhaps it is the skillful cooking techniques and characteristic seasonings of Hanoians that have created such a wonderful dish. A bowl of Hanoi pho includes broth, white noodles, beef, fresh herbs, scallions, onion,...
The most special thing about this dish is the clear, fragrant and sweet broth made from beef bones. The pho noodles must be chosen skillfully to have strands that are not too soft or chewy.
A bowl of pho would be extremely perfect if you add condiments such as garlic-chili oil, lime, black pepper to your liking. Pho has not only been an attractive cuisine in Hanoi but also become a culinary icon of Vietnam.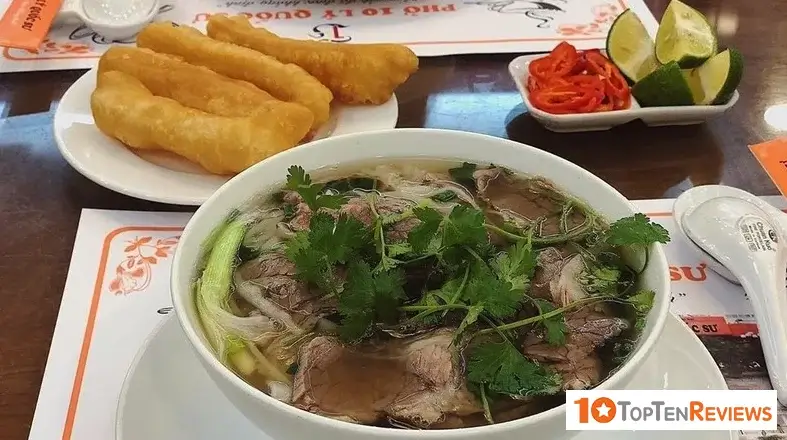 Recommended places:
Pho Thin: No. 13 Lo Duc Street. Open from 5am - 9pm, prices: 40,000 - 60,000 VND/bowl.
Pho Ly Quoc Su: About 50,000 - 77,000VND/bowl. Open 6am - 2pm and 5:30pm - 10pm.
Pho Ly Quoc Su: No. 10 Ly Quoc Su Street, Hang Trong, Hoan Kiem, Hanoi
Pho Ly Quoc Su: No. 42 Hang Voi Street, Hoan Kiem, Hanoi
Pho Ly Quoc Su: No. N2A Hoang Minh Giam Street, Hoan Kiem, Hanoi
Bánh Tôm Ho Tay (Ho Tay Shrimp Cakes) - Hanoi's Famous Street Snack
Have you tried Ho Tay shrimp cakes when joining a Hanoi tour? This hot, crispy and attractive street snack will be an ideal suggestion for your trip.
The shrimps are chosen carefully by the cook, they must be clean and fresh. After preparation, the shrimps are rolled in a mixture of flour and egg, then fried in hot oil until golden brown, lifted with two chopsticks onto the pan to drain excess oil.
The cakes have a rich fragrance from flour blended with the crispy-sweet taste of shrimp that will surely make you crave this snack. Importantly, the shrimp cakes are always kept hot served with a sauce that's both sour-sweet-spicy, plus some sliced pickled daikon or carrot.
Eating the shrimp cakes with lettuce, drinking a Coke or beer makes it a perfect meal. This is certainly a famous delicious dish in Hanoi that you cannot miss.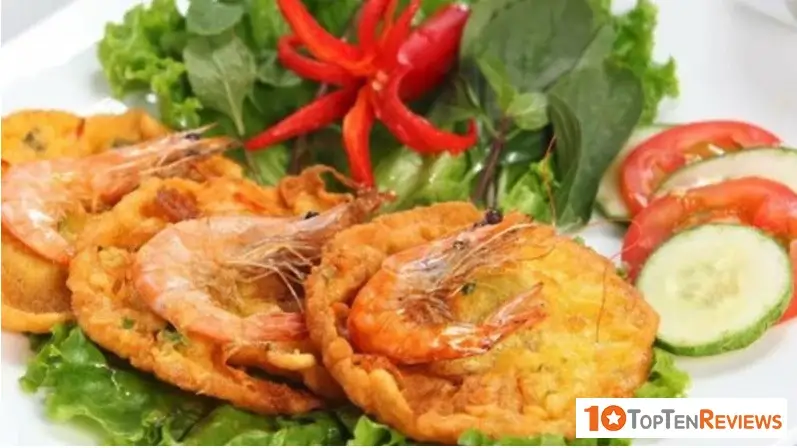 Recommended places:
Ho Tay Shrimp Cakes: No. 01 Thanh Nien Street, Ho Tay Lake. Opening hours: 9am-9pm. Price: 80,000-130,000 VND.
Cô Am Shrimp Cakes: Dong Xuan Alley, Hang Chieu Street, Hoan Kiem District. Opening hours: 10:30am-1pm, 2:30-5:30pm. Price: 25,000-50,000 VND.
Bún Chả Hanoi - A Delicious Specialty that Attracted President Barack Obama
Bún chả (rice vermicelli with grilled pork) is always a popular choice among Hanoians for meals. Notably, this dish was once enjoyed by President Obama during his visit to Vietnam.
Being one of Hanoi's top dishes, you can easily find a bún chả stall throughout streets, alleys and markets in the city.
Bún chả attracts customers with the rich flavors of browned and well-marinated grilled pork, served with rice noodles, fresh herbs and sour-sweet fish sauce.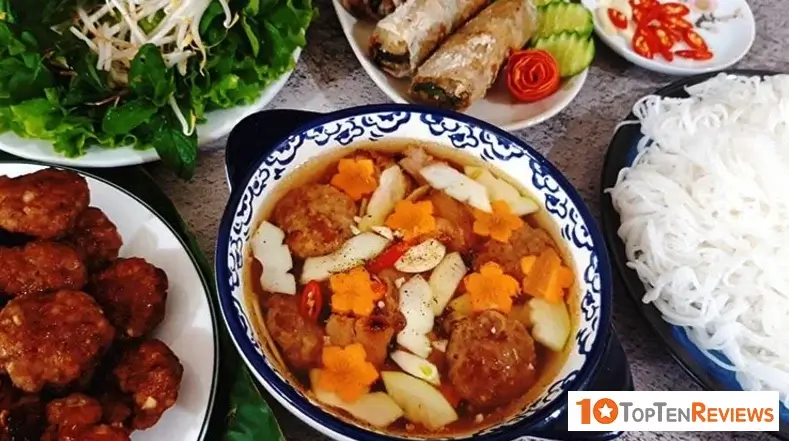 Recommended places:
Obama Bún Chả (Huong Lien Bún Chả): No. 24 Le Van Huu Street, Hai Ba Trung District. Opening hours: 10am-9pm. Price: 45,000VND/serving.
Bún Chả Đắc Kim: No. 1 Hang Manh Street, Hang Gai, Hoan Kiem District. Opening hours: 9am-9pm. Price: 50,000-60,000VND/serving.
Cha Ca La Vong - Hanoi's Wonderful Culinary Experience
You don't have to worry about what to eat in Hanoi during your stay here, because the hot and nutritious Lang Cha fish cake will provide you with a wonderful culinary experience. This sophisticated dish is carefully prepared from ingredients selection to cooking process.
The fish is selected from catfish or Amur catfish - species with flesh that is firm, tender and gelatinous. After preparation, the fish is cut into bite-size pieces, fried until golden and fragrant, then served hot on the stove so customers can eat immediately, alongside herbs, spring onions.
Everything is cooked inside the hot pan. The stall also prepares bun noodles, roasted peanuts, fresh herbs and shrimp paste for dipping and eating with the fish cake.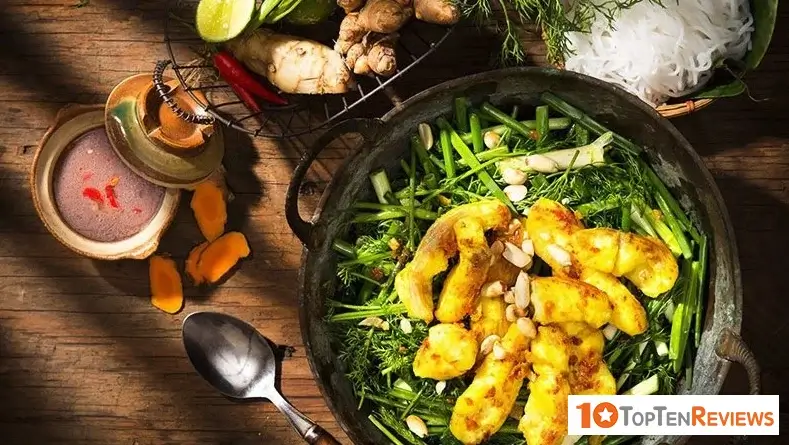 Recommended places:
The famous Lang Cha Vong stall at 14 Chã Cá Street, Hang Bồ, Hoan Kiem. Opening hours: 11am-2pm, 5-9pm. Price: 30,000-66,000VND.
Anh Vu Fish Cake Shop: No. 120 K1 Giang Vo Street, Ba Dinh District.
Thang Long Fish Cake: No. 21 Dương Thế Street, Hoan Kiem.
Pho Cuon - A Novel Dish in Hanoi Cuisine
Another delicious food that BestPrice recommends for your trip to Hanoi is pho cuon (pho spring rolls). For Hanoians, pho cuon is a familiar dish, easy to enjoy and anyone who tries it will surely love it.
The ingredients for this dish include pho noodles, fresh herbs, lettuce, with a filling of minced beef. With skillful hands, pho cuon is neatly rolled securely and tastes best when dipped in a not-too-thick sweet and sour fish sauce.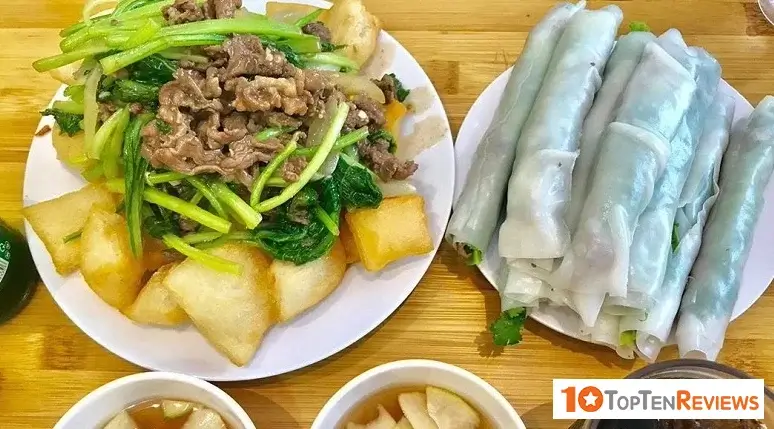 Here are some good addresses in Hanoi that sell pho cuon:
Pho Cuon Huong Mai: No. 25 Ngu Xa Street, Ba Dinh District. Opening hours: 9:30am-9:30pm. Price: 55,000VND/10 rolls.
Pho Cuon Ngư Xã – To Hieu: 233 To Hieu Street, Cau Giay District. Opening hours: 7am-10pm. Price: 25,000-55,000VND.
I hope the top 5 most delicious dishes in Hanoi that you will remember for a lifetime suggested above will help make your trip to the capital city more meaningful and complete.