General introduction about Vung Tau
Vung Tau city is located in the south of Ba Ria - Vung Tau province. There are 4 sides bordering the sea and rivers; the East and the South borders the East Sea, the West borders Ganh Rai Bay, and the North borders Ba Ria city, Phu My town and Long Dien district. Vung Tau is about 100km from the centre of Saigon.
Vung Tau has been known since 1296 as the name of Chan Bo town. In 1658, Lord Nguyen Phuc Tan sent 2,000 troops to conquer Chan Bo town, establishing the first three villages in Vung Tau. In 1895, the Governor General of Indochina separated Vung Tau from Ba Ria to establish Vung Tau city – Vietnam's first tourist and resort city at that time. During the period from 1895 to 1900, France built many ports, thermal power companies; high-class telegraph lines and hotels, which made Vung Tau become the largest port, tourism and resort city inthe South, a major fishing center.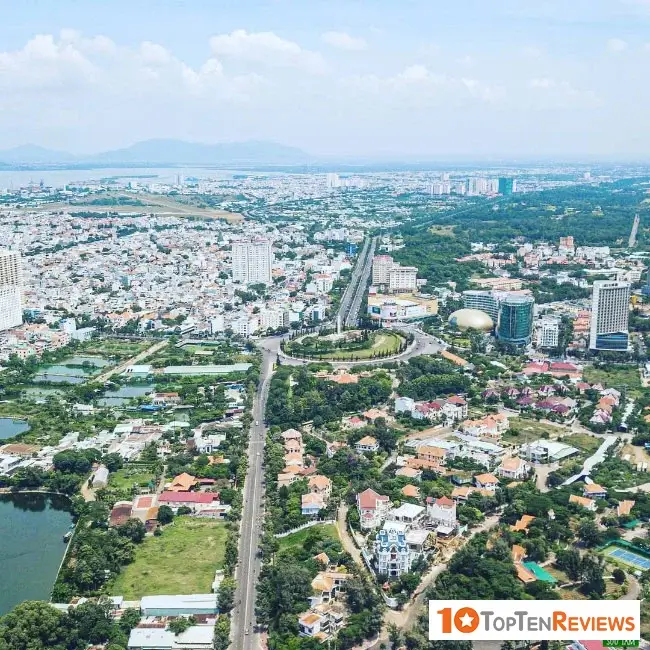 Vung Tau coastal city seen from above (Photo -yeuvungtau)
As an oil and gas center, Vung Tau city's national tourism center is of special importance in terms of security and defense, especially in protecting and maintaining the sovereignty of the sea and islands in the South of the country. This is a city located in the key economic development region of the South and is the gateway to the sea of the Southeast provinces. In addition, the city is also the economic, tourism, cultural, social, scientific, medical and educational center of Ba Ria - Vung Tau province.
When to travel in Vung Tau?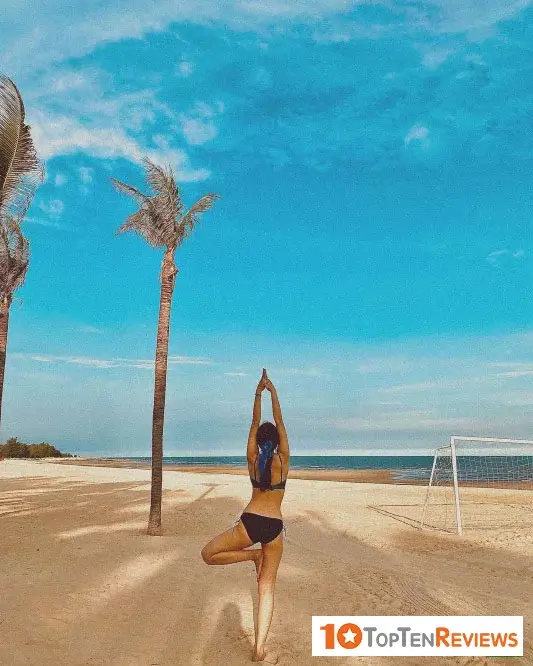 If it is not rainy or windy at the weekend, just go to Vung Tau (Photo – mariavu11
With an average annual temperature of 27ºC, Vung Tau's climate is relatively suitable for you to participate in swimming activities at any time. Along with the relatively close distance to Saigon, just pick up your car and come here to rest as long as you have free time. However, please note:
From May to August is the peak tourist season of Vung Tau, on the weekends of this time it is often crowded with tourists, and hotel rooms are always in a scarce condition, so if you don't have a problem with the time, avoid the weekend.
After September, although it is the dry season it is also the storm season in the South Central region, if the storms approach the seas close to the south, sometimes they can cause rain and wind and affect swimming activities. You should pay attention to the weather.
Directions to Vung Tau
Quite close to Saigon, so Vung Tau is one of the relatively popular weekend destinations, from the center of Saigon to Vung Tau City is only about 100km.
Private vehicles
Car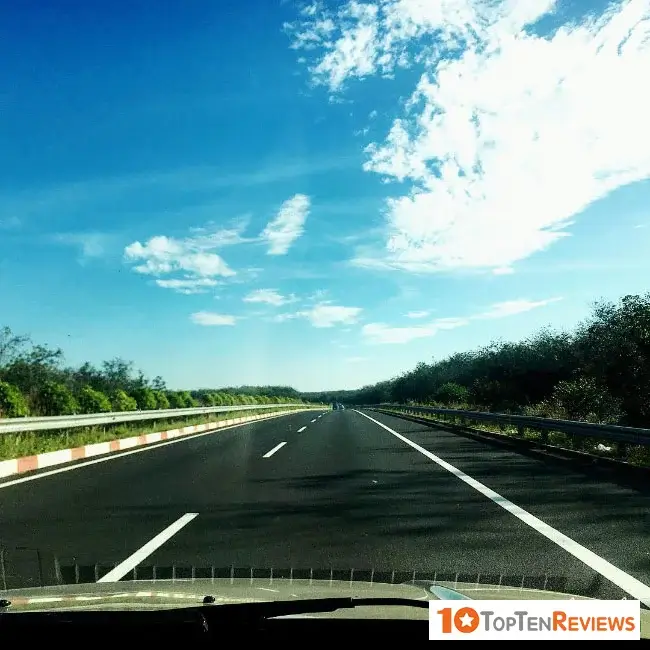 Cars will have an advantage on the Long Thanh Expressway, but it is easy to get stuck in traffic (Photo – kamezoko)
Motorcycle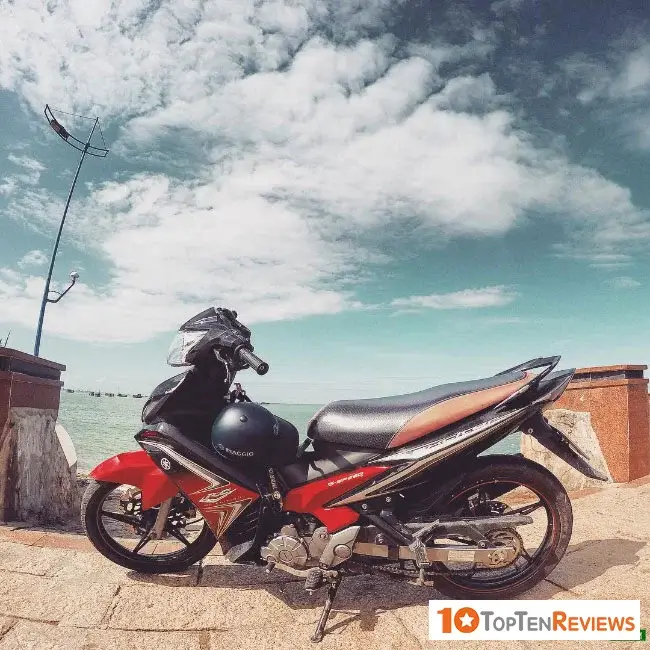 The journey by motorbike is a bit longer than by car, but in fact, there are more roads to choose from (Photo – gaau__)
If you go by motorbike, you have many routes to choose from, but the easiest and most convenient way is to follow Highway 1A, cross Dong Nai bridge to the Vung Tau intersection (this place belongs to Dong Nai) and then turn onto Highway 51, go straight. National Highway 51 will also reach Vung Tau. The journey by motorbike will be about 15km longer than going by car.
Public transport
Plane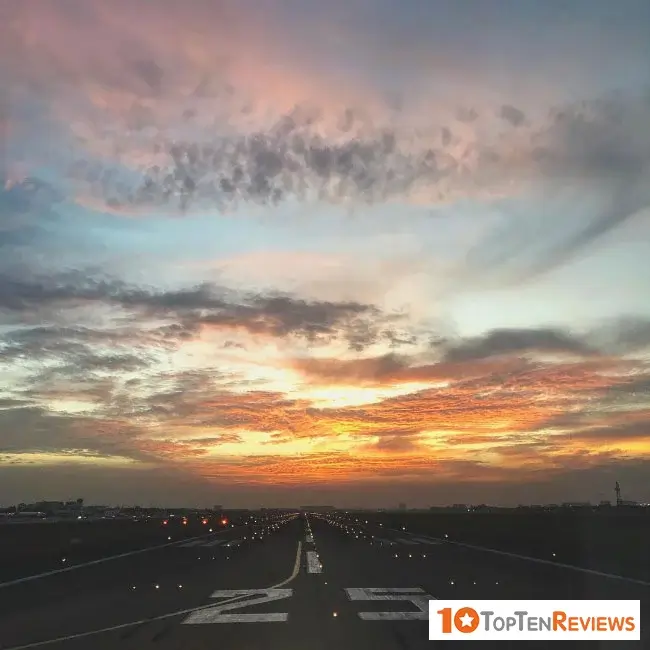 Currently, Tan Son Nhat is the nearest airport to Vung Tau (Photo – byrneash)
The nearest airport to Vung Tau is Tan Son Nhat airport. Those of you from the northern and central provinces who want to come and explore Vung Tau can fly to Saigon and then continue to use other means of transport.
In case you do not want to go to the center of Saigon, you can choose to go directly from Tan Son Nhat airport to Vung Tau. In the network of bus routes near Saigon, bus 72-1 will pick up passengers from the airport and run directly to Vung Tau Bus Station, this is a non-subsidized bus route, so the price is the same as taking a bus. Conveniently, there is no need to move to the Eastern bus station, but you can go right after getting off the plane.
Passenger cars/ Coach
The bus routes to Vung Tau, if going from Saigon, will start at Mien Dong bus station, in general, there are many cars at various time frames, so you are free to choose what suits you best. However, for the trip not to be affected when you have to deal with umbrella companies, you should choose reputable bus operators. In addition to regular buses, currently, visitors to Vung Tau can also choose limousines with large seats and a smaller number of passengers, but the price will also be higher.
High-speed train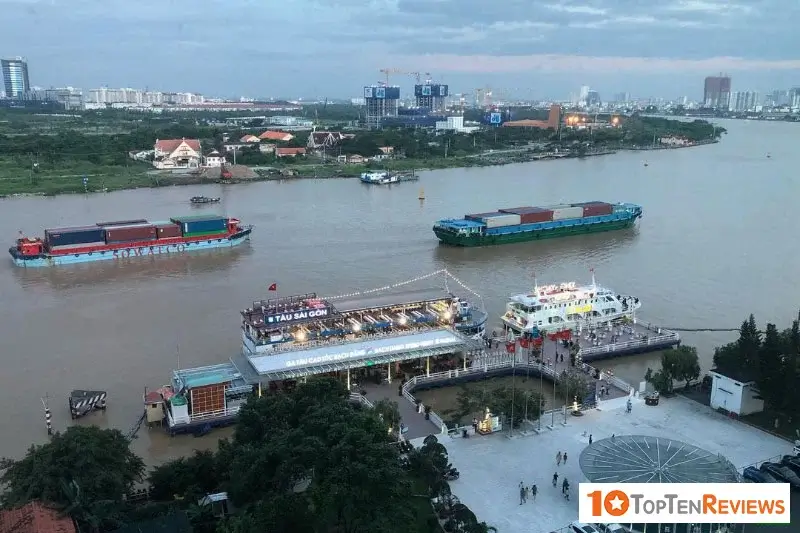 Going straight from Saigon to Vung Tau is only about 2 hours, quite fast for those who travel in a short time. (Photo – agustin4366)
From Saigon, if you go directly to Vung Tau, you can use hydrofoils from Bach Dang port, the travel time is about 120 minutes. The train runs mostly on the Saigon River and a part of the sea, so it is not too worried about seasickness.
Ferry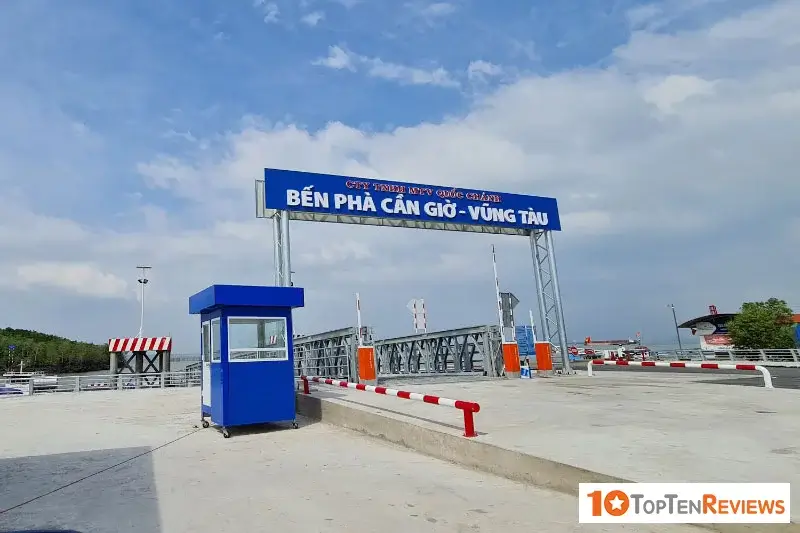 People from Can Gio and some western provinces can move quicklu to Vung Tau from Tac Suat wharf (Photo - Thinh Vo)
If departing from Can Gio, you can choose the Can Gio - Vung Tau ferry route with a distance of only 15km at sea, and a journey time of about 30 minutes. The ferry can carry more than 250 passengers, 100 motorbikes and 15 cars. This option is also suitable for those who go from Long An to Tien Giang and can shorten the time to Vung Tau. Instead of using the road, you can use the Can Giuoc - Can Gio ferry route, move on to the Tac Suat ferry and then use the Can Gio - Vung Tau ferry tangent.
Traveling in Vung Tau
Motorcycle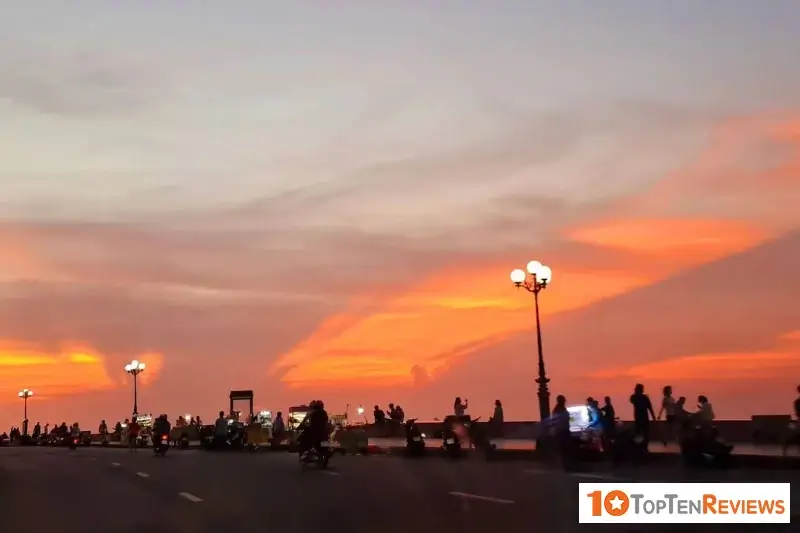 If possible, finding a motorbike during the days in Vung Tau will be quite proactive when moving (Photo – unopomo123)
If you come to Vung Tau by public transport, for comfortable transportation, you can find a motorbike to travel, you can borrow friends if you have one, or find motorbike rental shops in Vung Tau to rent.
Double Bike
The double bike is easy to use, can carry 2-3 people at the same time, and the speed is just enough to exercise muscles but still enjoy the scenery. Therefore, young tourists often rent bicycles to go to the beach when coming to Vung Tau. Most of the hotels along Back Beach and Front Beach have double bikes for tourists to rent. In areas where many hotels are concentrated and the number of tourists is high, the number of car rental establishments is also higher.
Bus
If you do not want to drive by yourself (especially those who travel alone), you can choose a bus to move around the province. Although there are not too many bus routes, this type of vehicle is enough for you to temporarily go to a few key locations.
Taxi
Taxi is a popular form of transportation, easy to call, but expensive if traveling with few people. If you go in groups of 4-5 people or go with your family, taxis are relatively suitable. When booking a car, because you are a tourist, you should pay attention to choosing big and famous taxi companies, avoid taking taxis even though they don't have a crest or have strange-sounding names to avoid encountering situations of cutting and slashing, which can affect the trip.
Một số hãng taxi nổi tiếng đang hoạt động ở Vũng Tàu: Vinasun 0254 3727272, Mai Linh 0254 3565656, etc.
Staying in Vung Tau
Villa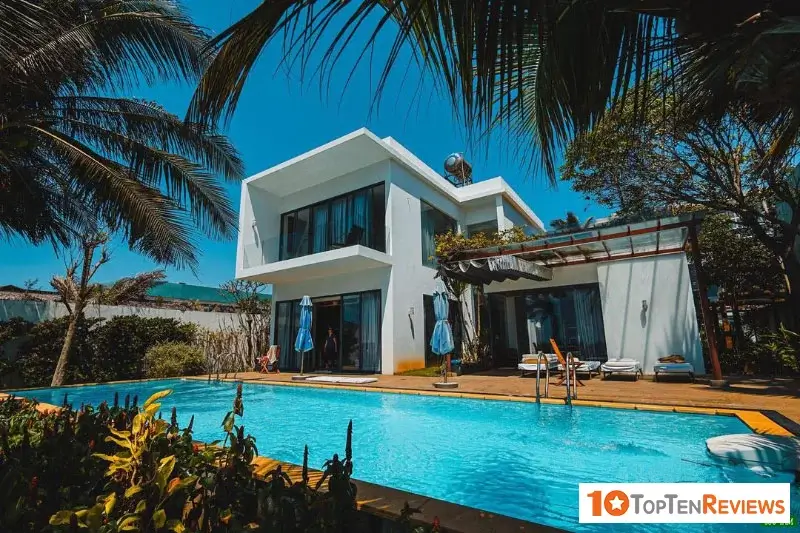 Vung Tau is quite popular with villa accommodation, suitable for groups to go together (Photo – louisruan_)
This form of rental villas is quite popular in Vung Tau, these villas can usually meet the demands of 15-20 guests, including 3-5 bedrooms with garden space, The swimming pool around is very spacious. As a result, the cost will often also be higher than other normal types of accommodation.
Hotels, motels
The most popular type of accommodation can be found anywhere, throughout all parts of Ba Ria Vung Tau province you can find a place to stay overnight. The number of hotels and motels is relatively much, but if you come to Ba Ria Vung Tau at peak times and especially at famous tourist destinations, remember to book a hotel room early otherwise it will be very difficult since you will have a hard time finding one once arrived.
Homestay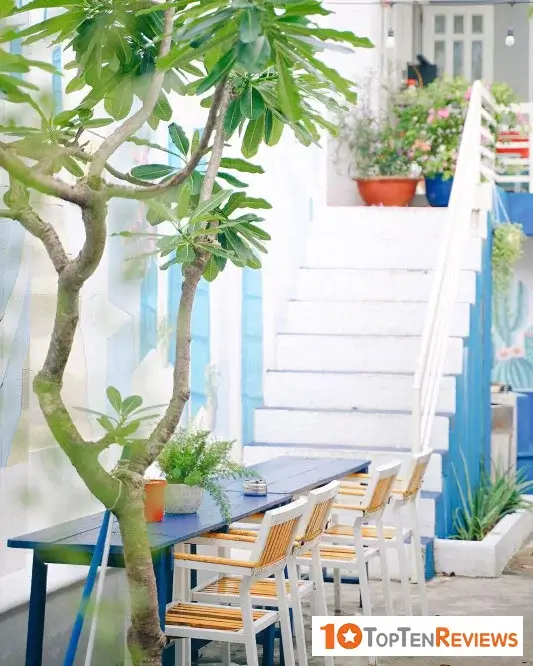 Vung Tau also has a lot of beautifully designed homestays (Photo – viettran.dec)
These homestays are not much different from the traditional hotel form but are often beautifully designed with spacious living spaces and reasonable room rates, quite suitable for young groups.
Sleeping in a tent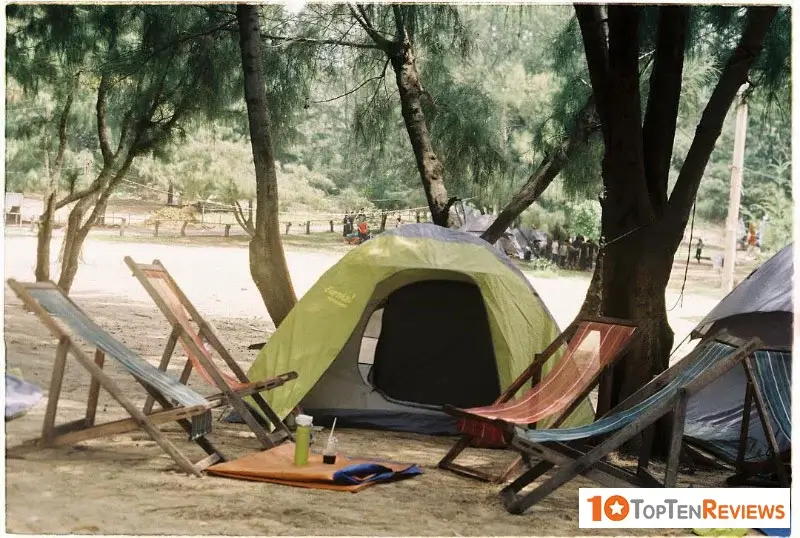 If you like being close to nature, you can experience sleeping in a tent (Photo – 7nomad4)
The area of Pig Hill and some beaches in Vung Tau is quite deserted, you can choose sheltered locations to set up a tent to sleep overnight. This activity is suitable for groups of friends who love to be in nature and has a full range of camping gear. Be careful not to affect the locals and clean up the things you bring after you leave.
Vung Tau tourist destination
Ba Ria Vung Tau Museum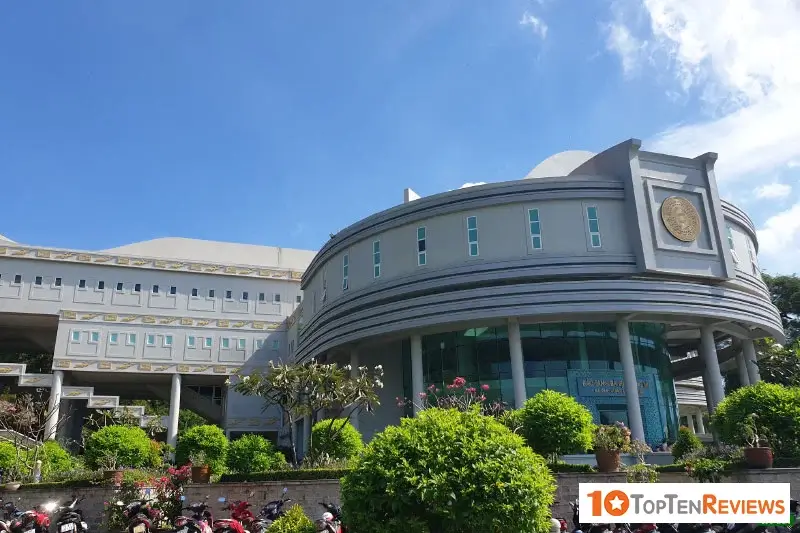 Ba Ria Vung Tau Museum (Photo – Quynh Lam)
The museum is located close to the foot of Big Mountain, surrounded by many green trees, facing the airy and poetic Front Beach. Each display area is a vivid story about the natural, historical, cultural, economic and social conditions of Ba Ria - Vung Tau from the time the first inhabitants came to reclaim the village and set up a hamlet until now.
Small Mountain, also known as Tao Phung Mountain (Photo – nguyencuong)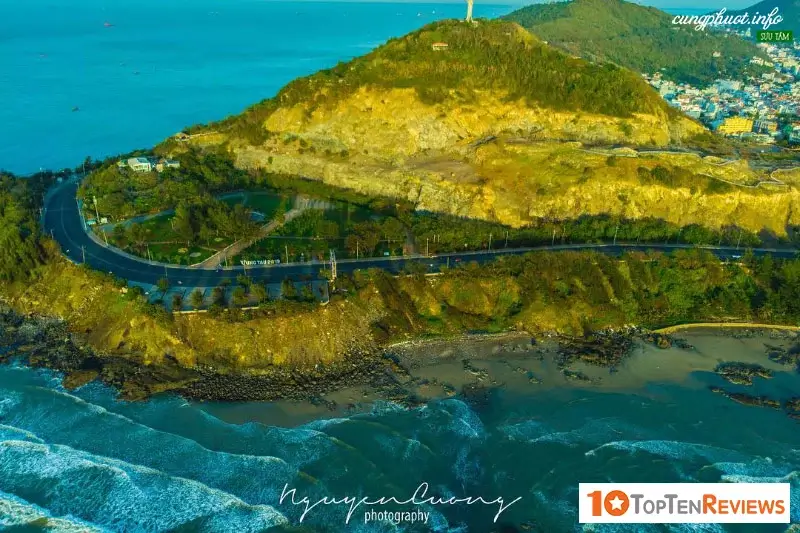 Small mountain, also known as Tao Phung mountain, with an altitude of 170m, is one of two mountains in Vung Tau city. The mountain is located close to the sea, at the foot of the mountain is a coastal road with many hotels, restaurants, and cafes. Small Mountain has two peaks, the higher top has Vung Tau Lighthouse built during the French colonial period, and the lower top has the famous statue of the Lord stretching out his arms, built in 1974. The road to the lighthouse is paved with asphalt. Cars can go up, but the way to the statue of God is only reached by climbing through the steps.
Statue of Christ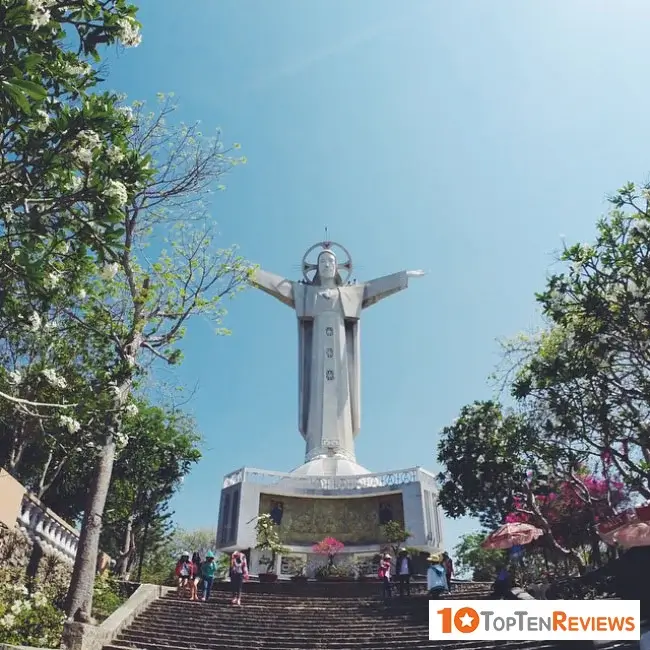 Statue of Christ on Small Mountain (Photo – pznone)
The Statue of Christ the King (or the Statue of God with outstretched arms, the Statue of Christ on the top of Mount Tao Phung) is a statue of Jesus placed on the top of Small Mountain of Vung Tau city built in 1974 but due to war it was abandoned. After that, it was interrupted, and it was not until 1994 that the work was completed.
Vung Tau Lighthouse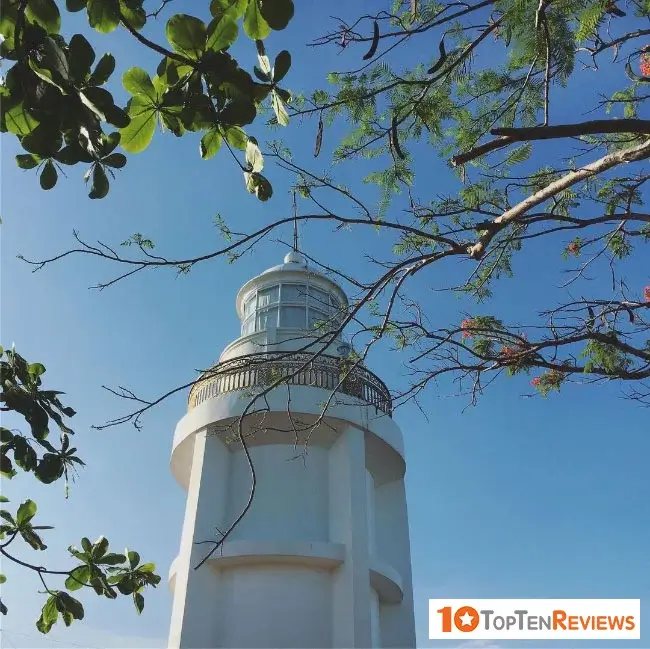 Vung Tau Lighthouse (Photo – ngoctu.u.u.u)
Vung Tau Lighthouse was built by the French in 1862 to indicate the way, signaling for passing ships, located at an altitude of 149m above sea level. In 1913, the French rebuilt this lighthouse, moving the height of the lighthouse from a height of 149m to a height of 170m. Vung Tau Lighthouse is one of the oldest lighthouses in Vietnam and Southeast Asia. Vung Tau Lighthouse is considered the symbol of Vung Tau coastal city. The architecture of the lighthouse is a cylindrical tower 18 m high, 3 m in diameter and painted white. Inside the lighthouse, there are stairs leading to near the top of the lighthouse and there is a balcony to enjoy the view.
Big Mountain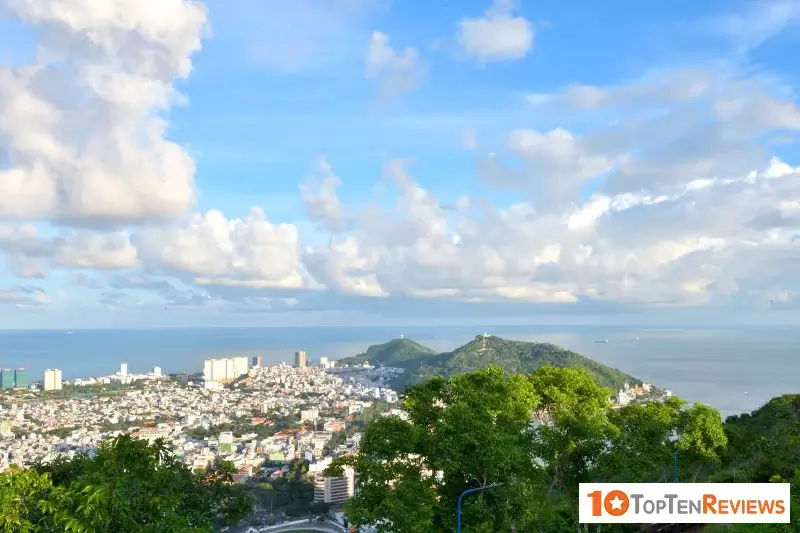 Vung Tau seen from Big Mountain (Photo – Hai Anh Dao)
Big Mountain, also known as Tuong Ky Mountain, is 245m high, this is one of the two beautiful mountains of the coastal city (the other is Small Mountain). On this mountain, there is White Palace built during the French colonial period overlooking the sea, where cannons are located. The mountain is also famous for its pagoda, which houses Shakyamuni Phat Dai – a large plastered crouching Buddha statue. The big mountain also has a large statue of the Blessed Mother standing overlooking the sea.
White Palace (Bạch Dinh)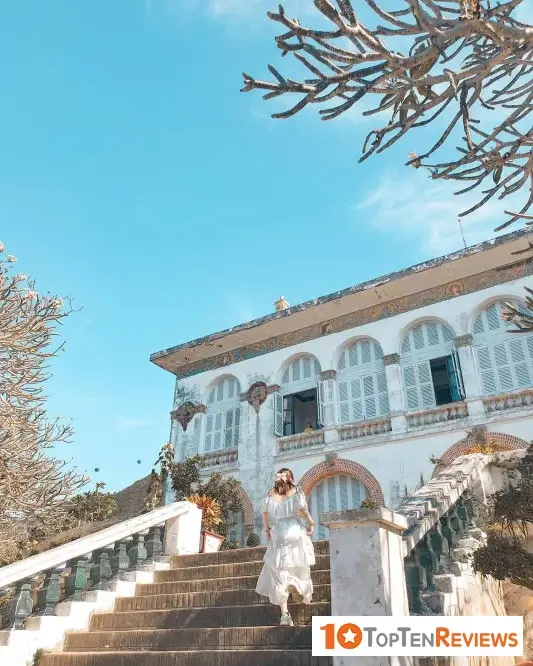 White Palace has a relatively beautiful architecture (Photo – sanra.san)
White Palace (French: Villa Blanche) is a mansion with European architecture in the late 19th century, located on the slopes of Big Mountain of Vung Tau city. This place was once used as a resort for the Governor General of Indochina, Emperor Bao Dai and the Presidents of the Republic of Vietnam. This place is also the place where the French colonial government made the detention place of King Thanh Thai from September 12, 1907, to 1916. Currently, White Palace is a tourist attraction when coming to Vung Tau.
White Palace is used as a museum, displaying topics such as ceramics from the Khang Hy period recovered from an ancient shipwreck in the area of Hon Cau - Con Dao, cannons and many other valuable artefacts found. Seen through archaeological excavations in Ba Ria - Vung Tau... to Bach Dinh, visitors can enjoy the fresh air of the sea, the charming beauty of Bach Dinh mixed with the natural vegetation, and enjoy the typical and rare antiques.
The Statue of Gautama Buddha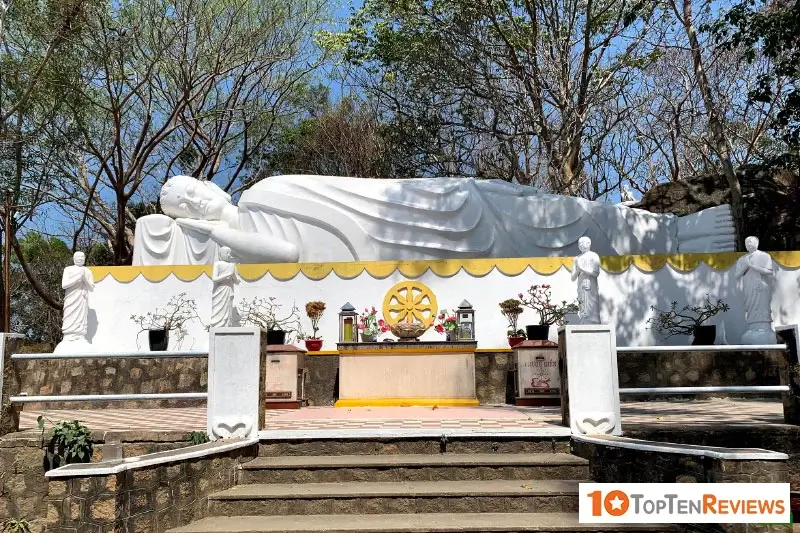 Statue of Shakyamuni Buddha (Photo – Binh Huynh)
The architectural cluster of Shakyamuni Buddha is located on the northern slope of the Big Mountain, featuring a meditating statue of Shakyamuni Buddha. The large gate turns towards Tran Phu street. The entire campus of the 28-hectare architectural cluster includes a complex of pagodas (Ho Phap, Thien Lam, Maitreya and Vien Thong) and clusters of gardens depicting Buddha's life.
Chon Khong Monastery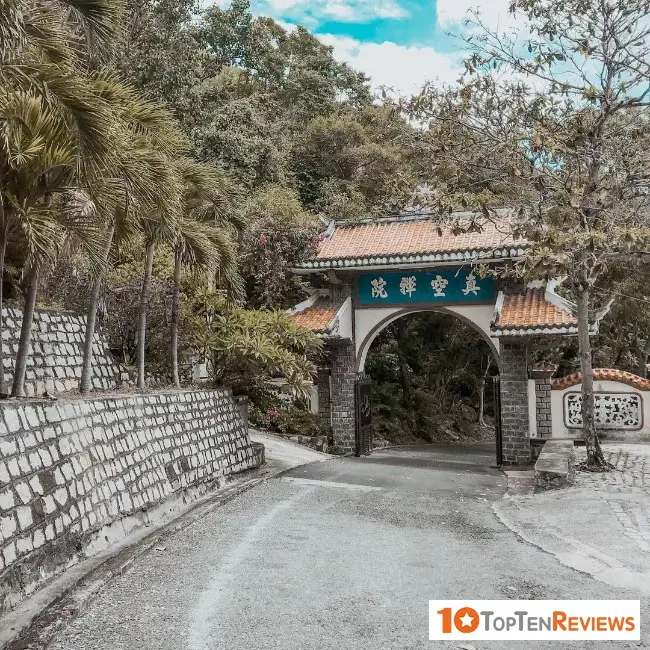 Chon Khong Monastery (Photo – trxng11_)
Located at an altitude of 80m on the slopes of Big Mountain, hidden among the majestic natural landscape, Chon Khong Monastery is a unique Zen temple belonging to the Truc Lam Yen Tu Zen School and the first Zen monastery built in the South.
Front Beach (Bãi Trước)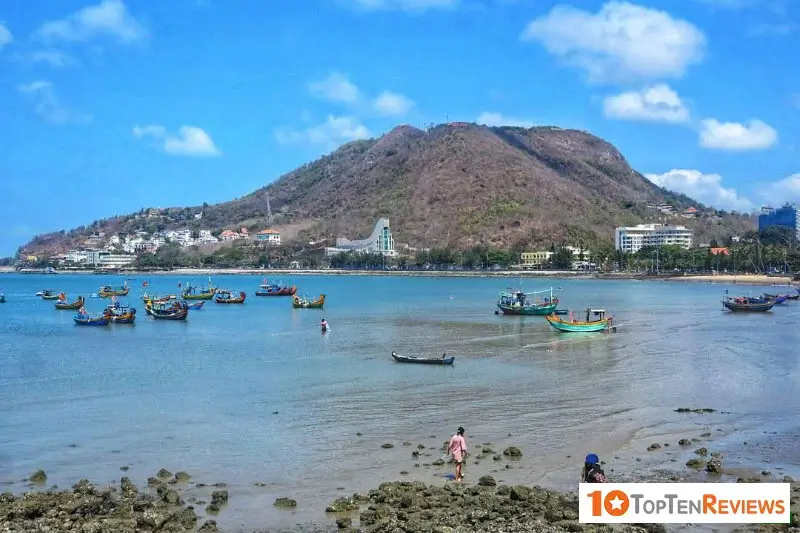 Front Beach (Photo – shawolmeu)
This beach, located between Big Mountain and Small Mountain, is a quiet cove. In terms of space, it can be determined that Front Beach is in the range from the Greenlight (nautical light) to the Stone Bridge, starting at No. 01 Tran Phu, passing through Quang Trung Street to a part of Ha Long Street; Regarding the natural landscape, in addition to Big Mountain, Small Mountain also has Nguu Islet jutting out into the sea, which can be considered a wonder of Front Beach.
This beach is rarely bathed by people because it is also a place to anchor fishing boats, so it is quite polluted. Vung Tau city government has made efforts to move boats out of this area, but to no avail for many reasons, including historical and traditional reasons. However, at high tide, the area adjacent to Bai Truoc park is still a pretty beautiful beach. Especially at night, Bai Truoc is the place where visitors' entertainment activities are concentrated. Almost all the main roads of Vung Tau pour here.
Back Beach (Bãi Sau)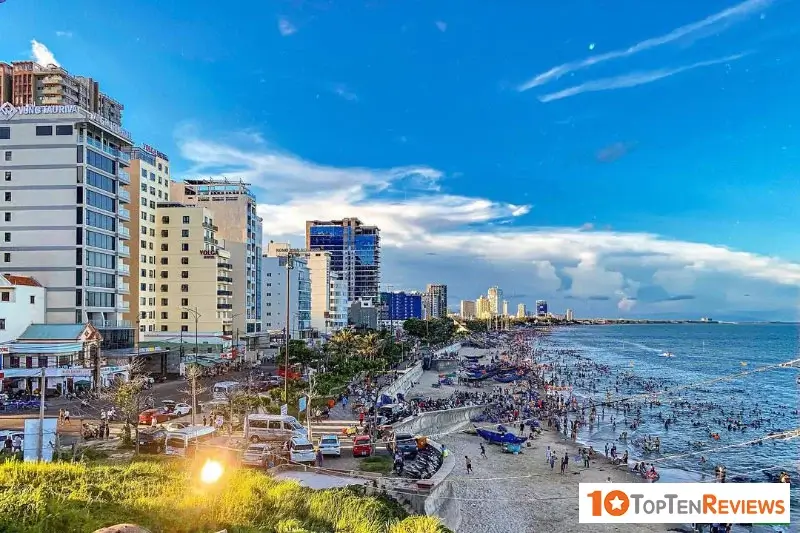 Back Beach is located on Thuy Van Street (Photo – jamescao91)
Back Beach is located on the east coast of Vung Tau, extending from the foot of Small Mountain at the beginning of the junction of Thuy Van and Phan Chu Trinh streets to the Chi Linh area and is the main beach of Vung Tau due to the polluted, short shore line of Front Beach. Back Beach has many advantages compared to many other beaches in Vietnam: year-round stable temperature, little difference; moderate waves; clear seawater.
Pineapple Beach (Bãi Dứa)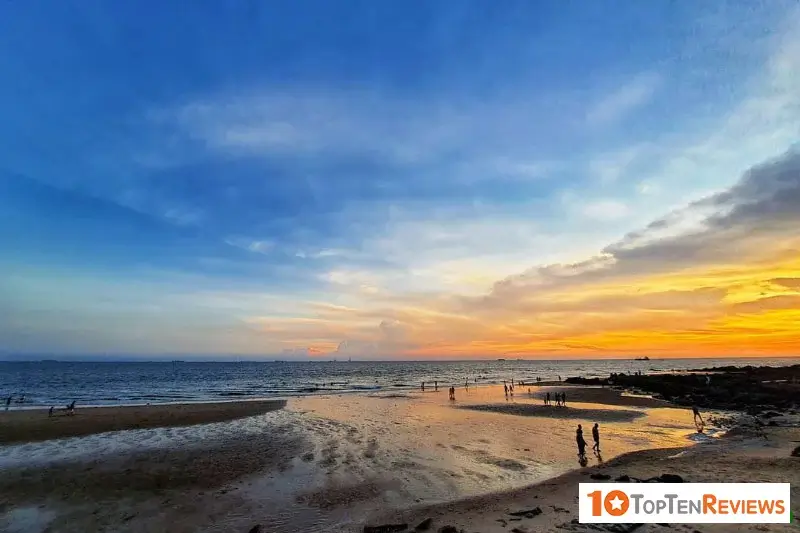 Sunset at Pineapple Beach (Photo – viet_nam_oi)
This is a beautiful and pristine beach, the seawater and sand are clean and there are few big waves, there are many beautiful rocky beaches. Pinapple Beach is located next to the coastal road of Vung Tau (there are 3 names depending on each section: Tran Phu, Quang Trung and Thuy Van).
Vong Nguyet Beach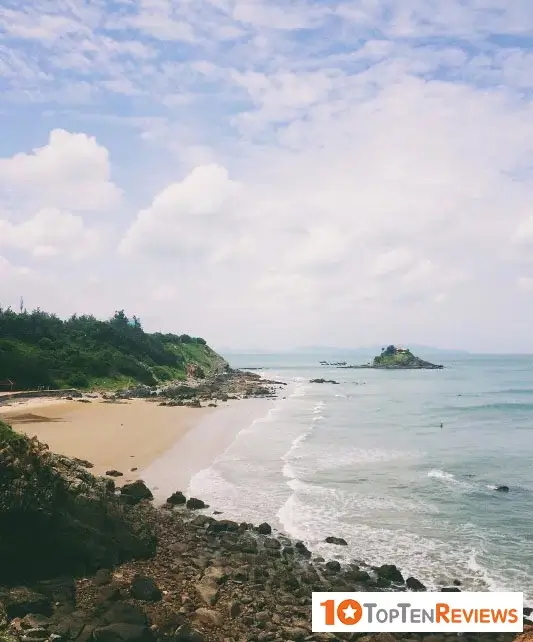 Vong Nguyet Beach (Photo – ranno_ranno)
Vong Nguyet beach is located at the foot of Small Mountain, the whole view can be seen from the position of the Statue of God stretching out his arms on top of Small Mountain. This is a pristine beach, white sand, clear blue water with spectacular scenery of Nghinh Phong rocky cape protruding into the sea. This beach is isolated on the road, only for those who like to explore, not a popular beach due to limited access to the beach, right through the mountain slope. This is the ideal place to watch the moon, so it's called "Vong Nguyet" (watching the moon).
Nghinh Phong Cape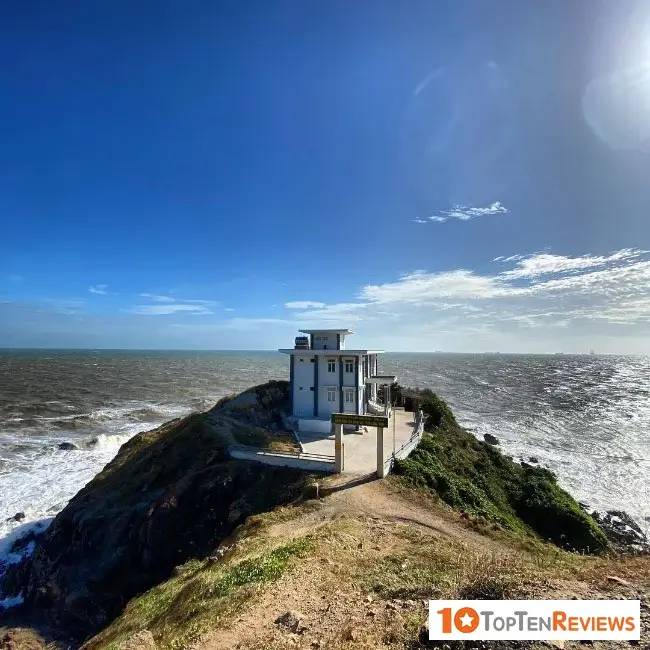 Nghinh Phong Cape (Photo – 21_vip_21)
Nghinh Phong is a cape reaching out to the southernmost sea of the Vung Tau peninsula. From a far distance, Nghinh Phong cape looks like a giant sea turtle swimming toward the ocean. From address 01 Ha Long at the foot of Tao Phung mountain, turning towards the mountain is a way up to the statue of Christ, turning towards the sea is a sloping road that looks wild and leads to Nghinh Phong cape.
Located at Nghinh Phong Cape, recently, "heaven's gate" has become the check-in place for many young people when coming to Vung Tau. "Heaven's Gate" was built on the cape with a brick wall painted in yellow, which stands out among the sky and blue sea, creating a beautiful and strange scene. Not only bringing peaceful beauty but "heaven's gate" also makes visitors excited because this is also an ideal place to watch the sunrise. Visitors can witness the unique color change of the sea surface during sunrise.
Ba Island (Hòn Bà)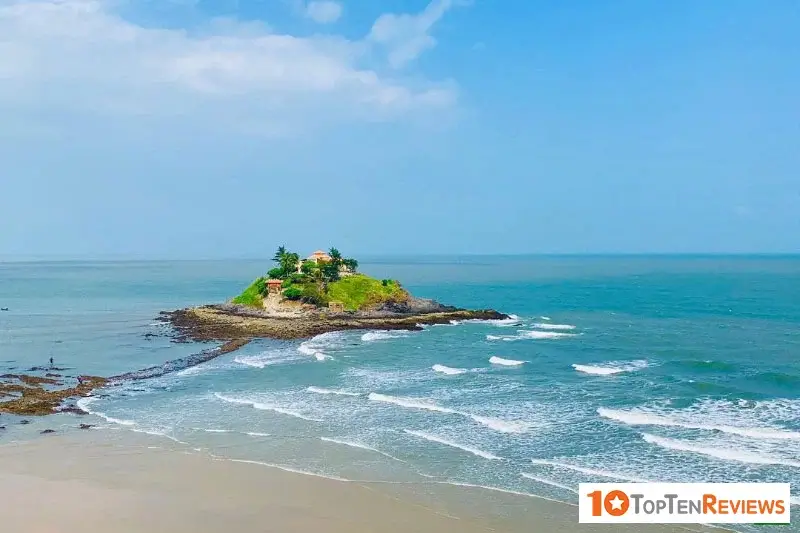 It is said that you can walk out at the time of low tide in Hon Ba (Photo – christopherwong8281)
Hon Ba is a unique rocky island, murmuring waves all year round, located near Nghinh Phong cape, Back Beach of Vung Tau City. Around the island are jagged reefs with strange shapes. Therefore, when the tide is high, those who want to go to the island by boat or motorboat will not be able to run directly from the mainland but have to circle the sea and then dock on the east of the island. At low tide, a jagged stone path on the seabed is revealed, running straight from the coast to the island. On the island, there is an ancient Temple of Ba, built in the 19th century, worshiping Thuy Long Than Nu. On the days of the Mieu Ba festival, tourists and Vung Tau people often go to the island along this unique stone road.
Upside down house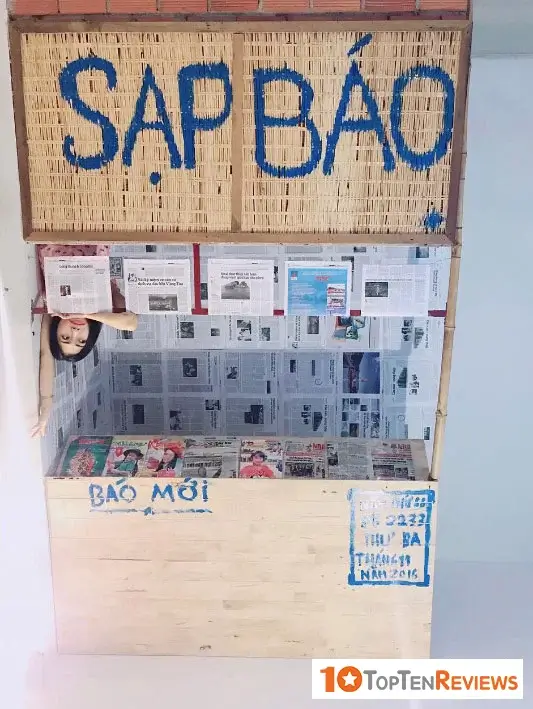 Upside down house is an entertainment model appearing in many localities across the country, including Vung Tau (Photo – page.88)
Vung Tau Upside Down House Model is a 3-storey building, including 2 sightseeing areas and a cafe. The sightseeing area has 7 shooting rooms, each room has about 4 different shooting angles, the rooms are decorated with colors and furniture suitable for actual use.
Pig Hill (Đồi Con Heo)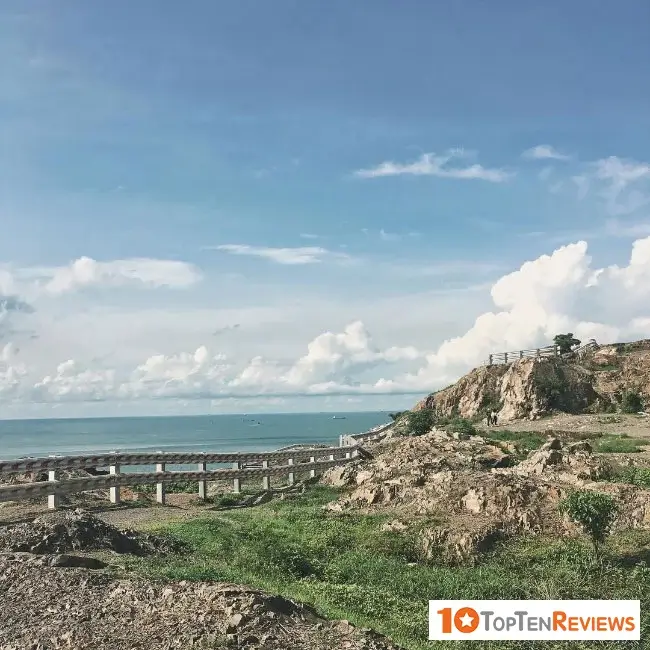 Pig Hill is now a favorite destination of many young people (Photo – 252.phucnguyen)
Previously, this area was known as a place for quarrying, but this place is increasingly attracting tourists because of its wild and charming scenery. The road to Pig Hill is a bit difficult because of the rocks, but when you get there, you will feel that the effort is completely worth it when in front of you is a beautifully natural picture. In addition, the vacant land on the hill is also very suitable for camping with friends and family.
Long Son Big House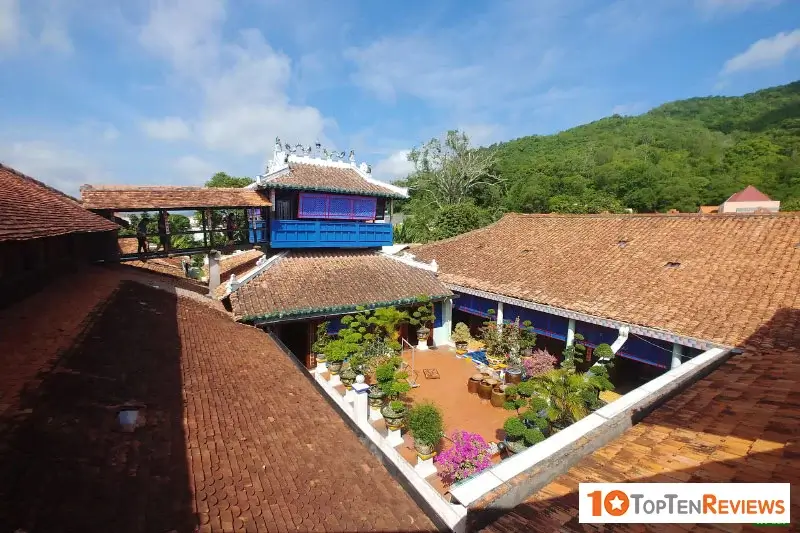 Long Son Big House (Photo – Quan Phan Le Minh)
Long Son Big House is the common name of Ong Tran's temple area in Long Son island commune. This work was founded and built by Mr. Tran, whose real name is Le Van Muu, a follower of the Tu An Hieu Nghia religion (which came from the Bay Nui region, An Giang, enlightened by the Venerable Master Ngo Loi) in the early 20th century. The architecture of Long Son Great House is a vivid and very impressive expression to visitors of the blend of local folk beliefs with Confucianism and Taoism.
Vung Tau Church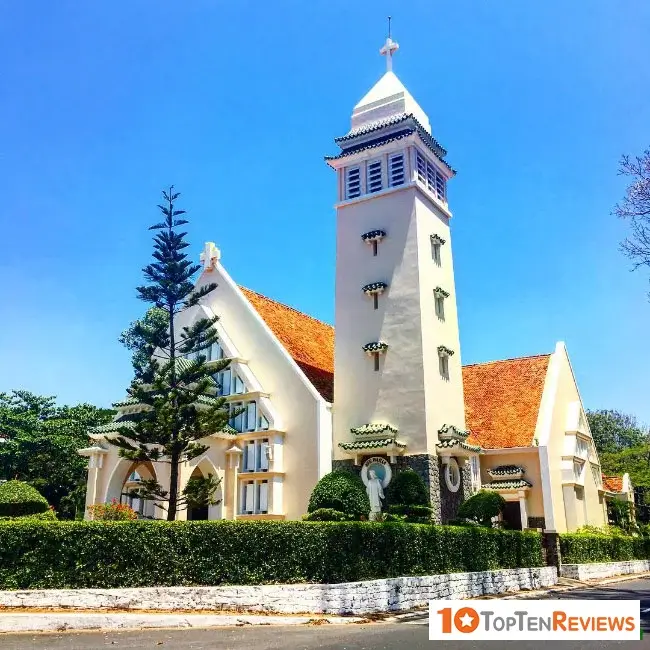 Vung Tau Church (Photo – edys_kimura)
Vung Tau Cathedral, also known as Vung Tau Cathedral, is located at 06 Thong Nhat, Ward 1. This is the first solid church built by the French in Vung Tau (Cap Saint Jacques) since the late 19th century to serve the religious needs of French parishioners as well as Vietnamese people living and working here. Vung Tau Church was built in 1889 before the Governor General of Indochina signed the decree establishing the city of Cap Saint Jacques (1895), before the White Palace (1898) and the villas serving the convalescence of the French official soldiers.
- to be continued -