Nam Dinh is one of the Red River Delta provinces, 90km from Hanoi city. Through many traces of time, this place still retains intact the populations of cultural relics imbued with national identity and beautiful natural scenery… This is one of the proudest tourist destinations in Vietnam's masterpiece land. Quickly pocket "Nam Dinh travel guide" to start the journey to discover the land famous for its well-known traditional pho across the country.
When should you go to Nam Dinh?
Like the Northern Delta provinces, Nam Dinh has a humid subtropical climate with a temperature range ranging from 23 degrees to 29 degrees. Therefore, any time is suitable for you to travel to Nam Dinh, but the most beautiful time is on the full moon of January because this place will hold a very attractive Khai An festival.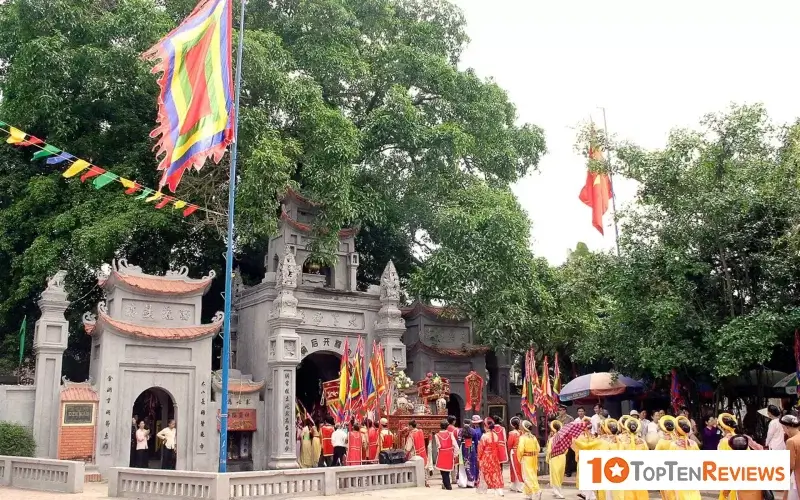 Khai An Festival in Nam Dinh Province
Means of transportation in Nam Dinh
Moving to Nam Dinh
By public transport
Taking Hanoi as the starting point, there are 2 main public transport options for you to choose from the bus (only 70,000 VND/ticket) and the train (ranging from 40,000 VND/ticket to 130,000 VND/ticket).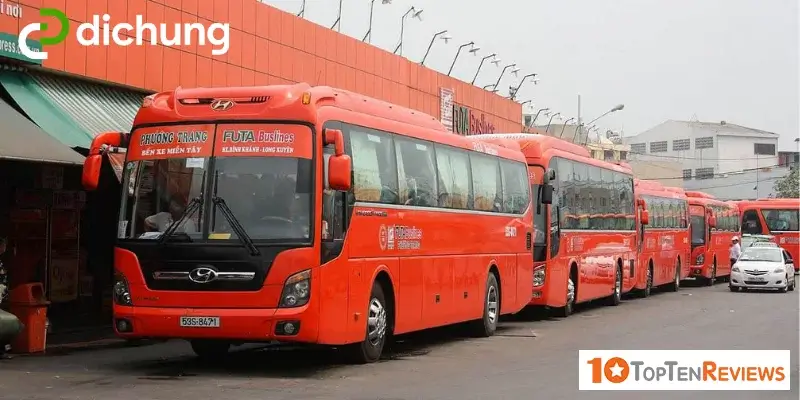 By personal means
Nam Dinh is located about 90km from Hanoi city, a not too far distance, suitable for you to arrange short trips. If you choose to travel by motorbike yourself, remember to prepare your spare parts carefully and find out gas stations on the route in advance.
Moving in Nam Dinh
After arriving in Nam Dinh, you can choose between renting a motorbike or renting a car with a driver to explore tourist attractions. If the group is large, renting a car is the most appropriate choice to avoid being separated from the group.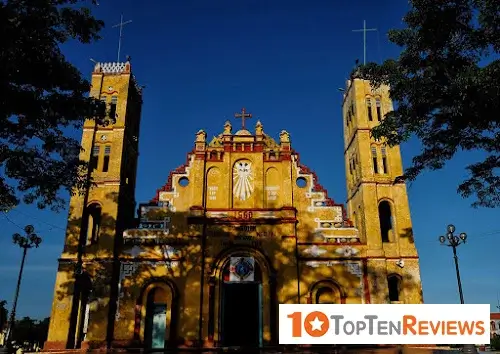 Xuong Dien Church in Nam Dinh (source: collected)
Accommodation
Nam Dinh tourism is growing day by day, so the system of hotels and motels here is increasingly expanded and upgraded in quality, especially at extremely affordable prices.
Attractive tourist destinations in Nam Dinh
1. Thinh Long Beach (Bãi biển Thịnh Long)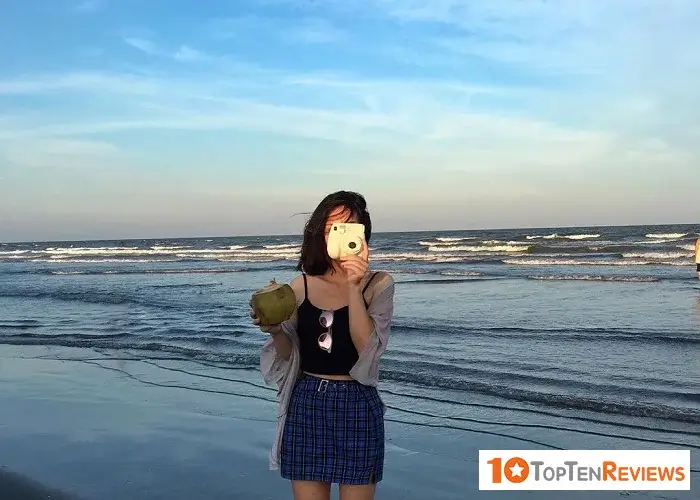 Thinh Long Beach is located in Thinh Long Town, Hai Hau district, and is one of the most popular Nam Dinh beaches loved by tourists today. Arriving here, visitors cannot help but be attracted by the beautiful harmonious natural scenery, the straight rows of casuarinas on the fine white sand surrounding the clear blue sea. In addition, Thinh Long beach is also near some other Nam Dinh tourist attractions such as Tile bridge - Luong pagoda, Hung Nghia holy temple, and Dong Ha beach.
2. Catholic Churches in Nam Dinh
Built in the 18th century in Xuan Ngoc commune, Xuan Truong district, Nam Dinh province with unique architectural lines, the Bui Chu bishopric is not only a place to store ecclesiastical documents from the time of missionaries. From the beginning until now, it is also a place to receive and nurture orphans, lonely old people and disabled people.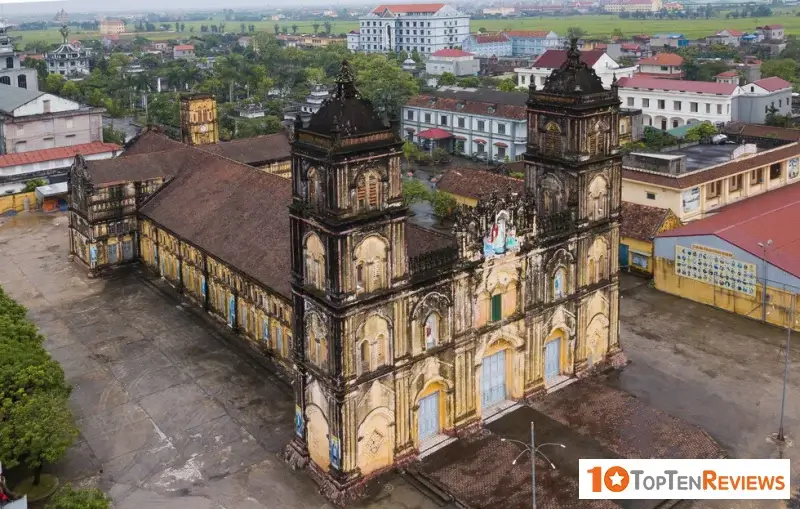 Bui Chu Bishopric (source: tuoi tre online)
Nearby is Trung Linh church, built in 1928, about 1.5km from Bui Chu bishop's house. This is one of the most popular wedding photography locations for couples.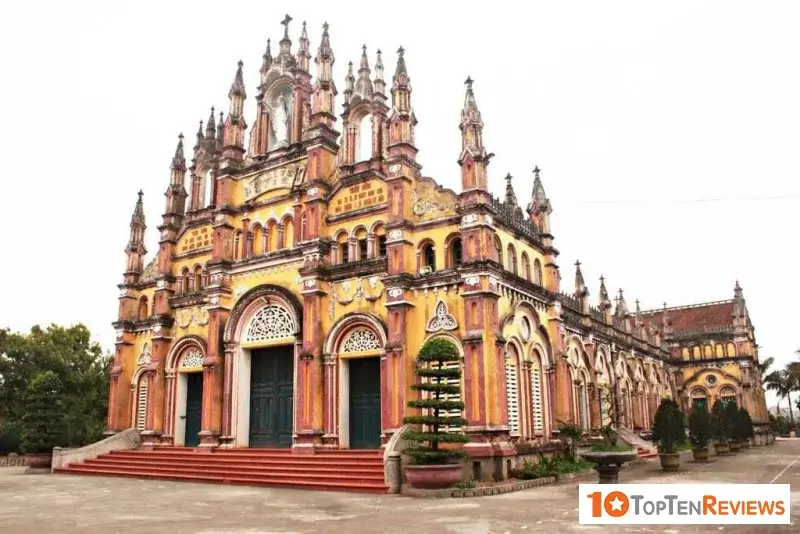 Trung Linh Church in Nam Dinh (source: collected)
Although destroyed by time, Hai Ly church is still a favorite destination of tourists near and far because of its ancient beauty and unique architectural features. Revealing to you, this is also a very "high quality" place to take photos.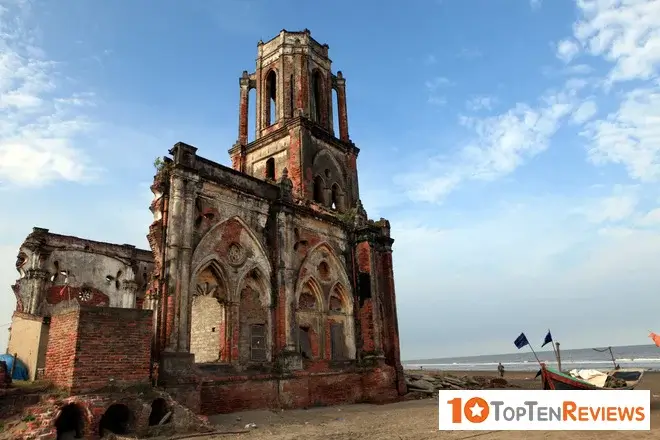 Ruined Hai Ly Church lying nearby the sea (source: collected)
Phu Nhai Church located in Xuan Phuong Commune, Xuan Truong District is one of the oldest parishes in the Vietnamese Catholic Church. The church was built in the 18th century and underwent 5 times of restoration and reconstruction, so far this place still retains its original architectural features.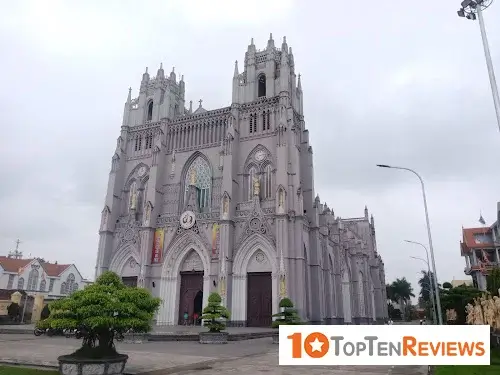 Phu Nhai Church in Nam Dinh (source: collected)
Besides, there are many other churches, if you have time, you can also visit: Saint Kien Lao temple, Thanh Danh parish, Nam Dinh cathedral, etc.
3. Vi Xuyen Lake (Hồ Vị Xuyên)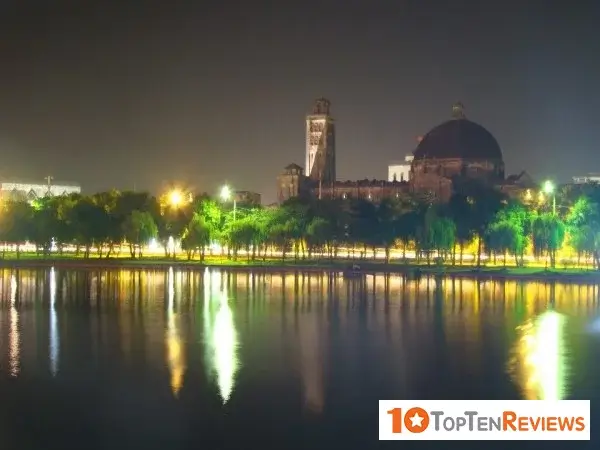 Vi Xuyen lake by night (source: collected)
The name Vi Xuyen lake comes from the geographical position of the lake - in Vi Xuyen ward, Nam Dinh city. This is the remnant of the Vi Hoang River - the symbol of the South citadel. Today, it is not only planned to build a green park but also used as a place to keep the grave of the poet Te Xuong.
4. Xuan Thuy National Park (Vườn quốc gia Xuân Thuỷ)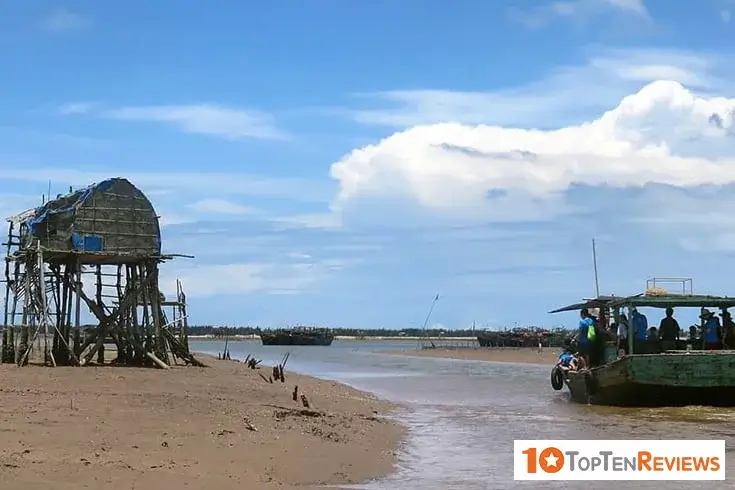 The peaceful beauty of the first ramsar site in Viet Nam - Xuan Thuy National Park
On the journey to discover Nam Dinh, there is a place that you must definitely visit, which is Xuan Thuy National Park. The national park is located in the Giao Thuy district, south of Ba Lat estuary, recognized by UNESCO as part of the inter-provincial biosphere reserve in the Red River Delta. Coming here, visitors will be immersed in the green nature, cool air, and birds chirping, etc.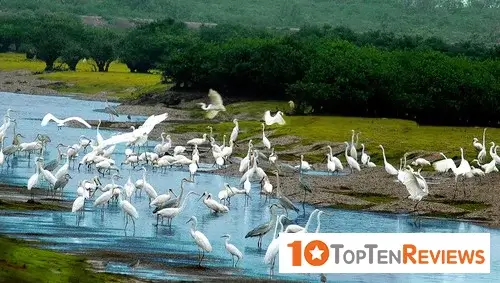 The bird paradise (source: collected)
5. Tran Temple - Nam Dinh (Đền Trần - Nam Định)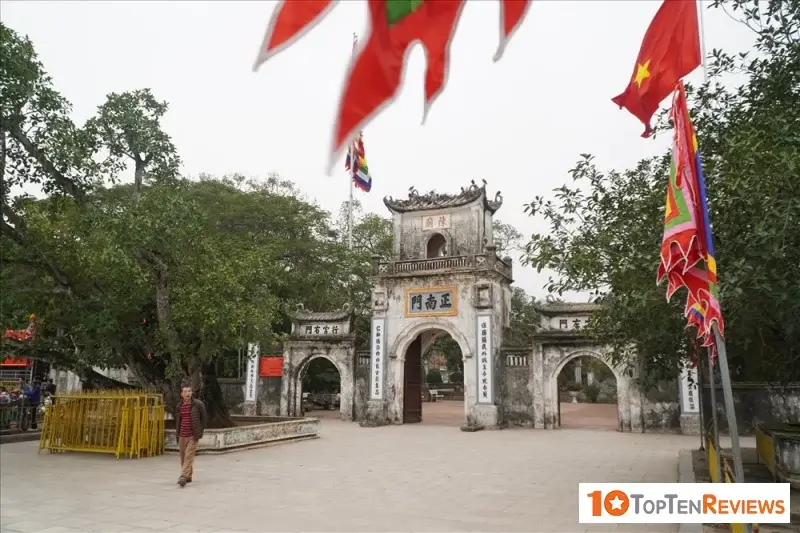 Outside view of Tran Temple in Nam Dinh (source: collected)
Tran Temple is one of the famous spiritual tourist sites in Nam Dinh. This is the temple of 14 generations of Tran kings and mandarins with meritorious services. Coming here on the occasion of the opening ceremony of the spring and the temple festival in August, visitors will be in an atmosphere of gratitude for the merits of Buddhist beings.
6. Co Le Pagoda (Chùa Cổ Lễ)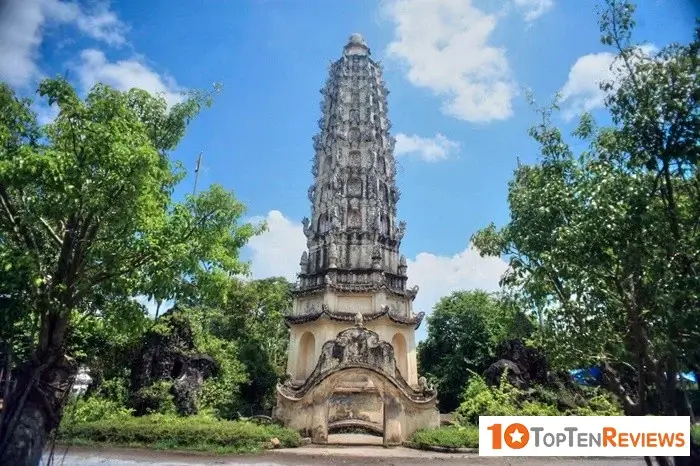 Co Le Pagoda was built in 1920 during the Ly dynasty in Co Le town, Truc Ninh district, Nam Dinh city by master Nguyen Minh Khong. It preserves many long-standing historical relics of great cultural value: the 12-storey ancient tower built in the 20s of the 19th century, the great red drum, the drum at the same time as Ly dynasty.
7. Phu Day relic site (Khu di tích Phủ Dày)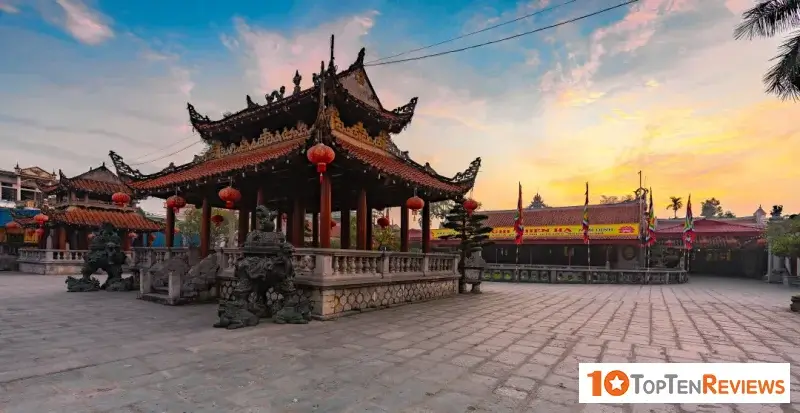 The relic is located in Kim Thai commune, Vu Ban district, also known as Princess Lieu's mausoleum because it worships Princess Lieu Hanh - one of Vietnam's "four immortals".
Nam Dinh cuisine
1. Pho Bo (Phở bò Nam Định)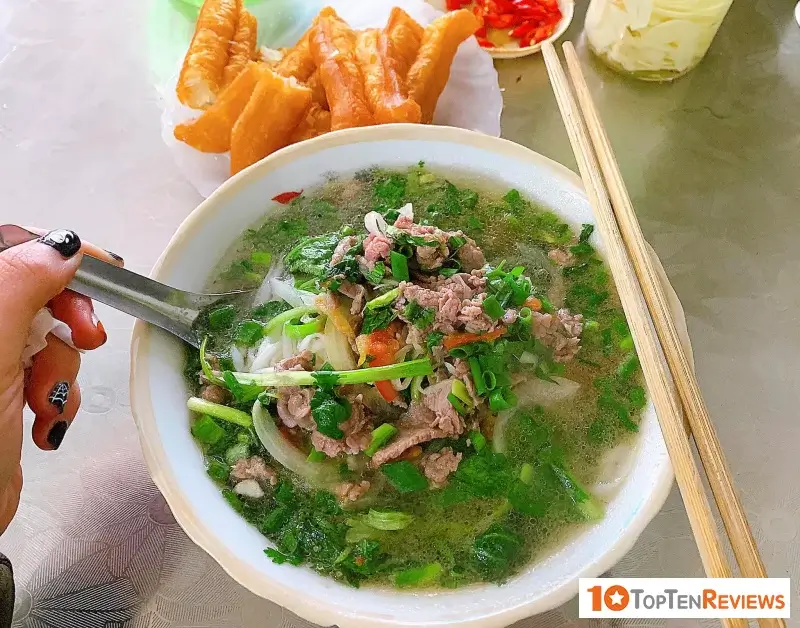 Unlike Hanoi's Pho version, Pho bo Nam Dinh has a very unique taste (source: collected)
Pho bo Nam Dinh is famous throughout Vietnam for its special rich flavor, cooked according to the traditional recipe. The soft, long, thin noodles blend with the sweet and fragrant broth with the scent of onions to captivate many diners.
2. Xiu pao (Bánh Xíu páo)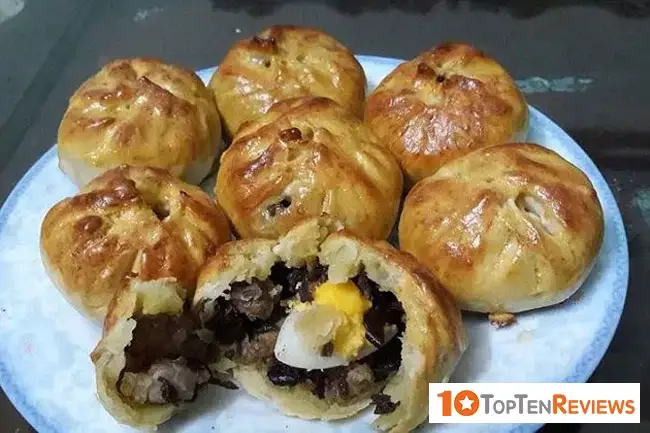 The golden, delicious "xiu pao" from Nam Dinh (source: collected)
This delicacy originated from China, later when imported to Vietnam, it was reduced to suit the taste of Vietnamese people. The outside of the cake is quite similar to the pia cake, but the inside is salty. Should be eaten while the cake is still hot and crispy to feel the full flavor.
3. Nem Nam (Nem Nắm)
Nem Nam - one of the dishes that make up the name of Nam Dinh cuisine. Nem Nam is best when eaten with fig leaves, and clove leaves and dipped with Sa Chau fish sauce, adding a little garlic and chilli will make the dish more attractive.
Above is the most detailed Nam Dinh travel experience manual that we want to give you. Remember to pay attention to the weather to ensure your trip is complete. Wishing you a wonderful trip.