Most visitors to Cao Bang were allured by Ban Gioc Waterfall along with spectacular mountainous sceneries. Sites such as Pac Bo Cave or Lenin Stream also add historical significance to this land.
Ban Gioc Waterfall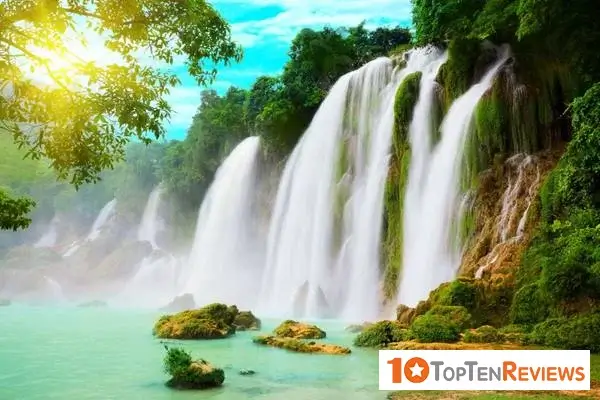 In Vietnam, Ban Gioc is one of the most marvelous waterfalls which can be found within Dam Thuy, a commune located in Trung Khanh District of Cao Bang Province. Upon entering from a certain distance, visitors may hear the sound of water cascading down from 30 meters above the river bed, as metrics of liquid begin to hit the stair-like limestones. A large slab covered in clumps of trees emerged in the middle, cutting the on-going current into three silk-like streams.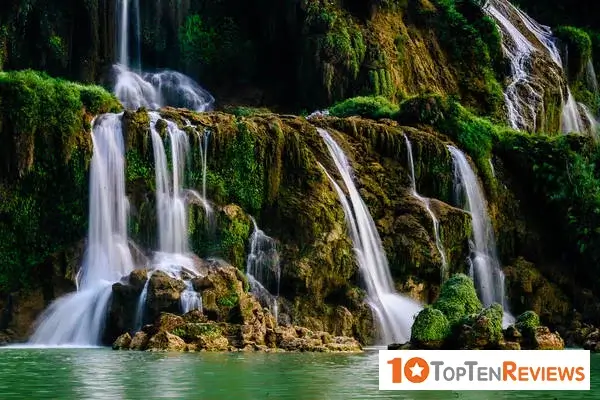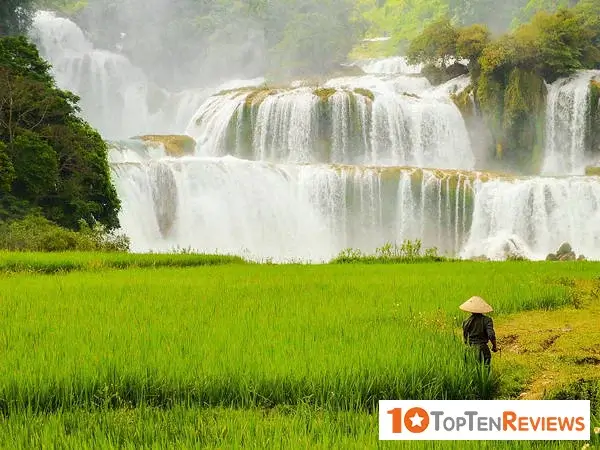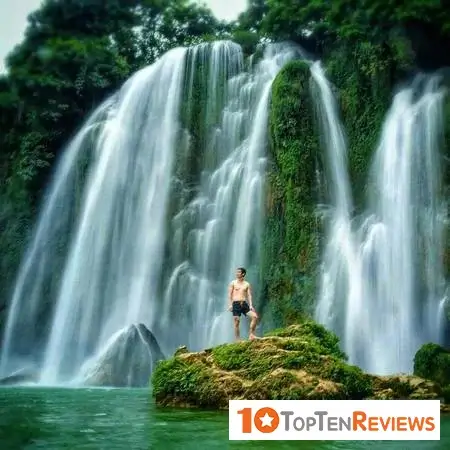 Constant streams of water pour down against flat soft rocks from day to night, and in this particular manner, produce countless white droplets bright enough to blur an entire area. In sunny days, wet steam also becomes visible enough to produce the shimmering effect often seen in rainbows. The stillness of Ban Gioc plunge pool is equaled to that of a mirror, as stretches of greensward and forests extend on each opposing bank of the river.
Phat Tich Truc Lam Ban Gioc Pagoda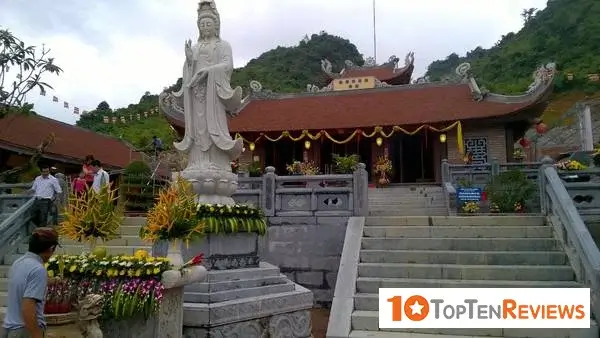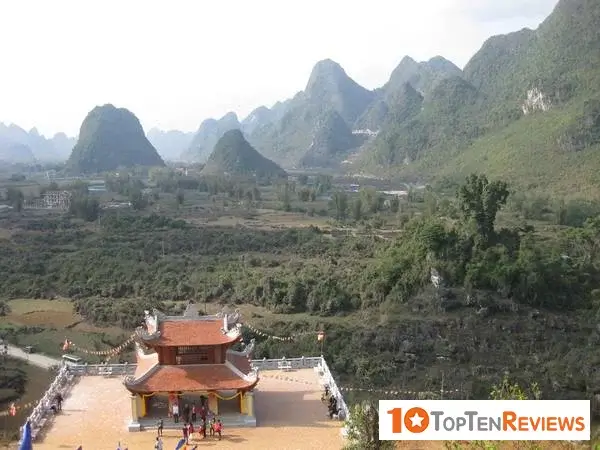 Phat Tich Truc Lam Ban Gioc Pagoda was constructed on a spacious area, leaning against Phia Nham Mountain, 500 meters from Ban Gioc Waterfall. The pagoda follows the Vietnamese architechural design, including but not limited to Tam Quan Gate, bell tower, stelae and three jewels, ancestral temple, Holy Mother temple and temple of National heroes dedicating to Ancestor Hung Vuong. The pagoda is of great significance for Ban Gioc as this project gradually develops into a focal point for national tourist attraction.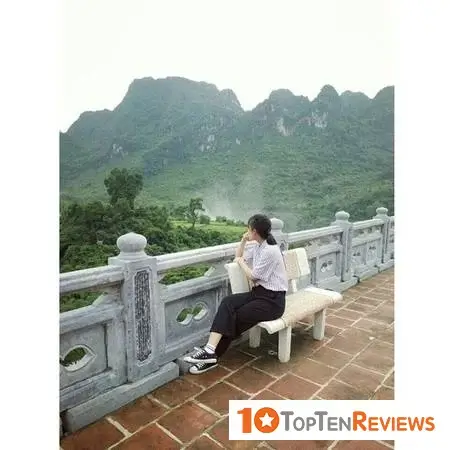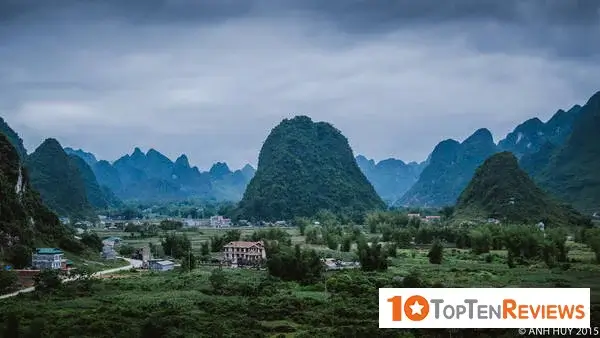 Nguom Ngao Cave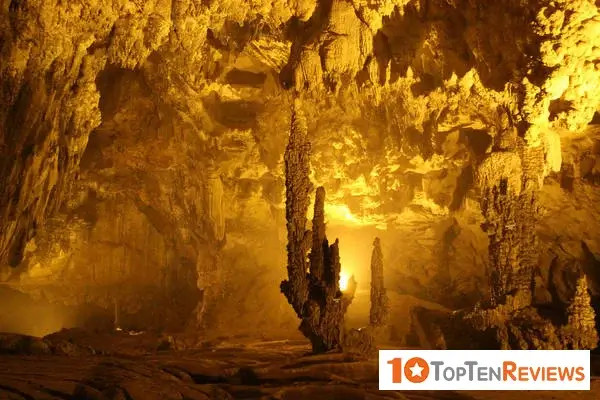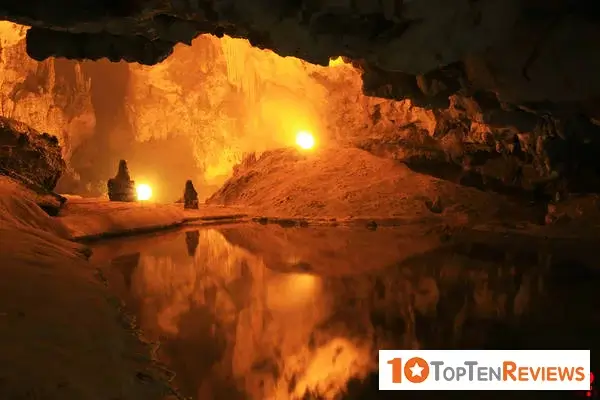 The formation of this large cave involved the dissolution of limestones, which probably took place from an ancient period. "Nguom Ngao" comes from the language of the local Tay ethnic minority, which means tiger's cave; otherwise commonly referred to as "The cave that lies within the valley of limestones". Discovered by local people in 1921, the grotto is 2.144 meters long with 3 main entrances, namely Nguom Lom (hidden beneath base boulders), Nguom Ngao (a few hundred steps away from the base), and Ban Thon (adjacent to the local Tay settlement behind the mountain). At its main entrance, you can feel the fresh, cool air from the natural mist inside.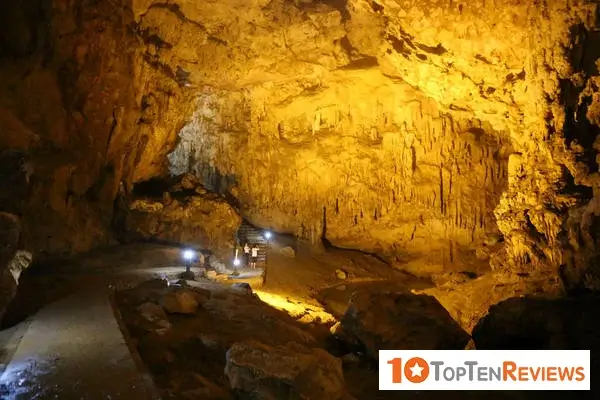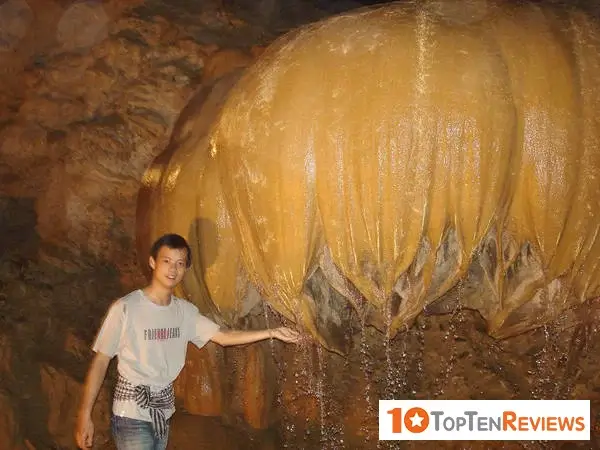 The cavernous archway lure observers into a sense of closure only to unfold itself again in subtlety. Stalactites of various shapes and sizes either rise from below or hang from above, all of which work in tandem to form a miraculous labyrinth.
Thang Hen Tarn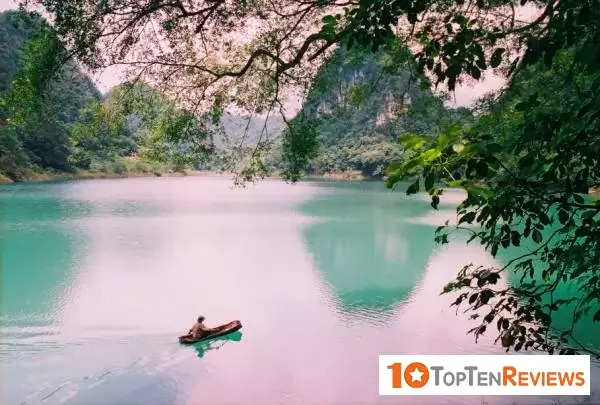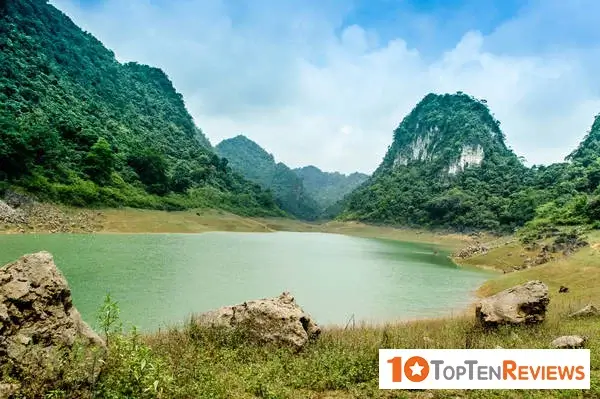 Thang Hen, located in Quoc Toan commune, Tra Linh district, Cao Bang province, is one of the most beautiful tarn in the country. It's situated on an altitude of thousands of meters above sea level in the middle of a mountainous region with lush crowns of leaves stretching out over the cliffs. Casting shadow over the clear tarn water, these green canopies wind through the partially submerged bank.
Thang Hen Tarn possesses a diamond shape, approximately 300 meters wide and 1000 meters long.  In the middle of its surrounding canarium forests, white-edge boulders with finger-shaped holes emerge. Constant streams flows out from a large cave located nearby the headwater area.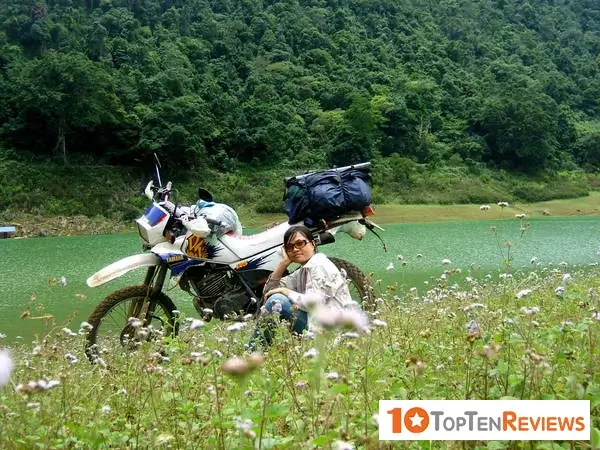 Thang Hen tarn is unique in a sense that it witnesses both "high tides" and "low tides" on a daily basis. During the flooding season, Thang Hen water remains crystal clear while others become aerated. Water depth may reach 10 meters when dry seasons occur. Nearby lies Thang Luong tarn with a spectacular mountain emerging in the middle.
Pac Bo Relic Site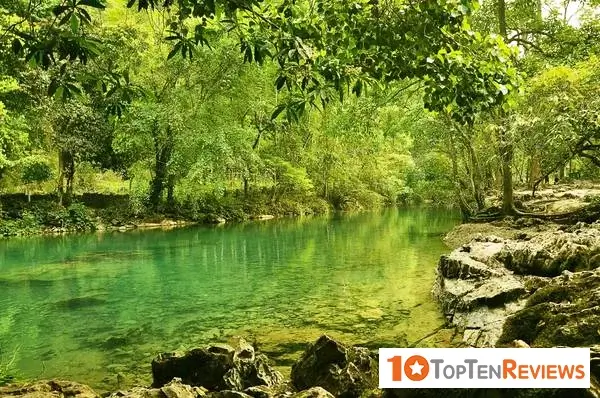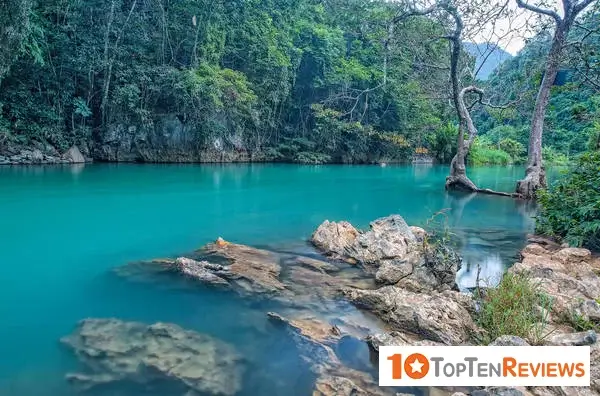 Pac Bo is a historic site pertaining to the nature of Vietnamese revolutionary movements. The site is located in Pac Bo village in Truong Ha Commune, Ha Quang District, 55 kilometers north of Cao Bang City. Pac Bo relics consist of Uncle Ho memorial house, Coc Po cave (a local name which means "headwater"), Lung Lan cave, Nguom Vai cave, Lenin stream, a stone table where Uncle Ho worked, the floors of Ly Quoc Sung and La Thanh, etc.